Last week, Taoiseach Leo Varadkar said Ireland was following the South Korean model for tackling the coronavirus outbreak. 
That was, of course, before tighter restrictions were introduced on Friday night. 
South Korea has been lauded internationally for managing to significantly slow the number of new cases of the virus, despite an early spike. 
It has done this without imposing some of the more draconian strategies deployed elsewhere in the world, including in Ireland.
So what has South Korea done that the rest of the world is not doing? What advice do the experts in that country have for us? And has Ireland really been following the South Korean model? 
RTÉ's This Week spoke to healthcare experts in South Korea to find out. 
South Korea already had experience of dealing with a coronavirus. It was called MERS (Middle East Respiratory Syndrome) and it hit the country in 2015. 
Symptoms of that disease include fever, cough, diarrhea and shortness of breath. 
Because of its experience of MERS, South Korea learned some lessons about how to track people who had the illness, and how to inform members of the public about where the virus had been. 
"After MERS the government put together a national infectious diseases control act" says Dr Jerome Kim, who is Director General of the International Vaccine Institute based in Seoul. 
The legislation, he says, "allows for the government to track people, and for the tracking information to be posted online, so that people would know if they'd passed through a certain subway station at a certain time that they might consider themselves exposed, and might consider getting tested if they develop symptoms."
"There are other apps which provide a colour coded map, telling you that people with the virus have been in a certain location."
"One colour shows cases which are 4-9 days old, while a different colour tells you the cases are 1-2 days old, so they give you some idea of when a person has passed through that area."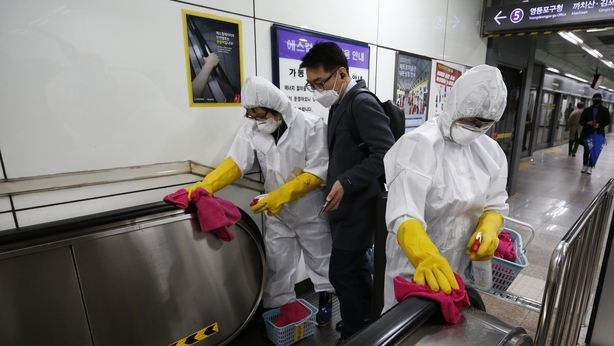 Professor Gye Cheol Kwon, the chairman of the Laboratory Medicine Foundation said many things have worked in combination to make South Korea's strategy a success. 
"Early patient detection, followed by isolation and contact tracing have been important," he says.
"We have used various data, including smartphones, credit cards and CCTV to find people and to limit the spread of the virus" adding that people accept the invasion of their privacy, and they "stay calm about it."
Testing is also more readily accessible to people in South Korea than it is in Ireland.
"Testing, isolating, contact tracing and quarantine is the only way Koreans have outperformed others."
In South Korea it is possible for a person to get tested without having first consulted a doctor, although it is recommended that they first visit a GP. 
 "It takes six to eight hours to get a result back, so most people find out the following day" said Dr Kim. 
The country recently started screening visitors from overseas, meaning that you must undergo a test on arrival into the country. 
"They screen you when you come through the airport. They put you in a holding facility which is like a hotel room, and the next day they tell you your result." 
"If you are negative you then go into voluntary isolation and you download an app which tracks your movements and regularly queries your symptoms" said Dr Kim. 
For people who do test positive, there are dedicated wards in isolation hospitals where they go to receive treatment or simply to recover from the virus away from family members who will themselves stay isolated at home.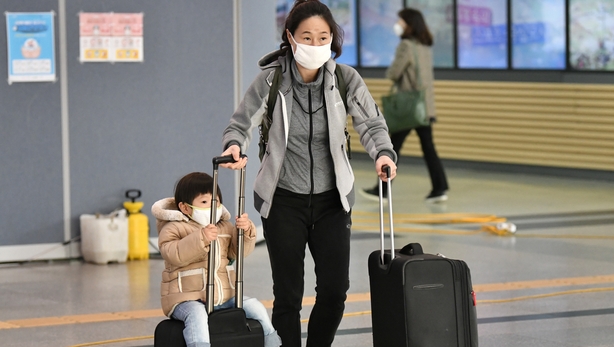 The use of face masks is also widespread in South Korea. 
"In Korea everyone wears a mask" said Dr Kim, although he admits foreigners have difficulty getting them because stocks are running low. 
"The government has now started to ration them, so depending on when your birthday is you can pick up two masks for the week, which isn't enough."
Professor Gye Cheol Kwon says mask wearing is encouraged in Korea, primarily because it is such a crowded country, and infection could spread rapidly.
Asked what Ireland can do to emulate South Korea's success in flattening the curve Dr Kim says "the government's messaging has to be perfectly clear.
"There can't be contradictory messages, these only confuse people. The government has to be transparent, to explain what it's doing.
"The last thing you want is for someone to make a decision you think is a bad one, and not have that explained.
"As the number of new cases has dropped, they noticed that the greater number of new cases was coming from outside of Korea, and that's when they started screening people from outside. They used the data and acted on it." 
"For Korea one of the big issues is starting school again. We're expecting a decision from 6 April, and that will be based on where the outbreaks are happening, how they're being controlled and how comfortable the government feels about being able to get on top of new cases quickly."
Professor Gye Cheol Kwon said Korea's success is down to a dedicated system of trace, test and treat.
"Testing, isolating, contact tracing and quarantine is the only way Koreans have outperformed others."
He added that it is difficult to predict how long the current restrictions will last. 
But some experts don't believe life in Korea will truly return to normality until there is a viable vaccine that is proven to be effective against Covid-19.
Dr Kim, himself a vaccine specialist, said a vaccine is likely to be at least a year to 18 months away. Until then some restrictions are likely to remain in place.
"Really if you want to return to the way things were, going out at night, going to concerts, to pubs, or going out to dinner, you really need to have a vaccine," he said.
An interview with Dr Jerome Kim will be broadcast on 'This Week' on RTÉ Radio 1 from 1pm