Leaders from the Group of 20 major economies have spoken by video link about combating the coronavirus pandemic and its economic impacts, as global infections reached 501,556 across 182 countries, including 23,293 deaths.
Coronavirus cases across the globe jumped on Thursday as G20 leaders pledged a "united front" in the fight against Covid-19, and announced they were injecting €4.5 trillion into the global economy to counter the impact of the crisis.
"Combatting this pandemic calls for a transparent, robust, coordinated, large-scale and science-based global response in the spirit of solidarity," the G20 said in a statement after an emergency online summit.
"We are strongly committed to presenting a united front against this common threat."
The group of 20 most industrialised nations (also including the EU) said that they were injecting over $5 trillion into the global economy "to counteract the social, economic and financial impacts of the pandemic".
"The magnitude and scope of this response will get the global economy back on its feet and set a strong basis for the protection of jobs and the recovery of growth," the statement said.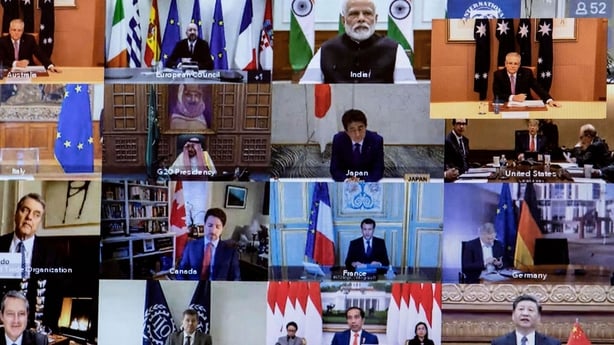 Chinese President Xi Jinping urged the group to remove trade barriers in an effort to spur a global recovery after the economic shock of the coronavirus pandemic.
China has been hit hard by the Covid-19 outbreak since it emerged in the country late last year, with more than 80,000 infected and nearly 3,300 dead nationwide, according to official figures.
The world's second-largest economy ground to a halt in February as authorities shut factories and imposed drastic lockdowns to curb the spread of the disease.
Economic growth had already slowed as a result of the long-running trade war with the United States that saw billions of dollars in tariffs slapped on trade between the two countries.
Pompeo spars with China over 'Wuhan virus'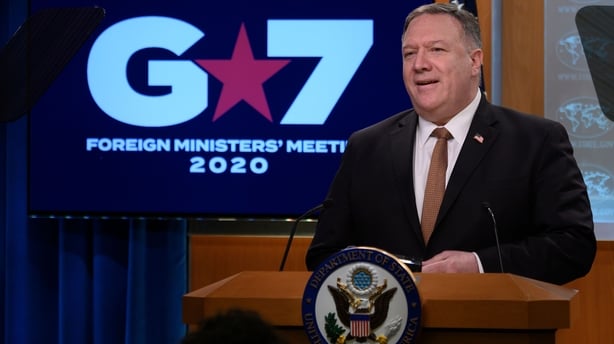 US Secretary of State Mike Pompeo said last night that the Group of Seven powers were united in opposing China's coronavirus "disinformation".
Foreign ministers from the major industrialized democracies spoke about the crisis by video conference, scrapping a meeting scheduled in Pittsburgh, but any hope of showing a common front was eroded by the absence of a joint statement, reportedly due to Pompeo's insistence that it use the term "Wuhan virus" - a formulation frowned upon by medical professionals who say it is stigmatizing.
"Every one of the nations that were at that meeting this morning was deeply aware of the disinformation campaign that the Chinese Communist Party is engaged in to try and deflect from what has really taken place," Pompeo told reporters.
Pompeo said that China "has been and continues to be engaged in" a social media campaign that has included conspiracy theories of US involvement. "This is crazy talk."
A Chinese foreign ministry spokesman infuriated President Donald Trump's administration by suggesting on Twitter that US troops brought the virus to Wuhan, the metropolis where it was first detected late last year.
A spokesman from China's foreign ministry said today that China strongly condemned Pompeo's comments, including his use of the term "Wuhan virus".
"This US politician moves counter to the international consensus and continues to stigmatise China, smearing China's efforts, trying to use this to shift attention and blame with extremely malicious intent," said Geng Shuang.
Restrictions easing in China but travellers in quarantine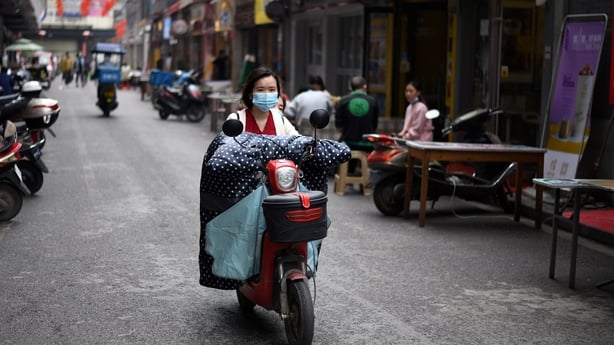 Mainland China reported no new locally transmitted cases of coronavirus for the sixth time in eight days as Hubei province, where the virus was first detected, opened its borders, but imported cases rose as Beijing ramped up controls to prevent a resurgence of infections. Any travellers arriving from overseas must submit to centralised quarantine.
All 67 new cases reported by the end of Wednesday were imported, and all 47 reported the previous day were imported too, the National Health Commission said in a statement. About 90% of all the imported cases were Chinese passport holders, 40% of them overseas students returning amid rising infections abroad.
The total number of cases in China now stands at 81,285, with 3,287 deaths at the end of Wednesday, up six from the previous day.
Hubei province, home to some 60 million people, reported no new cases on Wednesday and opened its borders. Public transport restarted and residents of Xianning, a city in Hubei, strolled the streets wearing masks. Local fruit and vegetable shops, hairdressers and bike repair shops were also open.
The lockdown of Hubei's capital Wuhan, where the virus first appeared late last year, will be lifted on 8 April, a milestone in China's war against the epidemic. The fatality rate in Wuhan stands at about 5%.
In the latest sign of a return to normal life, Shanghai officials said on Thursday that the city's cinemas would reopen on 28 March.
Iran has announced 157 new deaths from the novel coronavirus, raising the official number of fatalities to 2,234 in one of the world's worst-hit countries.
Health ministry spokesman Kianoush Jahanpour told a news conference that 2,389 new cases have been confirmed in the past 24 hours, bringing the total number of infections to 29,406.
---
Read more
Covid-19 National Summary
More coronavirus stories
---
Russia to ground flights, postpone term-limit vote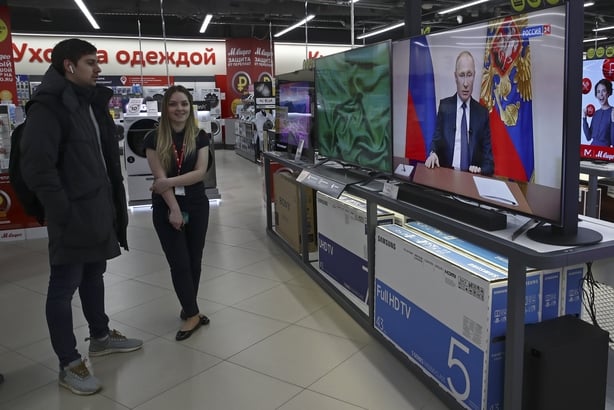 Russia will halt all international flights from midnight on Friday under a government decree listing new measures against the outbreak.
The decree published on Thursday orders aviation authorities to halt all regular and charter flights, with the exception of special flights evacuating Russian citizens from abroad.
The decree said that flights authorised by the Russian government would be exempt from the rule and that the new measures do not apply to domestic flights within Russia.
The government said Russians who were unable to return due to restrictions imposed by countries they are in should take measures to stay safe.
The decree also called on the finance ministry to allocate funds to repatriate Russians, adding that returnees would be subject to health checks and a two-week quarantine.
In a rare televised address to the nation Wednesday, President Vladimir Putin said he was postponing a national vote on 22 April to green light constitutional reforms that would allow him to run for two more terms after 2024.
He also took the unusual step of declaring 28 March to 5 April a non-working week in order to slow the spread of the virus, urging Russians to stay at home.
Putin also unveiled measures to boost the economy, including breaks on consumer loans and mortgage payments.
Moscow will close cafes, shops, parks and other non-essential services for one week starting Saturday, its mayor Sergei Sobyanin said today.
Sobyanin had already ordered Muscovites aged over 65 to stay home starting Thursday, but stopped short of ordering a strict quarantine.
Russia has reported 658 cases of the coronavirus and Moscow announced two COVID-19 related deaths Wednesday.
The country closed borders to foreigners last week, while Moscow has imposed its own stricter measures, requiring people over 65 to shelter at home.
India hopes lockdown of 1.3 billion people can stem spread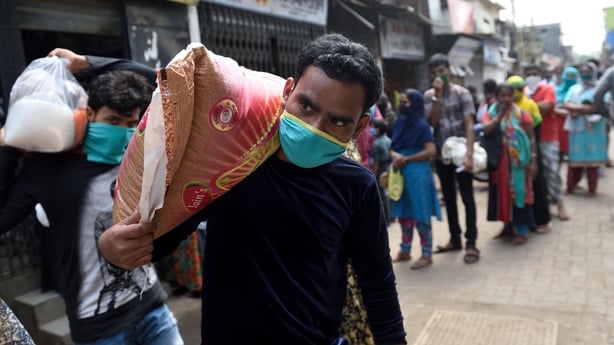 Three more people infected with coronavirus died overnight in India as the government sought to improve basic services to 1.3 billion people locked indoors to slow the spread of the disease.
Streets were silent across India's cities and towns on the second day of a three-week, 24 hour shutdown as people heeded Prime Minister Narendra Modi's call not to step out of homes except in emergencies or to buy food and other necessities.
Lines of people wearing masks, and some with gloves, could be seen outside small neighbourhood shops in Delhi and Mumbai,among other cities. Trucks were stranded at state borders and public transport was withdrawn.
Police have strictly enforced the lockdown even though Modi said essential services would be maintained.
Ram Prakash, a shopkeeper in Delhi's Nizamuddin area, said supplies of some essential goods had improved although bottled water was still a problem.
"We are still facing supply issues with a few things, but slowly things are getting better," he said.
The health ministry said the number of cases of coronavirus had risen to 649, of which 13 had died. The numbers are still small compared with those in China,Italy and Spain, but health experts have warned that the world's second most populous country faces a tidal wave of infections if tough steps are not taken.