The coronavirus pandemic and economic shutdown caused unemployment benefit filings by American workers to surge to 3.3 million last week, the highest number ever recorded, the US Labor Department has reported.
The normally routine report is at the frontlines of the economic crisis caused by the outbreak.
The virus has forced widespread closures of restaurants, shops and hotels, and brought airline travel to a virtual halt.
It has prompted the stunning increase in people filing for benefits nationwide in the week ending 21 March.
It comes as New York, the centre for the outbreak in the US, reported a 35% surge in deaths to 385 and 6,448 new cases.
Nearly every state cited Covid-19 for the jump in initial jobless claims, with heavy impacts in food services, accommodation, entertainment and recreation, healthcare and transportation, the report said.
The increase compares to 281,000 first time filers in the prior week and blows away the previous record of 695,000 set in October 1982.
In the same week of 2019, only 215,000 new claims were registered.
Economists had been warning about a massive increase in the jobless level, but the consensus centered around 1.5 million, which several cautioned was overly optimistic.
Ian Shepherdson of Pantheon Macroeconomics correctly predicted what he called a "horrific" result, noting that New York state alone had received 1.7 million calls about benefits.
The US Senate approved overnight a $2.2 trillion economic rescue package that includes an unprecedented expansion in unemployment benefits to try to cushion the blow until the pandemic is under control.
Thirty years of unemployment claims in the US pic.twitter.com/Ro3WVintND

— Matthew Garrahan (@MattGarrahan) March 26, 2020
The US has the third highest number of cases in the world, behind Italy and China, the source of the outbreak.
According to John Hopkins University, the US has 69,246 confirmed cases and 1,146 deaths, almost a third of which have occurred in New York city.
New York governor Andrew Cuomo today announced that the state's coronavirus death tally has jumped to 385, with 100 fatalities in the past day.
New York is at the epicenter of America's coronavirus battle and the state has now counted 37,258 positive cases, up 6,448 on yesterday, as it scrambles to prepare hospitals for an influx of new patients.
Covid-19 could lead to more than 80,000 deaths in the US and overwhelm hospital capacity nationally as soon as early April even if social distancing measures are respected, new research has suggested.
Forecasters at the Institute for Health Metrics and Evaluation (IHME) at the University of Washington's School of Medicine analysed the latest COVID-19 data at a local, national and international level.
The analysis estimated that based on current trends, approximately 81,000 people in the US will die from the virus over the coming four months. Estimates ranged between 38,000 and more than 160,000.
It forecast that a total of 41 US states will need more ICU beds than are currently available and that 12 states may need to increase their capacity by 50 percent or more to accommodate patient needs.
We need your consent to load this rte-player contentWe use rte-player to manage extra content that can set cookies on your device and collect data about your activity. Please review their details and accept them to load the content.Manage Preferences
The rescue package cleared the Senate 96-0 after days of tumultuous, sometimes bitter negotiations and debate as the US death toll drastically increased.
"Let us tell them tonight that help is on the way, that they are not truly alone, that this country, that this Senate, that this government is here for them in a time of dire need," top Senate Democrat Chuck Schumer said moments before the vote.
"Let us marshal this government into action."
The measure now heads to the House of Representatives, where a Democratic leader said he expected it to pass by voice vote on Friday before it goes to US President Donald Trump for his signature.
The monster package, thrashed out between Republicans, Democrats and the White House, provides direct cash payments to millions of hurting American taxpayers, amounting to $3,400 for an average American family of four.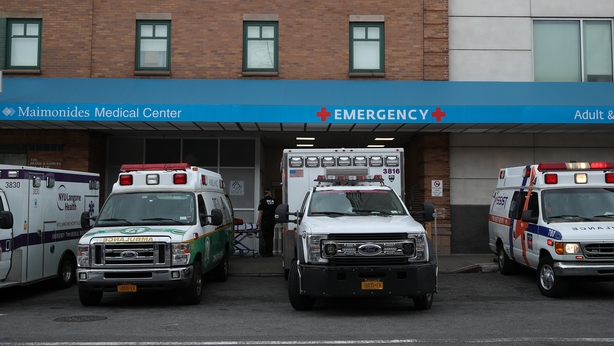 It provides some $500 billion in grants and loans to small businesses and core industries, including as much as $50 billion for strained airlines and their employees.
It also surges $100 billion of desperately needed resources for hospitals and other health facilities in dire need of medical equipment, and dramatically expands unemployment benefits to help workers sickened by coronavirus or laid off during the crisis.
About half of all US infections are in New York state.
"We still have the trajectory going up," said New York Governor Andrew Cuomo, adding that about 12% of the people who test positive require hospitalisation.
Mr Cuomo said health officials anticipate about 120,000 coronavirus patients coming into New York's hospitals, which have a capacity of 50,000 beds.
The state has around 30,000 confirmed cases, he added, with 285 deaths.
Around 80% of cases of Covid-19 will be a mild to moderate illness.
But the governor pointed to evidence suggesting New York's strict stay-at-home orders and social distancing measures have slowed the hospitalisation rate.
"The arrows are headed in the right direction," Mr Cuomo told reporters.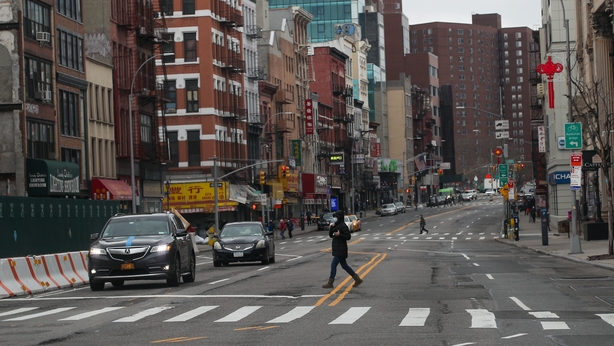 The intensity of the crisis caught the Trump administration by surprise, and by Wednesday President Trump and his top lieutenants were demanding the Senate quicken the pace and pass the legislation.
"We need to get this money into the American economy and (to) American workers," Treasury Secretary Steven Mnuchin said.
Over half the US population is now under some form of lockdown as authorities nationwide seek to stem the outbreaks.
Birmingham, Alabama and Charlotte, North Carolina have become the latest major US cities to order residents to stay indoors.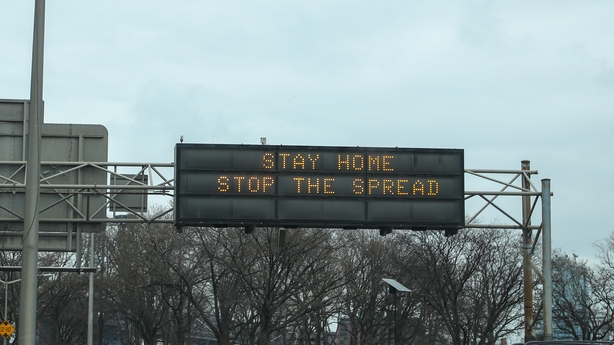 ---
Read Latest coronavirus stories
---
Wall Street stocks closed mixed yesterday as the markets awaited a vote on the rescue package, the third of its kind in the past month, but by far the largest.
Senate Majority Leader Mitch McConnell has hailed the "wartime level of investment" in the nation.
It dwarfs the bailouts of 2008, when a worldwide financial crisis sent the US economy into a tailspin.
With infections rising, the Senate bill's injection for hospitals could be among the bill's most effective element in fighting the pandemic, as it will help facilities restock protective gear, intensive care beds and ventilators and other medical equipment.
President Trump tweeted yesterday that four hospitals being built in New York with federal assistance "are moving along very well, ahead of schedule".
"Many additional ventilators also delivered," he added.
Mr Trump had voiced hope on Tuesday that the country could begin to reopen in a few weeks, but his top infectious disease advisor, Anthony Fauci, said the timetable would need to remain "very flexible".
The four hospitals that we (FEMA) are building in NYC at the Javits Convention Center are moving along very well, ahead of schedule. Many additional ventilators also delivered. Good conversation with Governor Cuomo!

— Donald J. Trump (@realDonaldTrump) March 25, 2020
Mr Trump faces a re-election battle this year, and his campaign has been upended by the pandemic.
On Tuesday, he said that social distancing had caused too much pain to the economy, adding that he wanted the country "opened up and just raring to go by Easter", which is 12 April.
Later, Mr Trump appeared to retreat from his Easter goal at a news conference alongside Mr Fauci.
New York Mayor Bill de Blasio told CNN yesterday he believed the coronavirus crisis will last "substantially past" Easter.