The first group of 150 asylum seekers being transferred to Co Kerry as part of Government's emergency response to Covid-19 have arrived in Cahersiveen.
This evening, 43 residents arrived at a former hotel in the town centre.
A further 62 residents will be transported from Dublin tomorrow and the remaining 45 residents will be transferred to the south Kerry town in the coming weeks.
A spokesperson for the Department of Justice and Equality said the move is part of the department's efforts to ensure the well-being and safety of the residents.
"This is being undertaken to create greater capacity in emergency accommodation centres in Dublin. We need to ensure that we have enough space in our centres to cater for possible cases requiring self-isolation," said the spokesperson.
The residents are being accommodated in the former Skellig Star Hotel, which has signed a 12-month contract with the department.
News of the imminent transfer of 150 asylum seekers to the coastal town on the Iveragh peninsula took locals by surprise at the weekend.
The residents include both families and single people and are of various nationalities.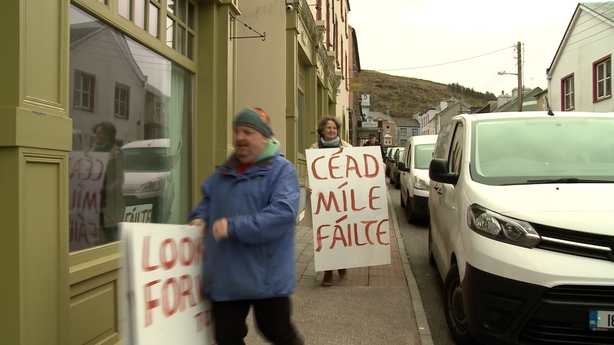 Earlier today, some local people were busy preparing welcome signs, while bags of toys, blankets and clothes were being delivered to the 56-bedroom hotel.
Local businessman Jack Fitzpatrick said every effort was being made to make the residents feel welcome.
He said: "We only heard about this on Saturday morning. So it's been a bit of a rush, but we are doing everything in our power to make them feel welcome and integrate them in to the community as soon as we possibly can."
However, anger has been expressed by some in the town at the sudden nature of the decision and the lack of consultation with the local community.
Independent councillor Johnny Healy Rae said many locals fear the accommodation may continue as a permanent centre after the Covid-19 pandemic abates.
He said: "There's a lot of concern when you bring 150 people in to a small town on the Iveragh Peninsula overnight, without any proper provision for services or consultation.
"The fear here is that the town won't be able to cope with the influx. GP services are already under pressure here. The town has a population of just 1,100 people. This is a huge influx with no consultation.
"They say this is down to the coronavirus emergency, but there's also fear here that we might need the hotel ourselves to help local people with coronavirus.
"It's also well recognised that there's hotels idle in abundance in Dublin at the moment due to lack of tourism. Why don't they use them if there's such an emergency?"
Local Fianna Fáil councillor Norma Moriarty said that public representatives have been reassured by officials that additional supports, including GP services, will be provided as part of the initiative.
She said: "We have to ensure that there would be adequate medical provision because the existing provision we have in the town is at capacity and can't cope with anything extra.
"We have been given assurances that dedicated GP services will be provided for the residents. We have also been assured that additional support services will be put in place."
The Department of Justice and Equality said the 150 residents have been in Ireland for some time and have been fully health screened by medical professionals.
"We will continue to work tirelessly to support our residents and would ask local people to understand the unique environment, pressures and strains on the system at this time as we look to ensure the safety of all involved," it said.