The National Bus and Rail Union has warned Dublin Bus, Bus Eireann and Irish Rail that its members do not wish to accept cash from passengers buying fares amid fears about the Covid-19 virus.
In letters to the chief executives of the three state-owned transport company, NBRU General Secretary said frontline transport workers were concerned about the risks emanating from the virus, but wanted to ensure that other workers, including health care personnel could continue to travel. 
However, Mr O'Leary said his members could not or would not operate the service without the recommended protective measures being put in place. 
He cited a need for more regular disinfection of trains and buses, hand sanitiser for drivers with no access to hand washing facilities, and raised the risk factor of handling cash for fares. 
Mr. O'Leary stated: "The NBRU has been calling for social distancing to be immediately implemented for the last week. We have demanded that the companies they work for provide hand sanitisers and alternatives to purchasing tickets will have to be put in place. Our members will not handle cash."
Transport unions met representatives of the three CIE companies today. 
Afterwards, Mr. O'Leary said unions had received some assurances that protective measures would be delivered. 
A spokesperson for the CIE group of companies confirmed that today's meeting had taken place to discuss service delivery, continuity and contingency as the country faces the Covid-19 pandemic.
He said CIE was grateful for the commitment of their workforce across the group and their trade unions in the public service ethos of the response to date, and on an ongoing basis to delivering essential services.
He said CIE would ensure that in so doing the health and well-being of customers and staff would be central to all they did, in line with the expert advice from the country's health care professionals. 
He defended the company's efforts to secure hand sanitisers for bus drivers, saying it was exhausting every option to get drivers a personal supply - but noted that extraordinary demand in the community and prioritisation of the healthcare sector made this very challenging.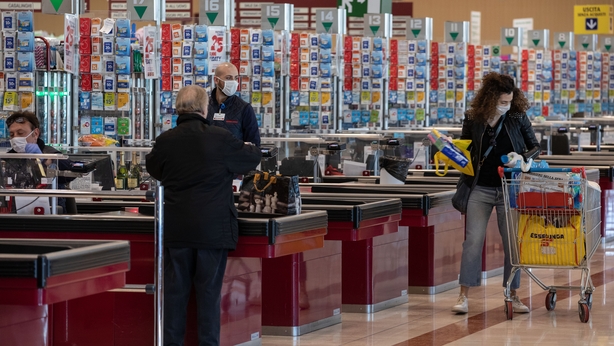 Earlier on Monday, the Mandate trade union said that some retail outlets are failing to adhere to HSE guidelines on managing the virus.
In a statement, Mandate Assistant General Secretary Gerry Light said dozens of members had raised concerns for their safety and the potential to spread the virus.
He said that while some outlets may be attempting to abide by HSE guidelines, there was an "uneven" approach across the industry.
The union has written to all major retail outlets citing concerns about customer overcrowding "...contrary to HSE Covid-19 guidelines", which preclude indoor mass gatherings of more than 100 people.
He also raises issues around alleged non-compliance on social distancing, non-provision of hand sanitiser at checkouts, and shopping trolleys and tills not being properly and regularly sanitised. 
Mr. Light also alleges that some outlets have engaged in an "...unreasonable refusal to provide protective gloves and face masks", and claims staff returning from high risk areas have been allowed to work.
Mr. Light states: "It is a matter of concern that some retailers who are parented in the UK are taking advice and instructions from the management teams there and this is totally inappropriate given that such advice is likely to be influenced by the regularity guidelines prevailing in that jurisdiction and not here."
He goes on to state: "In dealing with the various challenges that undoubtedly lie ahead we once again ask for a creative and flexible approach particularly when it comes to the application of our members' statutory and contractual entitlements."
He concludes: "While retail services are essential during these trying and difficult times, there are precautions that can and must be implemented to reduce the spread of the virus and protect workers from unnecessarily contracting it. Lives are at stake and retailers must ensure no shortcuts are taken on health and safety so that we can get through this as quickly and as safely as possible."