A rare collection of film depicting rural life in Ireland during the 1920s has been discovered in America. 
The silent films were made by Benjamin T Gault, a conservationist and naturalist, who visited Ireland to collect seabirds and other wildlife specimens. 
The valuable footage, which is on 35mm nitrate rolls, was captured between 1925-1927 and was shot on the Dingle Peninsula in Kerry and in Co Cork. 
The Irish Film Institute has described the collection as "precious", containing "unique and fascinating material."
The discovery was made by west Kerry farmer and fisherman Mícheál Ó Mainnín, as he sought to verify memories his grandfather had shared with him about 'the American with a camera' who arrived in Baile an Fheirtéaraigh in 1925.
A rare collection of film depicting life in rural Ireland in the 1920s has been discovered in America. The silent films were made by Benjamin Gault, a naturalist who visited Ireland to collect seabirds. Here's some lovely footage from Dingle Peninsula (Chicago Academy of Science) pic.twitter.com/LIvykPy2Ef

— Seán Mac an tSíthigh (@Buailtin) March 5, 2020
Mr Ó Mainnín said: "My Grandfather, Mick 'Neilí' Ó Mainnín, remembered this man coming around. 
"The locals called him by the nickname 'Kierty' for some reason. He was collecting birds, eggs and other animals. 
"He became very popular in the area as he had plenty [of] money and was giving out money to anyone who brought him birds.
"He also had a movie camera with him and my grandfather remembered him doing a lot of filming around Ballyferriter and the Blasket Islands. 
"My grandfather and his brother even took part in the filming when they were fishing near Inis Mhic Uibhleáin (one of the Blasket Islands)."
Using the family story as a starting point, Mr Ó Mainnín began the painstaking task of locating Gault's films, which finally led him to the Chicago Academy of Sciences, where he discovered the naturalist's private collection, including the priceless film footage, was held in the archive there. 
Mr Ó Mainnín said: "Dawn Roberts from the Academy in Chicago was very helpful and went searching for me and she found a fine collection of Gault's records. 
"The boxes include notebooks, diaries and a box full of films inside in canisters. All the films are neatly labelled giving details of where and what is on each film."
Manus McManus, film collections manager at the Irish Film Institute says Gault's films represents a precious record of life in Ireland in the 1920s.
He said: "The content descriptions indicate some unique and fascinating material shot in the mid-1920s in Dingle, Ballyferriter and Cork. 
"It includes street scenes, farming practices, fair days, St Patrick's Day, Easter Mass, and the Dingle Races. There is also footage from the Blasket Islands, Little Skellig and Inis Mhic Uibhleáin (Inisvickillane)."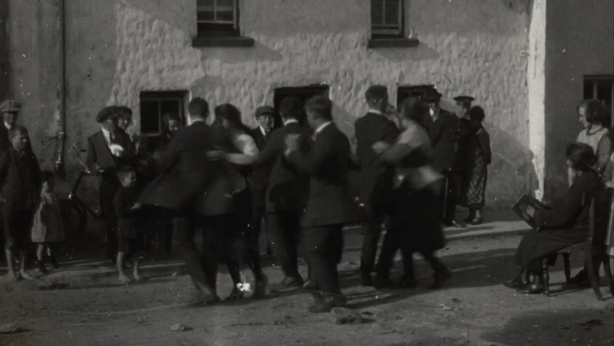 A sample of one of the films has been digitised by the Chicago Film Archives and the footage appears to be of high quality. 
The short film reel depicts traditional set-dancing on the street in Baile an Fheirtéaraigh and a scene featuring a family picking potatoes. 
Efforts are now under way to preserve and digitise the 'unseen' nitrate films, with a view to making them available to Irish and world audiences.
Mr McManus said: "Although the original nitrate rolls are being well cared for at the Chicago Film Archives, the material is nearly 100 years old and, consequently, some of it has become warped and fragile. 
"Good environmental conditions will slow the rate of decay, but gradual deterioration of the original film is inevitable; it is vital, therefore, that the rolls be scanned as soon as possible to preserve the best possible image. 
"Scanning is essential for access too, as most of these rolls are negative. Nitrocellulose is classed as a low explosive; so, the handling, transport and scanning of nitrate material presents serious challenges." he added."
The Irish Film Institute is now attempting to identify grant sources or the support of a private foundation or donor to help carry out the work.
It is believed conservation of the original nitrate films, scanning and careful digital restoration will cost €8,500.
Once Gault's Kerry films have been digitised and made available to the public, Mr Ó Mainnín is hoping to catch a glimpse of his own ancestors who were fishing around the Blasket Islands at the time.
"My grandfather said the 'Yank' made a bit of film on Inis Mhic Uibhleáin, one of the Blasket Islands, and that he took a picture of my grandfather, my granduncle and the Ó Dálaigh brothers who lived on the island as they walked down through the cliff with their dogs to their naomhógs (canoes). 
"Each of the men had a pipe in their mouth and my grandfather said they also put a pipe in the dog's mouth. They had great craic. It would be mighty to see that in the film." 
Gault, who died in 1942, developed a reputation as a respected naturalist and conservationist. 
He collected and observed birds and animals throughout the United States and abroad, travelling to Cayenne (now French Guiana) in South America and to various islands in Ireland.