The new St Michael's Estate in Inchicore, Dublin will be built without any units for the private market, which has led to fears locally that the mistakes of the past will be repeated.
The new estate will have around 500 homes, with 30% social housing and 70% to be a new form of housing known as cost rental.
That was not the plan back in May 2018 when Housing Minister Eoghan Murphy told the Dáil that it would be 50% private, 30% social and 20% affordable.
He said mixed tenure was "an important policy objective in the Government's Rebuilding Ireland" as it was believed to be a way to build sustainable communities.
However, views on social housing have changed in the meantime. 
Assistant Professor of Architecture in UCD Orla Hegarty has questioned the received wisdom that large council estates were mistakes causing deprivation and crime.
---
Listen to John Kilraine's report on Morning Ireland:
We need your consent to load this rte-player contentWe use rte-player to manage extra content that can set cookies on your device and collect data about your activity. Please review their details and accept them to load the content.Manage Preferences
---
She said most council housing in the country was successful and that problems in areas like Ballymun were the result of poor management and maintenance rather than the policy or the tenants themselves.
Many residents in Inchicore are concerned about the new thinking as they remember what happened before. 
Longstanding Inchicore resident George O'Gorman said when the old St Michael's Estate was first built it was "brilliant" with a good community spirit. 
However, Mr O'Gorman said things started to go wrong, particularly after the then-government introduced a £5,000 home buyers grant in 1984 and a lot of families moved out.
He said in the 1990s there was a huge drug problem and a lot of anti-social behaviour and that "you don't want to go back to that".
He said there is concern that a high density, mainly rental estate will create a transient population. 
"The fear is the unknown going forward seeing as it is a pilot scheme that hasn't been tried on a large scale before. What will it be like down the road?"
The old St Michael's had spacious flats with underfloor heating.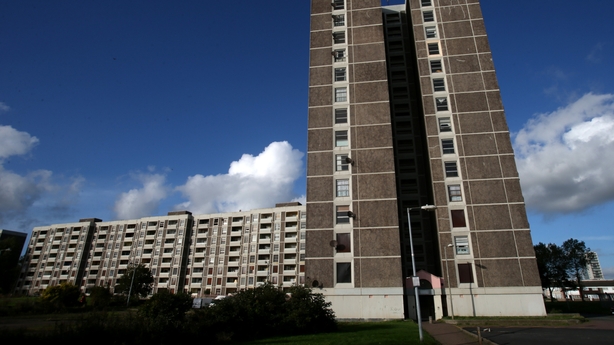 Ballymun too was considered an improvement on the old tenements and was built with young working families in mind. 
O'Devaney Gardens began as a mixture of private and social apartments in the 1950s.
However, all three estates became examples of what was considered wrong with council housing. 
The problem, it was believed, was that people wanted to move out of these estates and it was hard to build sustainable communities.
However, parties across the political spectrum are now complaining about State-owned land being lost to the private market and the latest plan for O'Devaney has reduced the private housing from the original plan for 50% to 20%. 
The remainder will now be affordable rental, social and affordable purchase. 
There is pressure, particularly from left-wing parties, to eliminate the private housing element completely.
The change in policy is good news for renters like south city resident Kate O'Connell. 
She said she and her partner Lucas and baby daughter are stuck in a one-bedroom apartment as they cannot afford a larger apartment. 
This is despite the fact that both she and her partner have good jobs.
Ms O'Connell said she would like a cost rental home in the new St Michael's estate as it would give her a fixed rent and security of tenure so her family could plan for the future.
Cost rental is aimed at working people particularly families who do not qualify for social housing but who cannot afford current rent levels.
It is aimed at couples earning under €75,000 a year.
As it is being built on public land there is no land acquisition cost so the rent is set at an economic level after the costs of construction, estate management and sinking fund is calculated.
It is currently estimated that the rent for a two-bed apartment will be €1,200 to €1,300 in St Michael's compared to the market cost of at least €1,700 in the area.
Assistant Chief Executive with Dublin City Council Brendan Kenny said the new estate will be "entirely different" and says cost rental will attract a mix of tenants. 
He also said that Dublin needs a strong rental market and that homeownership will become less important in the future.