An Irishman living in China has been told he cannot leave his apartment due to a nearby case of the Covid-19 coronavirus. 
Eoin O'Neill, originally from Arklow, is one of hundreds of people in lockdown in the Wanzhou district of Chongqing. 
Wanzhou borders Hubei province, leaving Mr O'Neill just a ten-hour drive away from Wuhan - where the outbreak is believed to have originated. 
"We're smack in the middle of it. There's about 1.5 million people here, which is fairly small in Chinese terms," he said. 
On the last day of classes before the Chinese New Year, Mr O'Neill says the school he teaches at was told to shut its doors because of the virus. 
"The following day bars and restaurants were also told to close. They didn't want a lot of people in the one place where it could spread quickly," he said. 
"Immediately, we were told to wear masks," Mr O'Neill said. 
"We were told to stay at home while they were judging how bad it was. They were checking people here and there," he added. 
Within a few days, Mr O'Neill was informed that there was a case of coronavirus in the apartment building next to his own.
"We were told one person from each household could go out once every three days. Other than that, we had to stay home," he said. 
"This went on for seven or eight days and doctors were coming to the door to check our temperatures," he added. 
However, this restriction tightened two days ago when residents were told they were not allowed to leave their apartments again until 2 March.
Chinese authorities have instructed people to wear masks to stop the spread of the Covid-19 coronavirus. Eoin O'Neill, a Wicklow man currently in lockdown near Wuhan in China, spoke to RTÉ News about his experiences since the outbreak began | Read more: https://t.co/1Gk065809T pic.twitter.com/9hlDvcxUUm

— RTÉ News (@rtenews) February 19, 2020
"Trapped is pretty much what it is! The door is locked and I can't go out," he said. 
Authorities collect household waste every morning and will deliver food that is ordered from supermarkets. 
"At night they spray the roads with disinfectant. They use massive trucks with water cannons on them," he added. 
He says the authorities have been very good at communicating what is happening. 
"They're in constant contact using WeChat, which is like WhatsApp. We've understood everything that has been going on since the start," he said.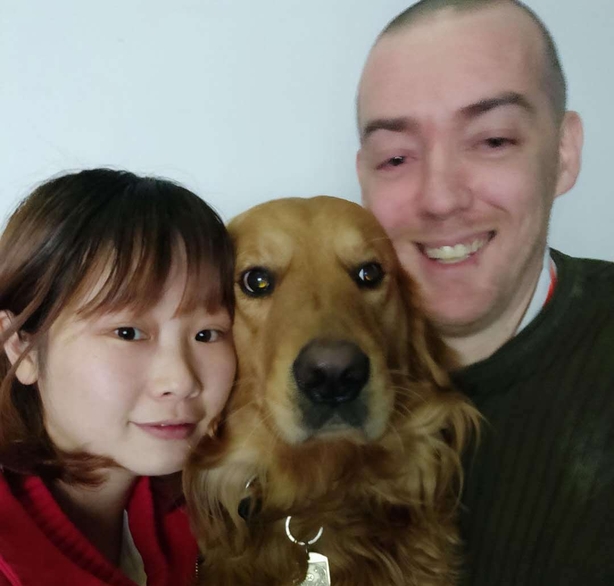 He has been living in China since 2010, after originally travelling through Beijing on a round-the-world-trip. 
"I've been in China for ten years now. I met my wife and I've been married five years. I love Wanzhou and I love China," he said. 
He is in the second day of the quarantine and has been keeping busy by watching movies, reading books, and playing video games.
"The only problem I have is training the dog to use the bathroom," he said.
Online classes are being used to raise money to buy supplies for doctors in the Wuhan region, where the Covid-19 coronavirus outbreak is believed to have originated. | Read more: https://t.co/1Gk065809T pic.twitter.com/oqVzclYsH0

— RTÉ News (@rtenews) February 19, 2020
Mr O'Neill continues to teach over the internet but says the transition from a physical classroom to online lessons has been unusual. 
"We have 600 students in these online classes. It isn't as good as seeing them in front of you, but we're trying to make the best of it," he said. 
He said the money raised from these classes is going to doctors in Wuhan. 
"The school has bought 800 hazmat suits. Everyone is trying to pull together and do what they can to try to get through," Mr O'Neill said.