Sinn Féin leader Mary Lou McDonald has spoken to Fianna Fáil leader Micheál Martin despite him having ruled out a coalition with her party.
The pair had a 15-minute phone call this afternoon in which Ms McDonald said she told Mr Martin that people voted for change and not a grand coalition between Fine Gael and Fianna Fáil.
She said people voted for the opposite of a grand coalition and that she would write to Mr Martin in the coming days to set out the "substance" of Sinn Féin's position, adding that she had asked him to do the same.
"I told Micheál Martin that people who voted for Sinn Féin and those who voted more widely for change are angry that Fianna Fáil is denying them the respect of sitting down with the party that represents them. 
"Throughout the election campaign I said that I would talk to everyone after the election because that is what we are duty bound to do with our respective mandates.
"I will write again to Micheál Martin in the coming days to set out the substance of our position and have asked him to do the same. 
"Any meeting between us should be about building homes, giving workers and families a break, advancing Irish unity and delivering on the desire of the people for a new Government for Change."
We need your consent to load this rte-player contentWe use rte-player to manage extra content that can set cookies on your device and collect data about your activity. Please review their details and accept them to load the content.Manage Preferences
Green Party TD for Dublin West Roderic O'Gorman said the potential for his party's participation in any government is based on commitment to the delivery of climate action measures, public housing and Sláintecare.
Speaking on RTÉ's Six One, Mr O'Gorman said he and his party do not agree with "the bigger parties exclusion of Sinn Féin" and he believes that all parties should be engaged with.
He said the "time for posturing has come to an end" and that next week should bring "substantive discussion on the areas of policy."
Mr O'Gorman said: "People voted for change and they have given parties a mandate to negotiate a significantly different approach than what has been seen in recent years during the confidence and supply arrangement."
Earlier, Ms McDonald spoke to reporters in Dublin, where she said her advice to smaller parties being asked to participate in a Fianna Fáil-Fine Gael coalition would be "don't do it".
She described as "farcical" the idea that a new government of Fianna Fáil and Fine Gael would represent the change that voters wanted.
Ms McDonald said she would call the Fianna Fáil leader Micheál Martin this afternoon with a view to setting up a meeting regarding his party's decision not to go into government with Sinn Féin.
She said it was "quite disgraceful" that what she called "the old boys club of Fianna Fáil and Fine Gael" were disrespecting Sinn Féin voters.
She said such a coalition would be a "step backwards" and would be "defying the wishes of the people".
This morning, Sinn Féin TD Eoin Ó Broin said it will be impossible for his party to form a coalition government without the support of either Fianna Fáil or Fine Gael.
However, he said Sinn Féin does not have a coalition preference for one or the other - because the policy platform of both parties did not represent the change voters wanted.
Speaking on RTÉ's Morning Ireland, Mr Ó Broin said Sinn Féin is still open to talking to all parties while noting the "huge policy differences between Sinn Féin and Fianna Fáil".
It is understood Mr Martin rang Ms McDonald yesterday afternoon after the Fianna Fáil parliamentary meeting and left a message saying they could talk, or meet, but not about a coalition.
Mr Ó Broin is a member of Sinn Féin's negotiating team, which is attempting to put the party into government. 
Mr Ó Broin said while it is early days in the talks, he does not think the public will tolerate it dragging on for weeks.
Ó Cuív against coalition with Fine Gael and Greens
Meanwhile, Fianna Fáil TD for Galway West, Éamon Ó Cuív, has said Fianna Fáil "will be divided from top to bottom" if members are asked to make a decision on a Fianna Fáil, Fine Gael and Green party coalition.
Speaking on RTÉ's Drivetime Mr Ó Cuív said Micheál Martin "made it clear in yesterday's meeting that he is determined to go into government."
He said the only way that can happen is with a Fianna Fáil, Fine Gael and Green party coalition.
Mr Ó Cuív said this option will go against the choices made by the majority of the electorate who voted for change, because he said, "that's not change."
He said if the party rejects that coalition option then the Dáil would have to embark on "round table talks to resolve the issue in a responsible way."
Mr Ó Cuív also predicted that the process to form a government would not take as long as in 2016.
Earlier, Fianna Fáil's Dara Calleary echoed his party leader's position, saying the party is very clear and united that it will not be entering government with Sinn Féin as policy issues are "too incompatible".
He said it was a very "unified" Fianna Fáil parliamentary meeting yesterday and they are united in not entering government with Sinn Féin.
He said there are very significant differences, including issues with how the party is run and that there are "too many bridges" between the two parties. 
He said it is going to be an incredibly difficult process in forming a government and will require compromise and they will seek solutions to be delivered by a new government. 
He said Fine Gael is the only party that have not met and that clarification will come.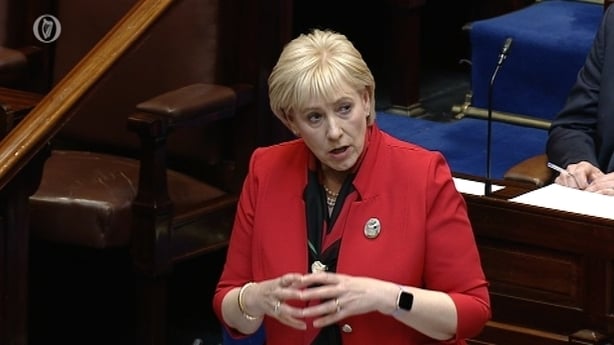 Fine Gael's Heather Humphreys said there is no point in the party talking to Sinn Féin as they are "miles apart" when it comes to policies. 
She said the election was not a good one for Fine Gael and it is up to those who won the election to form a government. 
"Fianna Fáil won the most seats and Sinn Féin won the popular vote," she said.
She would not be drawn on a possible Fine Gael and Fianna Fáil coalition, saying she does not have a mandate to be make those decisions.