Met Éireann has lifted its Status Orange wind warning along the Atlantic coast as Storm Ciara continues to cross the country.
Meanwhile, a Status Yellow snow and ice warning is in place for the entire country with widespread wintry showers forecast.
The west and north are expected to be worst affected and the warning remains in place until midnight Tuesday.
A Status Yellow wind warning has also been issued for counties Donegal, Galway, Leitrim, Mayo, Sligo, Clare and Kerry.
Met Éireann said a combination of spring tides and high seas could also result in coastal flooding, especially at high tide.
The number of homes, farms and businesses without electricity has increased again over the last few hours, due to the weather conditions.
The ESB said there were around 8,300 customers affected across the country.
Most of the power outages have been caused by high winds, but some faults are due to lightning.
The ESB said it hopes to reconnect all the affected customers overnight, with crews working to carry out repairs as soon as possible and where conditions are safe to do so.
A number of local authorities in western counties say they will be closely monitoring high tides over the coming days.
Galway City Council says car parks in the Salthill area will be closed ahead of high tide tomorrow morning, which is due at around 6am.
Sligo County Council says members of the public should take particular care in coastal areas due to the high tides, large swells and onshore winds.
Meanwhile, Kerry County Council says a section of the R569 Clonkeen to Kilgarvan road has been closed, with diversions in place, to a partial collapse of the road during Storm Ciara.
@LimerickCouncil tree down near Sarsfield House

Partial road blockage pic.twitter.com/H68J1rJxUk

— (((Patrick Hogan))) (@phog6189) February 10, 2020
In Clare, the N85 at Ballyea South, Inagh, is closed due to flooding, while the Cliffs of Moher will be closed to visitors all day.
The Road Safety Authority and AA Roadwatch is asking road users to exercise extreme caution while using the roads due to weather conditions.
People are also being advised to stay away from exposed beaches, cliffs, piers, promenades and harbours.
The Irish Coast Guard has said it "strongly advises" the public to stay away from exposed beaches, cliffs and piers during the ongoing stormy conditions.
It says the message is to "stay back, stay high and stay dry" during the high tides, large swells and onshore winds.
In Northern Ireland, people and livestock were rescued from flooding amid the aftermath of Storm Ciara.
Bad weather conditions resulted in a number of incidents of flooding, particularly in counties Fermanagh and Tyrone.
Firefighters helped two people trapped in a car in flood water to safety in the Lisnawery road area of Augher, Co Tyrone early on yesterday morning.
They pushed the car out of the water at around 8am, and the pair escaped without injury.
A couple of hours later, firefighters rescued 12 sheep from flood water using lines and a reach pole at an incident in the Cavan road area of Dromore, Co Tyrone.
Meanwhile, on Saturday night, a pump was used to divert water away from 15 houses at risk in Laragh's Croft in Enniskillen, Co Fermanagh.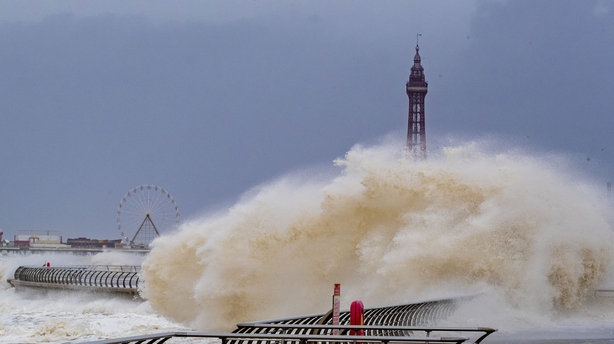 As well as Ireland, Storm Ciara has hit the UK, France, Belgium, the Netherlands, Germany, Denmark and Switzerland.
Germany's rail operator Deutsche Bahn has cancelled long-distance train services in many parts of the north west.
It said cancellations would be extended to the rest of the country.
Rail companies in England, Scotland and Wales have urged passengers not to travel, during what the UK's Met Office has said could be the strongest storm to hit the country for seven years.
Additional reporting Fergal O'Brien and PA