The funeral of Cameron Blair has been told his death has broken the hearts of his family, his friends and his community.

The 20-year-old engineering student died after he was stabbed during a row at a student party at a house in Cork last Thursday week.

Crowds began arriving at St Peter's Church in Bandon, Co Cork for Cameron's funeral service from more than an hour before it was due to start.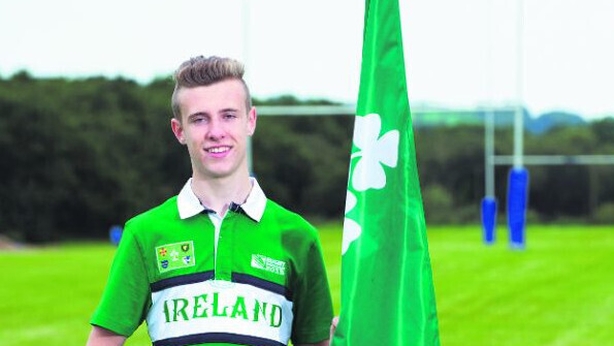 His parents, Noel and Kathy, and brother, Alan, were joined by his wider family, friends, and community.

The service was led by Reverend Anne Skuse, who is Chaplain at Bandon Grammar School, where Cameron was a pupil.
Rev Skuse told the congregation that Cameron's tragic death had broken the hearts of his family, his parents Kathy and Noel, and his brother Alan. It had broken the hearts of his friends and of the whole community.
But, she said, today was not a day for questions or looking for answers as to how such a thing could happen. Today, she said, was about remembering and giving thanks for Cameron's life.

In her sermon, she said: "Cameron had within his soul a deep kindness and care for others; a generosity of spirit that shone so bright this week as so many people, both young and old, recalled small acts of loving kindness that he had shown to them; acts of kindness that were done quietly, without wishing to draw any attention to himself."
Cameron Blair's coffin is brought to St Peter's Church in Bandon, Co Cork, for his funeral service, accompanied by his parents, Noel and Kathy, and his brother Alan. Cameron was confirmed at this church just seven years ago... @rtenews pic.twitter.com/pESS4sNsyc

— Paschal Sheehy (@PaschalSheehy) January 26, 2020
At the close of the Service, the Bishop of Cork, Cloyne and Ross, Dr Paul Colton, who confirmed Cameron in St Peter's Church in 2013, offered condolences and sympathy to Cameron's family.
He said: "The last time I stood on this step beside Cameron was on 19th May 2013 to lay my hand on his head in Confirmation.
"Our prayer that day was that 'Cameron would continue to be God's forever… until he comes to God's everlasting kingdom'. On that happy day, we did not remotely imagine that this devastating day would come cruelly far too soon in his young life."
During the service, prayers were offered for all university and college students that they may live in peace and safety.
Cameron Blair was buried at Kilbeg Cemetery just outside Bandon after the funeral service.
Last Friday, a 17-year-old boy was brought before a special District Court sitting where he was charged with Cameron's murder.