A report released by the Department of Health has found that fewer children are reporting substance use.
The Health Behaviour in School-aged Children (HBSC) study is an international study carried out across 47 countries and regions in conjunction with the World Health Organisation.
The Irish section of the report found lower rates of cigarette smoking, use of alcohol, and cannabis last year when compared to 2014.
This year's report was the first to look at e-cigarette use. It found it is roughly twice as common as tobacco smoking.
Slightly fewer children reported general health and happiness in 2018 than in 2014.
The rate of bullying others was stable, but the percentage of children reporting that they have been bullied is higher in 2018 than in 2014.
A new measure of cyberbullying was introduced in 2018, and the rates of cyberbullying are considerably lower than the rates of traditional bullying.
Those aged over 15 are asked about sexual behaviours and the reported rates of sexual initiation, contraceptive pill and condom use are all lower than those from 2014.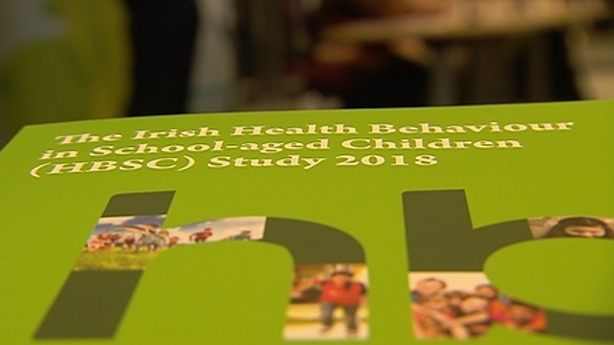 A senior researcher on the study has said there is much to be encouraged by in the report.
Speaking on RTÉ's Morning Ireland, Aoife Gavin said many of the risky behaviours - such as drinking and smoking - show sustained decreases.
She said when compared to the other 46 countries that participated, Irish children "fare very well in reporting happiness in their lives".
However, Ms Gavin said that there are particular areas that need investigation, and focus needs to be put on girls, in particular the older teenage girls.
"When we compare the children of Ireland to the other 46 countries that participate, Ireland always fares very well in terms of Irish children reporting happiness and being happy with their lives.
"But I think in particular we should be focusing on the girls, and the older girls - the 15 to 17 year old girls. They're significantly more likely to report being unhappy or poor life satisfaction."