Australia has launched a major operation to reach thousands of people stranded in seaside towns after deadly bushfires ripped through popular tourist areas on New Year's Eve.
Navy ships and military aircraft were deployed alongside emergency crews to provide humanitarian relief and assess the damage from one of the worst days yet in Australia's months-long bushfire crisis.
Thousands of holidaymakers and locals are bedding down at beaches after fleeing the deadly blazes.
In seaside communities along a 200km strip of coast, terrified crowds - wrapped in blankets and wearing make-shift facemasks - sought refuge from the inferno near the water.
Some with boats took to the sea in near-darkness, hoping to find safety, as one of the worst days yet in Australia's months-long bushfire crisis prompted a military deployment to help relief efforts.
Three people have died, five more are unaccounted for, and scores of properties were feared destroyed after flames reached well-populated towns like Batemans Bay, normally busy with visitors during Australia's summer holidays.
Information was trickling out of coastal communities where thousands of holidaymakers and locals were thought to have seen in the New Year taking refuge from flames at surf clubs, as power outages and damage to telecommunications towers brought down phone lines and the internet.
New South Wales (NSW) Rural Fire Service commissioner Shane Fitzsimmons said emergency services faced a "real challenge" trying to help injured people - some reportedly suffering burns - in isolated areas.
"We haven't been able to get access via roads or via aircraft. It's been... too dangerous and we simply can't access, nor can the people in these areas get out," he said.
10:30am update from Dad at the wharf in Mallacoota - "fire front not far away" #Mallacoota #bushfirecrisis pic.twitter.com/MvgeiZqujM

— bluesfestblues (@bluesfestblues) December 30, 2019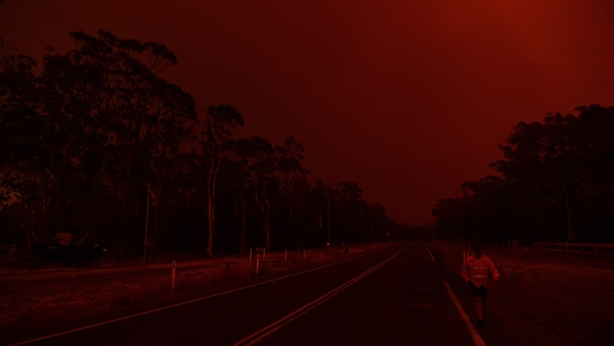 But there was cheers and relief in the town of Mallacoota - where towering columns of smoke turned the sky pitch black and nearby fires caused waves of "ember attacks" - after around 4,000 people who had huddled on the foreshore ringed by fire trucks survived unharmed.
"I understand there was a standing ovation at the end of that for the firefighters," Victoria Emergency Management commissioner Andrew Crisp told public broadcaster ABC.
Cooler temperatures and lighter winds also provided a window of opportunity for relief efforts, but there were concerns over new fires in alpine regions.
"There's a lot of people holidaying, again, up in those areas," Crisp said. "We'll be prioritising those and hitting them as hard as we can. We don't need any new fires."
Firefighters were racing to take advantage of the mild weather to contain dozens of blazes, as authorities warned the fire danger would spike again on Saturday. 
"At the very least, weather conditions will be at least as bad as what they were yesterday," NSW Premier Gladys Berejiklian said.
This picture just in from family boarding boat in #Mallacoota #MallacootaFires approx time of photo 9:45am pic.twitter.com/WJEQScDp9f

— Bradley Deacon 🇦🇺 (@BradleyWDeacon) December 30, 2019
In some places the blazes were so intense, the smoke so thick and the dry lightning storms precipitated by the fires so severe that aerial reconnaissance and waterbombing had to be halted.
The situation was scarcely better in inland rural communities, where countless more people were displaced and forced into makeshift camps.
Hundreds of "anxious and stressed and traumatised" people were gathered at Bega's showgrounds, said 44-year-old Beck Walker, who had been holidaying with her husband and two young sons when they heard sirens warning them to evacuate before dawn.
"We had to pack up and leave straight away," she told AFP. "It was pretty scary because the sky was red... By 7.30 am we thought it was still night because the sky had turned black."
Australia's defence minister Linda Reynolds said helicopters, aircraft and naval ships would be sent to the region.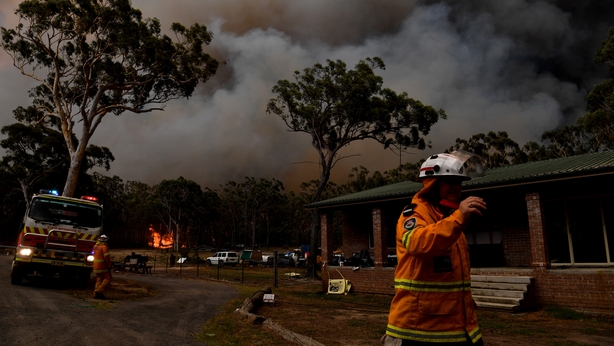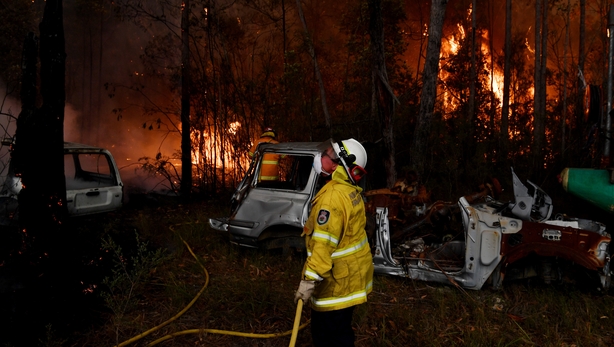 The military is expected to conduct damage assessments and potentially provide those displaced with food, shelter and electricity and even evacuation.
More back-up has been requested from firefighters in Canada and the United States.
Francesca Winterson is in a building on the main street of #Mallacoota and describes the wind, darkness and falling embers as fires burn about 500 metres away.

She says it's too late to leave and fire crews are on hand to offer as much protection as they can. pic.twitter.com/6Tjfb4nyUR

— News Breakfast (@BreakfastNews) December 30, 2019
Australia's unprecedented bushfires have been burning for months, but the latest in a series of heatwaves and high winds have wrought new devastation.
The crisis has also hit cities like Sydney and Melbourne, home to several million people.
Yesterday, around 100,000 people were urged to flee five Melbourne suburbs as the blaze bore down on homes just 16km from the centre of Australia's second-biggest city.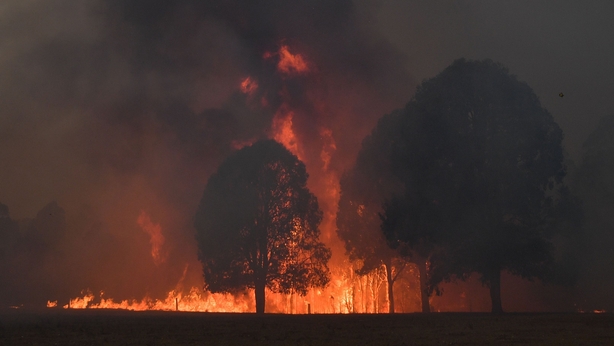 Sydney was again shrouded in toxic bushfire haze.
Sydney's New Year's Eve fireworks went ahead, but a similar event has been cancelled in Canberra and several regional towns.
A Rural Fire Service spokesman said a 28-year-old volunteer firefighter died yesterday in New South Wales when a "fire tornado" picked up an eight-tonne truck "and flipped it over".
A 63-year-old man and his 29-year-old son died in the devastated town of Cobargo.
Thousands of tourists and residents in the Australian seaside town of Mallacoota sought refuge in boats, hunkered down in public buildings or waded into water at the seafront, as wildfires circled the town | https://t.co/5GW92THs63 pic.twitter.com/tDnuemGydC

— RTÉ News (@rtenews) December 31, 2019
Ten others, including two other volunteer firefighters, have been killed so far this fire season.
The blazes have destroyed more than 1,000 homes and scorched about 13.5 million acres - an area bigger than Denmark or the Netherlands.
The crisis has focused attention on climate change - which scientists say is creating a longer and more intense bushfire season - and sparked street protests.
While conservative Prime Minister Scott Morrison belatedly acknowledged a link between the fires and climate change, he has continued his staunch support of Australia's lucrative coal mining industry and ruled out further action to cut carbon emissions.