The FAI board has apologised to those involved in Irish football, the public and its staff for "mistakes of the past". 
The Association said it was sorry to the "hundreds of thousands involved with Irish football at all levels of the game".
FAI Board Apology pic.twitter.com/JUAqCxiSNE

— FAIreland ⚽️🇮🇪 (@FAIreland) December 29, 2019
Minister for Sport Shane Ross has welcomed the apology. 
FAI President Donal Conway said the situation facing the association is "bleak but fixable", and described it as a matter of "huge regret".
Speaking at a press conference following the reconvened AGM of the association, Mr Conway said he hoped his announcement that he will step down next month will improve relations between the FAI and the Government.
Mr Conway said: "The clear message from our delegates today is that Irish football wants to move forward and we apologise to all our stakeholders for the mistakes of the past."
He added he has clearly been identified as "old guard" so his stepping aside can only be helpful.
"I was part of a board for many years that has to bear collective responsibility for not doing better," he said.
"The picture is bleak, but I think it is fixable," he added.
"I really regret the association is in this challenging position… it impacts my sport in particular and it impacts all the agents in the game, from players right through, parents, referees, clubs, leagues, staff in the FAI, and it is regrettable that this is what they face at the later end of 2019," he added.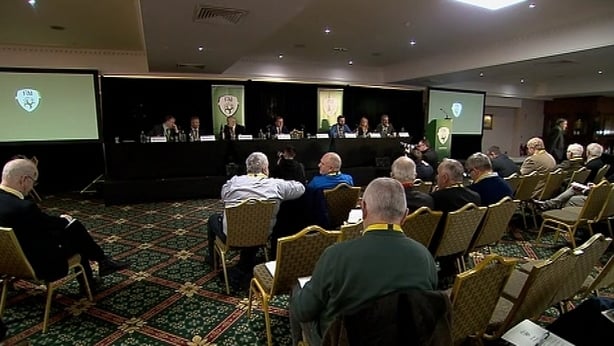 Asked about comments from the auditors that the FAI board had misled them, he said he would not respond as it may have to be dealt with in other processes.
FAI Executive Lead Paul Cooke said the FAI's problems would have to be dealt with through a partnership approach.
He said the FAI had recently met Minister Ross, since the meeting in Leinster House where they asked for €18m.
He said the meeting was "productive and workmanlike".
We need your consent to load this YouTube contentWe use YouTube to manage extra content that can set cookies on your device and collect data about your activity. Please review their details and accept them to load the content.Manage Preferences
Mr Conway was asked about a tweet by Mr Ross about geese being cooked, he said it had caused a lot of anger but he declined to comment on the motivation for it.
Earlier, Mr Cooke said the position of the association is very serious, and that there is a possibility of examinership or liquidation.
Mr Conway also said that if the association goes into examinership, it will call into question the FAI's membership of UEFA and FIFA and participation in international competitions.
He added the board is working very hard to avoid that outcome.
FAI Auditors Deloitte said that in their opinion they were misled, and say that the FAI failed to keep accurate books of account.
The association has current liabilities of €62 million and made a loss of €8.9 million in 2018. They believe that 2019 will also be loss making perhaps up to €4m.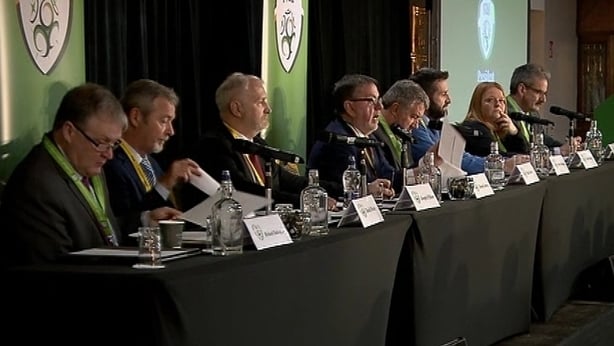 Asked if everything related to the association's finances was now out in the open, Mr Conway said he could not rule out further financial revelations.
Delegates were told that last year's exceptional losses were due to a number of factors including an accrued bonus for former CEO John Delaney, the departure of the senior management team and payments to Revenue.
In a statement released this evening, Minister Ross has said: "The Government does not see either liquidation or examinership as a viable option for the Association or for Irish Football."
Mr Ross said he expects to "meet UEFA , representatives of all League of Ireland clubs, spokespeople for the trades unions, directors of the FAI and other stakeholders in pursuit of a solution that avoids liquidation or examinership but secures the future of Irish football".
.@Corktod sums up the events of an FAI agm that featured claims of auditors being misled and an apology from the board to "hundreds of thousands involved with Irish football at all levels of the game". pic.twitter.com/kvVT60ihmk

— RTÉ Soccer (@RTEsoccer) December 29, 2019
Director of Finance Alex O'Connell also told delegates that the financial statements for 2016 and 2017 have been adjusted.
The 2016 figure was adjusted from a €2.3m surplus to a €66,000 surplus, while the 2017 figure was adjusted from a surplus to a €2.9m loss.
A detailed cash flow projection prepared with Grant Thornton predicts the FAI could be "cash positive" by 2023.
One delegate asked how much could be raised if the FAI sells its stake in the Aviva Stadium.
Mr Cooke said the bank has a charge of €30m on the stadium, and the FAI needs €20m so it would need to get a price of €50m.
Several delegates have said that they find it very hard to understand how auditors missed so much in the FAI accounts, when companies they are involved with have been audited the scrutiny went right down to the level of petty cash.
Additional reporting: Colman O'Sullivan