There has been another successful identification of a body of a long-term missing Irish person in Wales, this time a body that has lain unidentified for 36 years.
Conor Whooley was just 24 when he vanished in Dublin in August 1983.
One of a family of seven, originally from Greystones, Co Wicklow, Conor had been living in Rathmines at the time of his disappearance.
For the last 36 years, Conor's family have wondered what had happened to him.
It was publicity about a previously solved case that led to Conor's body finally being found.
His mother was watching RTÉ's Crimecall two years ago and saw an appeal being made by gardaí for the families of all long-term missing people to give DNA samples, which could then be compared with unidentified bodies in Ireland, Britain and further afield.
Operation Runabay, led by the Garda Missing Persons Bureau and Forensic Science Ireland, has led to the successful identification of a number of unidentified bodies both at home and in Britain.
Through linking up with police in north Wales - who have been running a similar investigation on the other side of the Irish Sea, called Operation Orchid - detectives and scientists have now solved three long-term missing person cases, all Irish citizens who for decades lay buried unidentified in graveyards in Wales.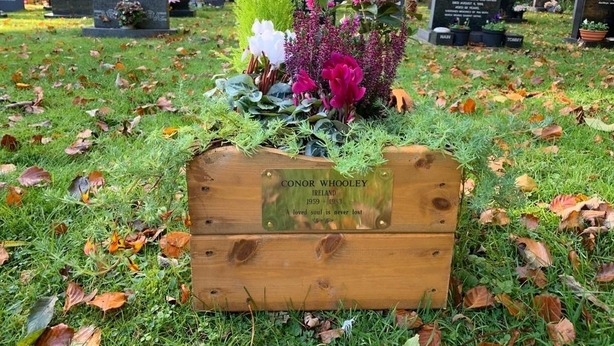 Conor Whooley's case is the latest success story.
The other two are the cases of Pauline Finlay and Joseph Brendan Dowley.
Ms Finlay was last seen alive walking her dogs on a Co Wexford beach in 1994.
It was more than two decades later that her body was finally identified in a Welsh cemetery following meticulous work by forensic scientists.
Pauline's body had travelled 136km from the Wexford coast to where it was found on the north Welsh coast late in 1994.
Joseph Brendan Dowley, 63, was last seen getting on a bus in Kilkenny in October 1985 for onward travel to the ferry in Dublin bound for Wales.
What was only established in recent years is that Joseph's body was washed up on a beach in Wales one month after he disappeared and was buried in Menai Bridge Cemetery on Anglesey.
His body was finally identified in 2018, 33 years after his disappearance.
Amazingly, by coincidence, the body of Conor Whooley was buried in the same cemetery.
An unidentified body had been found washed up on a beach at Rhoscolyn on a Saturday morning in October 1983.
At that time, and in an era before DNA profiles could be extracted from bodies, all Welsh police had to go on was dental records, and the knowledge that the body was male, and had been in the water for some time.
The body was buried at 'Plot 322' at Menai Bridge Cemetery.
Under Operation Orchid, the body was exhumed in 2013 so a DNA profile could be extracted, amid hope the body might be a missing Norwegian sailor.
Tests later showed the body could not be that missing man, but in recent weeks came dramatic news that the body had now been identified as Conor Whooley.
Conor's brother Seán said his mother gave a DNA sample two years ago and he was later asked to give a DNA sample.
All of the testing has now shown that the body at Menai Bridge Cemetery, which has lain unidentified for 36 years, is his missing brother.
"This has really come as a bolt from the blue. For the first four or five years that Conor was missing we were hoping for a call, but 36 years later to get this news, it really came out of the blue," he said.
"Conor is one of a family of seven, he's the third eldest. Our father passed away in 2015 still wondering what happened to Conor. Our mother is still hale and hearty, and it was she who gave DNA after seeing a report on RTÉ.
"It took two years from giving that sample to get this news. It is good that we finally know what happened to Conor."
The work of forensic scientists in this case shows how examining DNA profiles and getting matches can be a long and meticulous process. In this case, the scientists took maternal DNA and sibling DNA, which both ultimately showed a match with the body at Menai Bridge Cemetery.
Detective Sergeant Don Kenyon of North Wales Police said there are other bodies in Wales that remain unidentified and some may also be Irish.
"Our experts tell us that a person entering the water in Wales is less likely to be washed up at Anglesey, it is more likely, and it has now been shown that bodies travel across the Irish Sea from the southeast coast of Ireland."
Detective Kenyon has been liaising with the Garda Missing Persons Bureau to assess what missing Irish persons could be possible matches for unidentified bodies in north Wales.
Sergeant Richie Lynch of the Missing Persons Bureau said gardaí are also looking at other parts of the western British seaboard where other unidentified bodies are buried, from Scotland, down the western coast of England, down past Wales and to Cornwall.
"Right along that coastline there are around 115 unidentified bodies, and logic tells us many of those bodies came from the Irish Sea, and some must be Irish."
Gardaí are appealing to all families of missing people to ensure they give DNA samples in the hope that more cases can be solved.
For now, the news that Conor Whooley has been identified after 36 years will give encouragement to scientists at Forensic Science Ireland and to detectives on both sides of the Irish Sea that decades-old mysteries can be solved, and people can be found.
Tomorrow, members of the Whooley family, including Conor's mother, will travel by ferry from Dublin to Holyhead where they will be met by Detective Sergeant Don Kenyon.
They will travel to Menai Bridge Cemetery and visit Conor's grave.
Poignantly, there is now a special marking at the grave. It is no longer simply 'Plot 322'.
When Sergeant Richie Lynch recently met Seán Whooley to tell him in person that his missing brother's body had been found, Seán rang his daughter who was travelling through Britain.
She went directly to the grave in Wales. Nearby, she arranged for a plaque to be constructed, and she placed it at the grave in readiness for the visit by some of Conor's siblings and his mother.
The plaque reads "Conor Whooley, Ireland, 1959-1983. A loved soul is never lost".