A Dundalk woman who helped Lisa Smith convert to Islam has said while she cannot stop her from attending the Dundalk Community Mosque, the 38-year-old "will not be welcome there".
Carol Duffy grew up in Muirhevnamore in Dundalk, close to Ms Smith and her family.
The council estate was known locally as "Little Belfast", after many families moved there during the Troubles.
"We grew up in the same estate but we didn't go to the same schools, the only contact we had with each other was when we met on the street. It was 'hi' and 'bye' and that was it", she said.
Ms Smith joined the Defence Forces in 2000, serving as a private at Aiken Barracks in Dundalk for five years before transferring to the Irish Air Corps where she served as a flight attendant on the Government Jet.
It was around 2010 that Ms Duffy struck up a friendship with her.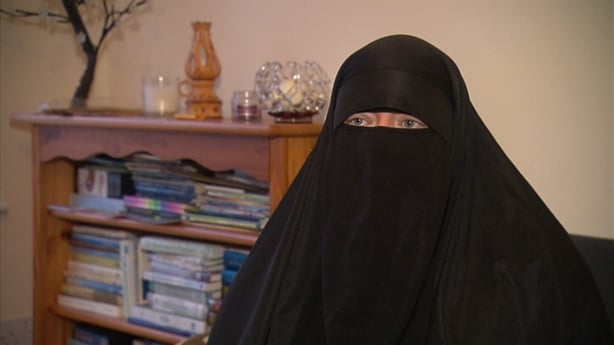 It was a friendship that would last just over three years.
"I met her when she came to the Mosque to ask questions about her conversion to Islam. She was still in the Army. She was living like anyone else would. She said she had tried a few religions beforehand but she always seemed to come to Islam because she had friends who were Muslim," she said.
Ms Duffy said initially they got on well and enjoyed each other's company.
"I liked her, she was a nice girl but sometimes when people come to religion, it brings out the best in them, but in Lisa's case, it brought out the worst," she said.
"She became arrogant, self-centred, she was arguing about everything. She had militant ideas. She was very quick to make it about them and us. It was the Muslims against everyone else, this is what she started doing. It's not an attitude we're used to. We don't believe in them and us," she said.
During Ramadan 2012, Ms Duffy invited Ms Smith to her house as she had been asked to speak her about her behaviour.
It was the last time the two friends spoke.
"People were worried about things she was doing so I invited her to my house. It was basically to tell her that people are talking about her. We had a row then and she left my house," she said.
Before she left Ms Smith told Ms Duffy that she was moving to Tunisia.
Ms Duffy said that to her knowledge Ms Smith returned to Dundalk in 2015 before leaving for Syria.
When the story of her whereabouts broke earlier this year, Ms Duffy said she initially believed Ms Smith had simply been in the wrong place at the wrong time and had found herself in Syria through bad luck, after getting stuck there while on holiday.
"I was thinking, why would you go there? How would a white woman get into Syria from Ireland? Why would you leave comfort and go live in a war zone? I didn't believe it. When I saw her interviews, it completely changed my mind. Her demeanor, the way she was talking. It completely changed my mind about her being naive and not knowing what she doing.
"ISIS are not boy scouts. This is not a club where you go and enjoy yourself. People were killed and murdered. Women are sold off like cattle. Children are married off."
She said Ms Smith has been saying she was just a housewife doing her shopping and visiting friends but she would have seen all that.
"In one of her reports she said as she was going in a taxi with her new husband he told her not to look at the side of the road. There was a man nailed to a cross on the side of the road with his eyes gouged out. How can you be so flippant about this?"
Whatever happens to Ms Smith, Ms Duffy said she will not be welcome back at the Mosque in Dundalk.
"We've talked about this a lot. I have my own opinion but I can't push that on the other women. People don't want her here. Some of these women have come from war-torn countries and they came here to get away from that. They want to live here and want to have peace for once in their lives.
"Legally if she comes into worship we can't stop her but when it comes to our classes or activities, she won't be welcome in any of those."