Protesting farmers who have blocked a number of roads in the centre of Dublin are demanding a meeting with Minister for Agriculture Michael Creed.
The action caused severe traffic disruption with many streets closed and several bus routes affected.
The protest looks set to continue overnight with Minister Creed yet to agree to a meeting.
It is understood more tractors could be on their way to Dublin, with possible disruption for morning commuters.
Tractor Protests continue and the following roads remain closed until further notice: Kevin Street, Cuffe Street, Kildare Street, Merrion Square South, Dawson Street, Merrion Row. Diversions are in place to facilitate the flow of traffic for motorists.

— An Garda Síochána (@GardaTraffic) November 26, 2019
Meanwhile, two tractors and around 30 protesters have blocked one of the exits from Leinster House tonight.
The exit on Merrion Square was targeted and there is a large garda presence in the area.
Several Oireachtas members and staff are unable to leave the car park with a queue of vehicles at the exit.
Protesting farmers block the exit to Leinster House in Merrion Square, several Oireachtas members & staff unable to leave @rtenews pic.twitter.com/hMfuiktWO7

— Fran McNulty (@franmcnulty) November 26, 2019
Earlier, hundreds of farmers took part in the protest near Leinster House in efforts to improve farming standards in rural Ireland.
Several of those attending said they wanted better prices for farm produce and want the Government to take steps to deal with what they say is a crisis in rural Ireland.
It is an unofficial protest and does not have the backing of the main farming representative organisations.
The group grew out of the beef protests that took place in recent months.
It is called the Individual Farmers of Ireland and insists it is not a new organisation, but is working to help create more fairness for farmers and their families.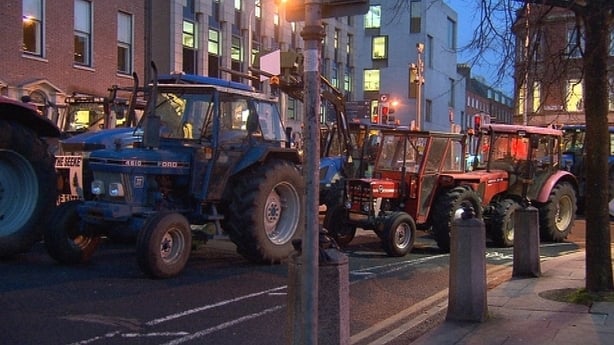 Responding to questions from opposition TDs in the Dáil about the protest today, Minister for Agriculture Michael Creed said that the Government recognised that there were difficulties in the sector.
He said the Government had made €120m available in additional funding in 2019, as well as other farming supports.
The minister said the Government was anxious to see the establishment of the task force that had been agreed as part of the negotiations to end the farmer protests outside meat companies earlier in the year.
He said that some progress has been made, but that there were difficulties because one of the factories with injunctions remaining is outside the process.
Mr Creed said there was an added difficulty because senior managers in that company have had death threats made against them.
However, this evening Garda sources told RTÉ News that no complaint regarding death threats have been made regarding staff at C&D Foods in Co Longford.
Despite not receiving any complaint regarding the allegations, gardaí have made inquiries on the matter.