A proposal by Coillte to erect ten wind turbines on Corry Mountain in Co Leitrim is being met with opposition by local people, who say it will severely negatively impact them and the area they live in.
Coillte has confirmed that the proposed Croagh wind farm would have ten turbines, each at 168 metres high.
The development would generate approximately 50 megawatts of clean electricity whereas, Coillte said, older technology would have required over 30 turbines to generate the same output.
Artist Adrienne Diamond is one of a group of people living in the area who are opposing the project. She made a scale model of one of the turbines and it scared her, she said.
Ms Diamond says there are only four similar large turbines in the country and she believes the Croagh wind farm is a test case.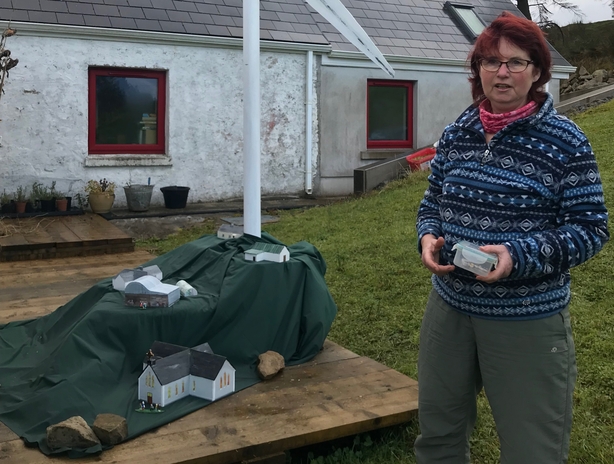 A review of guidelines for wind farms has not yet been completed, public consultation is expected to begin next month and she said there should be a moratorium on any wind farm developments until there are new guidelines and regulations in place which take account of what she described as "giant turbines".
We need your consent to load this rte-player contentWe use rte-player to manage extra content that can set cookies on your device and collect data about your activity. Please review their details and accept them to load the content.Manage Preferences
Ms Diamond runs canoeing tours and social farming with her partner Graham Robertson from their home in the Killavoggy area, where there are already six turbines in fields adjacent to their property.
They say the new structures would create a horseshoe of turbines around their home.
They are supportive of renewable energy but said there are alternatives available which would be better suited to Co Leitrim.
Along with their neighbours, they believe the erection of more turbines on such a large scale would have a detrimental effect on their, and other, tourism enterprises in the county.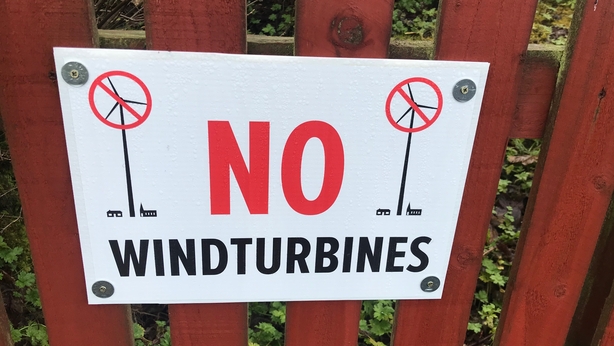 Mr Robertson said people come from all over the world because of the unspoiled environment in Leitrim, but they are unlikely to want to come back if the landscape is festooned with such large turbines.
Up to 50 families may be affected by the proposed wind farm and Ms Diamond and others say they have concerns about flicker and noise, as well as a possible impact on their health and the environment.
Coillte said its aim is to build renewable energy projects that are good for Ireland, good for Coillte and good for local communities, and the proposed Croagh wind farm has been designed with the ability to meet the latest iteration of guidelines for wind energy.
It has adopted "a best in class and conservative approach to the current design phase, and in doing so future proofed the project for any new guidelines which may be issued".