The brother of Quinn Industrial Holdings Director Kevin Lunney has said there will only be comfort when the people who attacked him are "apprehended, convicted and put away".
Speaking on RTÉ's Today with Sean O'Rourke, Tony Lunney said it was very difficult to sit through last night's BBC Northern Ireland Spotlight programme, in which Kevin Lunney spoke for the first time about his abduction.
He said the family had taken "sensible security precautions", but that "you can only do so much" without making daily life impossible.
Tony Lunney said he met Garda Commissioner Drew Harris yesterday and described the meeting as "constructive".
"The Commissioner listened carefully, I was very happy with the way the meeting went. He's very well informed. He has a huge job right across the country to do.
"I went away from the meeting thinking there is certainly commitment to get the job done, but obviously the results have to flow through yet," he said.
We need your consent to load this rte-player contentWe use rte-player to manage extra content that can set cookies on your device and collect data about your activity. Please review their details and accept them to load the content.Manage Preferences
Mr Lunney said nothing was ruled out in the meeting, and that even though the PSNI and gardaí were working closely together, there were still obstacles.
He said the border had always been a "big issue", particularly with regards to people "slipping across".
"It's another dimension. It's harder for the authorities to deal with these type of people. They know every loophole in regard to the law, how to drag it out and how to avoid it.
"It is a concern, and that's where the feeling is that this is very difficult at the border, even with full cooperation north and south with the authorities," he said.
Tony Lunney said most people in the area are great people with a great work ethic, but there is a small minority that have "gained power and a bit of status and they're trying to control and destroy this area".
Speaking on the same programme, Fianna Fáil leader Micheál Martin called for a cross-border, multi-agency group, similar to the Criminal Assets Bureau, to be established in order to prevent attacks on QIH directors.
He said such a group would deal with such "exceptional criminals" who are "professional and vicious".
Mr Martin said "the rule of the State does not run here" and ordinary policing would not sort out the problem.
He said "a no holds barred response" on both sides of the border was required.
The Fianna Fáil leader said the establishment of CAB following the murder of journalist Veronica Guerin was successful.
The PSNI has stepped up security around QIH offices as well as the company's directors.

Officers are carrying out regular patrols around company premises, and are checking any unusual activity.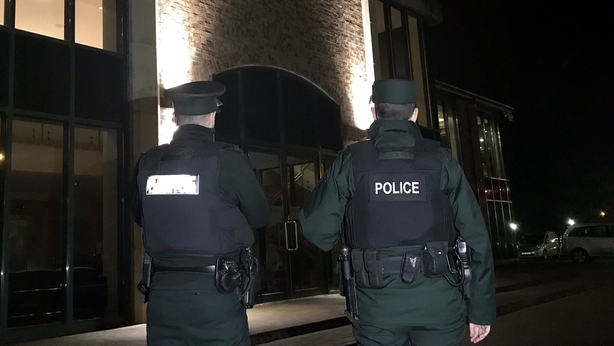 'Horrific' to hear details of abduction
The CEO of Quinn Industrial Holdings has said it was "horrific" to watch his colleague Kevin Lunney describe details of his abduction and torture.
Speaking on RTÉ's News at One, Liam McCaffrey said that whilst he was aware of some of the details of the attack on Mr Lunney, last night's broadcast of BBC Northern Ireland's Spotlight brought back "all the horror in one fell swoop", adding, "there were tears shed in our house last night".
Mr McCaffrey said he believes that Mr Lunney took part in the interview "to bring the full horror of what is going on home to people in order to prompt the necessary response from authorities".
The QIH CEO said all of the directors have a set of responsibilities to the 840 staff employed at the company and that €50 million has been invested, and 200 jobs have been created over the last five years to bring the firm "back from the brink".
He said any resignations of the directors from the company would not solve anything, and that the intimidation is likely to move on to the next management team.
Mr McCaffrey said: "A) resigning won't solve the problem; B) if we resign it's likely the business will go into a downturn ... and thirdly, and we haven't fully decided on this, we have a responsibility to our families.
"But at this stage we are seven weeks on since the attack on Kevin and the escalation and we need to put our trust in the authorities to react and respond to bring those involved to justice."
---
Spotlight's interview with Kevin Lunney will be broadcast again tonight on BBC Two Northern Ireland at 11.15pm.
---