New levies on plastic bags, disposable cups and waste disposal have been proposed by the Government.
Minister for Communications, Climate Action and Environment Richard Bruton has confirmed the measures.
He said they were aimed at encouraging more sustainable behaviour and were a key part of the Government's Climate Action Plan.
Under the proposals announced today, the existing plastic bag levy will increase from the current rate of 22c to 25c.
It will also be extended to include medium weight plastic bags, which are often referred to as a 'bag for life'.
A waste recovery levy of €5 a tonne would apply to the three key waste recovery options: landfill, incineration and export.
An increase of the landfill levy by €5 per tonne to €80 per tonne has also been proposed.
Perhaps, most controversial of all is a new levy on disposable cups.
The rate is to be determined following market research, but likely to be 10c, 15c or 25c, according to the department.
The new and increased levies will be in place either next year or in 2021.
We need your consent to load this rte-player contentWe use rte-player to manage extra content that can set cookies on your device and collect data about your activity. Please review their details and accept them to load the content.Manage Preferences
The Government said the funds collected would be ring-fenced and invested in environmental projects.
The levies are just proposals and Mr Bruton has announced a public consultation on the charges, which runs until next month.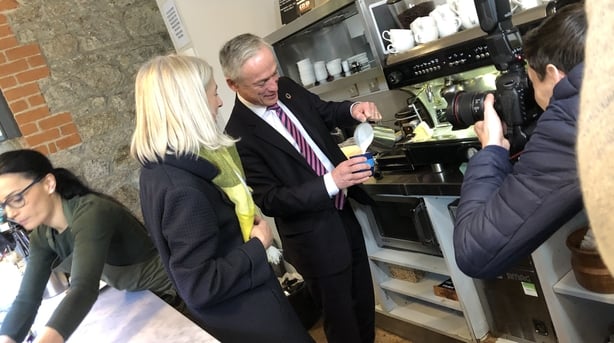 New levies on plastic bags, disposable cups and waste disposal have been proposed by the Government to 'convince people the need to make changes in their lifestyle', the Minister for Climate Action has said | Read more: https://t.co/rvHkPS0lBr pic.twitter.com/QacSytWPXK

— RTÉ News (@rtenews) November 6, 2019
Speaking on RTÉ's Morning Ireland, Mr Bruton said the country needs to move away from the concept of single-use disposable products, adding that the new levies are about getting people "to change the habits of a lifetime".
He said he would propose applying the so-called "latte levy" to all disposable coffee cups, even ones that are recyclable.
Mr Bruton said that although some cups are compostable, we do not have the infrastructure to ensure those cups are making their way to the brown bin.
He said: "A lot of this is about getting people to change the habits of a lifetime. In this case, there are easily accessible alternatives.
"A keep-cup is available to anyone to use, and that has a dramatically lower impact on our environment, both in the materials used and in the discarding of those materials into the waste stream."
Mr Bruton said an increase in the levy would encourage people to bring a keep-cup.
The Convenience Stores and Newsagents Association has said the levy increase will put them at a competitive disadvantage to businesses that already ignore the plastic bag tags.
Its CEO, Vincent Jennings, told RTÉ's Today with Sean O'Rourke that it does not intend to stand in the way of the proposal, but that it was looking for a "level playing pitch".
Mr Jennings said that his members will obey the law and charge the "latte levy", but they want to ensure they were "not handing over a competitive advantage to companies who will not be charging that".
Green Party Councillor Hazel Chu has said the "latte levy" will be successful if it is applied across the board.
Speaking on the same programme, she said: "Overall you're looking at 22,000 cups a day being used at the moment and they're not compostable or recyclable, and that is a problem.
"There needs to be better recycling facilities and industrial composting made available by the State, and there needs to be targeting of the producers of plastic, not the consumers."
An environmental campaign group have welcomed the proposed introduction of the disposable cup levy.
VOICE says the levy could help significantly shift consumer behaviour.