Britain will hold its first December election in almost a century after Prime Minister Boris Johnson won approval from parliament for an early ballot aimed at breaking the Brexit deadlock.
As the European Union granted a third delay to the divorce that was originally supposed to take place on 29 March, the United Kingdom, its parliament and its electorate remain divided on how, or indeed whether, to go ahead with Brexit.
Mr Johnson, who had promised to deliver Brexit on 31 October "do or die", demanded a 12 December election after parliament - where he has no majority - frustrated his attempts to ratify the last-minute divorce deal he struck with the EU earlier this month.
In a rare parliamentary success for Mr Johnson after a string of defeats, his short bill calling for a 12 December election was approved 438 to 20 in the House of Commons.
The bill now goes to the House of Lords.
Before the vote, Mr Johnson had said parliament was obstructing Brexit and thus damaging the economy by preventing investment decisions, and corroding faith in democracy.
"There is only one way to get Brexit done in the face of this unrelenting parliamentary obstructionism - this endless wilful fingers-crossed 'not me Guv' refusal to deliver on the mandate of the people - and that is, Mr Speaker, to refresh this parliament and give the people a choice," he said.
Following the latest vote, Labour party leader Jeremy Corbyn said that party will launch the "most ambitious and radical campaign for real change".
Meanwhile Liberal Democrats leader Jo Swinson said the election will decide the future of Britain "for generations". She also said that it was the best chance for people to "elect a government to stop Brexit".
Earlier, MPs voted by 315 to 295 to reject a Labour amendment for the proposed polling day to be moved to 9 December - three days earlier than ministers wanted.
The vote effectively clears the way for Parliament to be dissolved on 6 November, paving the way for an election on 12 December.
The opposition parties had wanted to bring forward polling day to cut off any possibility Mr Johnson could make a fresh attempt to ram through his Brexit deal before Parliament is dissolved.
However, Downing Street warned that it was not "logistically possible" while government sources accused the opposition of a deliberate attempt to scupper the whole election.
The result on the election means Mr Johnson finally has within his grasp the election he has been pushing for since September after three previous attempts - the most recent on Monday - failed.
Earlier today, the house decided not to vote on allowing EU citizens to take part in parliamentary elections or lowering the voting age to 16, according to an official document showing the provisional selection of amendments.
Opposition parties had sought to use the law to change who is allowed to vote in the election, but their proposals were not selected by parliament's deputy speaker. The government had said these would, if passed, force them to abandon the early election.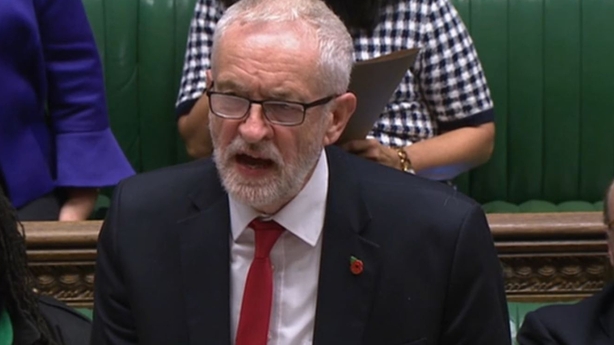 To my British friends,

The EU27 has formally adopted the extension. It may be the last one. Please make the best use of this time.

I also want to say goodbye to you as my mission here is coming to an end. I will keep my fingers crossed for you.

— Donald Tusk (@eucopresident) October 29, 2019
As the European Union granted a third delay to the divorce that was originally supposed to take place on 29 March, the United Kingdom, its parliament and its electorate remain divided on how or indeed whether to go ahead with Brexit.
Mr Johnson, who had promised to deliver Brexit on 31 October - "do or die" - has repeatedly demanded an election to end what he casts as a nightmare paralysis that is sapping public trust in politicians by frustrating any Brexit outcome at all.
Earlier, the Scottish National Party signaled it would support a move by Mr Johnson to introduce a one line bill setting the election date.
Unlike the previous three attempts to hold an early election, this method only requires a simple majority to pass, and the support of the SNP will provide that, outflanking Labour objections.
The government aims to pass all stages of the election bill by tonight, clearing the way for the dissolution of parliament within days.
---
Read more:
EU agrees Brexit extension to 31 January
UK to destroy limited edition coins after Brexit delay
---
Meanwhile, ten of 21 MPs who were expelled from the Conservative Party last month after rebelling over Brexit have had the whip restored, a party spokesman said.
The Tory ten MPs who have had the whip restored are: Alistair Burt, Caroline Nokes, Greg Clark, Nicholas Soames, Ed Vaizey, Margot James, Richard Benyon, Stephen Hammond, Steve Brine and Richard Harrington.
The other 11 MPs who lost the party whip were Guto Bebb, Kenneth Clarke, David Gauke, Justine Greening, Dominic Grieve, Sam Gyimah, Philip Hammond, Oliver Letwin, Anne Milton, Antoinette Sandbach and Rory Stewart.
Separately, both the Taoiseach Leo Varadkar and Tánaiste Simon Coveney will update ministers on the latest Brexit developments at tomorrow's Cabinet meeting.
It is understood ministers will be informed about the ongoing preparatory work for a UK departure from the European Union.
It emerged earlier this week that the UK government's preparations for a no-deal Brexit - entitled Operation Yellowhammer - are being wound down.
However, the Irish Government continues to plan for all possible eventualities - even though a crash-out Brexit is now considered to be a very outside possibility.
Additional reporting PA, Paul Cunningham