It was described as "the find of a lifetime", and now research has shed new light on 12th century 'graffiti' art discovered in an archaeological dig in Dublin almost two years ago.
The carved slate, depicting a warrior-like figure on a four-legged animal, was uncovered during excavations in The Coombe in January 2018.
"There was just disbelief when we found this little carving, in such amazing detail," reflects Aisling Collins, the lead archaeologist on the project.
"Then when the story appeared in the media, there was a huge amount of interest and lots of theories. We got lots and lots of emails. Some people said the animal was a dog, some said it was a horse, some said it was a wolf. Others said the sword in the man's hand looked like a Viking sword. It was such a unique find and it really captured the public's imagination."
Ms Collins asked Dublin City Archaeologist Ruth Johnson, an expert in Viking and early medieval art, to carry out further analysis on the slate.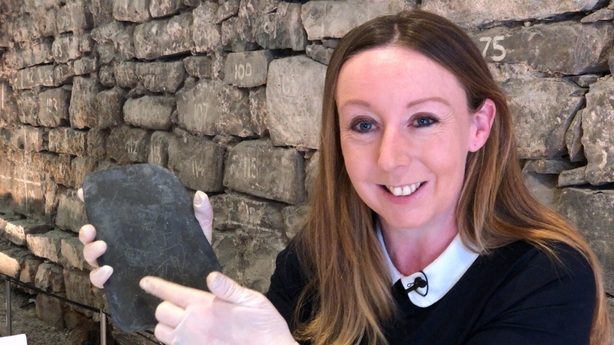 Over the past 18 months, Dr Johnson has engaged with multidisciplinary experts from Ireland and across Europe to try to establish its origins.
"Everybody who has seen the slate wants to know what it is and who it is. And everybody has a theory. One of the theories that has abounded was that the animal is not a horse, it's a wolf. And of course that leads us down all sorts of fantastic Norse mythological routes. There was speculation that the drawing was Odin in battle with the wolf Fenrir. That's a very tempting proposition, so I had to consider that very carefully.
"But what made this find really exciting for me was that it was right on the cusp of a massive change in Dublin, which was the Anglo-Norman invasion of Ireland. So the challenge was to try to understand this childlike, naive piece of graffiti in the context of the late 12th century. There was a Hiberno-Norse culture, but the town had just been overtaken by these Anglo-Norman colonial overlords."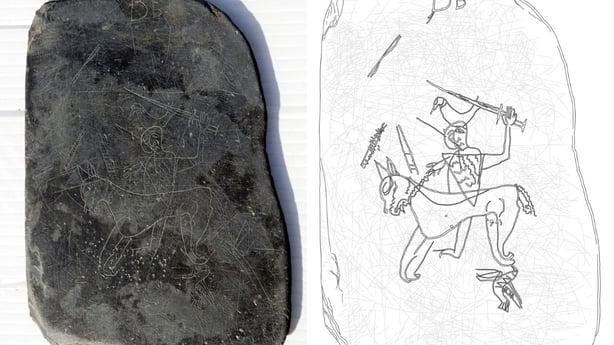 Dr Johnson's investigations are detailed in a section of a 813-page report '124-128 The Coombe'. 
It concludes that the slate is "likely to be a scholar's pen trial" and "the main subject, a knight on horseback, may be a copy of a medieval equestrian seal, which would have been in circulation in Dublin after the Anglo-Norman Invasion."
Dr Johnson added: "I think the person that inscribed this may have been a child scholar and this would have been his or her learning tool. The letters on it suggest they were learning to write. But they were also copying the equestrian seal, the seal of authority, and this was probably part of their study."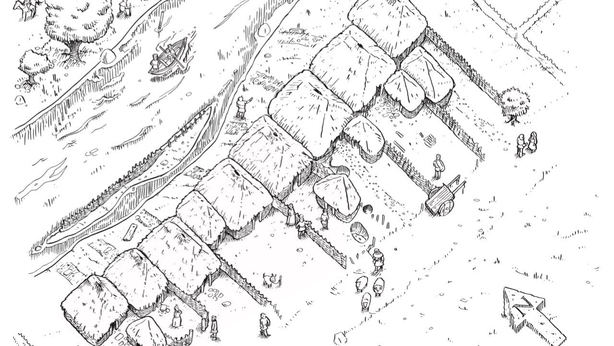 "That's the story so far. But there have been so many twists and turns in this research and I think there are more to come. I've liaised with so many experts in various disciplines - art, stone, geology, archaeology, handwriting, weaponry and warfare - and I'm going to continue to do so.
"Every time I show it to someone they suggest a new lead which has to be followed up. I have to say that I have never seen an artefact create such a visceral and positive response in people."
Meanwhile, the story of the excavation in The Coombe is told in a permanent timeline installation and artworks at the new hotel which stands on the site.
The 234-bed Hyatt Centric Dublin opened earlier this month.
"While the archaeological dig initially caused a delay in construction, we realised that this was going to be an enormous benefit to us. We had stumbled across something which would set the hotel apart, in that the heritage and archaeology of the area are brought to life.
"This is the first Hyatt hotel in Ireland and the company is very excited by this," said Johnny O'Sullivan, Group Operations Director for the Hodson Bay Group.