The Child and Family Agency, Tusla, has been criticised for failing to alert parents to "shocking" findings at a Dublin crèche that had several conditions attached to its registration for repeatedly failing to meet adequate care standards.
During visits to Giraffe Childcare at Central Park in Leopardstown, inspectors found the basic needs of children were so poorly met, some went without food for hours, while others resorted to taking food from other children's plates because their own portions were so small.
Tusla staff first inspected the Giraffe branch in September 2016, during which it was found to be non-compliant with a number of key childcare regulations.
These included failings by management to ensure up to six members of staff were garda vetted to work with children and to ensure appropriate adult-to-child ratios were in place, so the care needs of babies and young children were met at all times.
The inspectors also noted two staff members from another branch arrived at the facility after the inspection had started, but staff were still witnessed struggling to cope with and comfort upset children.
The report further detailed how basic food needs of children at the crèche were not met.
The inspector listed a number of examples where children were observed to go hungry, including one child who went without dinner for almost two hours, while another child who had requested food was not offered a meal for 40 minutes.
Additional findings included issues with sterilisation procedures at the crèche, inappropriate temperatures were noted in sleep rooms and inadequate sleep facilities were in place, which meant 14 children under two years of age had to sleep on mats instead of cots.
At the time of the publication of the report in 2016, this non-compliance remained unaddressed as no evidence had been submitted to Tusla that more cots were purchased by the facility.
Despite the shortcomings, it was a further two years before the Leopardstown crèche was re-inspected in August 2018.
Tusla inspectors returned to the facility, only to find many of the non-compliances previously identified remained an issue.
These included a lack of staff to maintain required adult-to-child ratios with inspectors again noting three additional carers employed to work in other Giraffe branches arrived suddenly to the crèche during the inspection process.
As before, even with the arrival of these extra staff, carers were again seen struggling to meet the needs of upset children.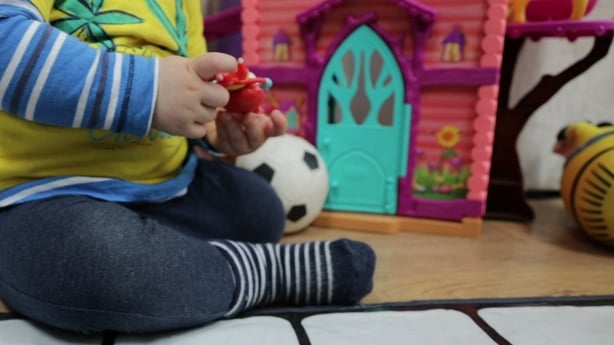 Furthermore, evidence could not be produced by management to show five adults working directly with children had suitable qualifications. Even on follow up, the crèche could not satisfy inspectors this issue had been fully addressed.
Problems with sleep room temperatures and sterilisation procedures also persisted, leading the inspectors to conclude that preventative actions listed by the service as having been put in place subsequent to the previous 2016 inspection "have not prevented reoccurrences of these non-compliances".
Problems again surfaced with insufficient amounts of food being available for children at the crèche.
One child was so hungry having finished its own "small serving" of dinner, that inspectors observed the child "attempting to take food from the plates of other children".
When the inspector requested more food, no extra portions were available from the kitchen. Ten minutes later an extra portion was sourced from a care room upstairs.
Inspectors also raised concern about fire evacuation procedures at the crèche, warning they "did not demonstrate that children would be safely evacuated in the event of a fire occurring".
One fire exit door was found not to be in use, while another was blocked from the outside.
In light of these findings, Tusla attached several conditions to the practice of the Giraffe crèche.
However, its report on the facility was only made publicly available on the Tusla website in recent weeks, over 14 months after the inspection was carried out. The service was re-registered in November 2018.
"The content of the inspection reports is simply shocking," Fianna Fáil Spokesperson on Children and Youth Affairs Anne Rabbitte told RTÉ.
"It's not fair on parents who are paying hand over fist for childcare to now learn that their crèche breached its conditions repeatedly but yet Tusla allowed them to register and continue to receive State funding.
"I have no doubt that this is being replicated across the country, which is a poor reflection of Tusla's inspection process, which lacks transparency and is dogged with delays.
"Parents are being left in the dark. Parents deserve to know that their children's needs are being met, which, based on this crèche's reports, wasn't the case at all times, but nobody thought to flag this with parents."
Responding to Ms Rabbitte, a Tusla spokesperson said the agency had no statutory powers to obtain the contact details of parents of children attending an early years' service.
It added while Tusla cannot comment on individual cases, "it is important to note that conditions attached to an early years' service do not indicate immediate risk to children. If there is an immediate risk identified, immediate action is taken".
The agency added: "The service being inspected has a right to reply and fair procedure.
"Inspection reports are not published when they are subject to continued enforcement activity or ongoing legal matters. Reports can only be published at the end of these processes."
Busy Bees Ltd, which has now acquired the Giraffe Childcare chain, told RTÉ: "The Tusla report referred to is an inspection that took place in early 2018, over a year prior to Giraffe being part of Busy Bees.
"At the time of acquiring the group we were made aware of the situation regarding the Central Park inspections and were satisfied that the Giraffe team had taken immediate corrective action following the inspection.
"The safety and care of all children at our centres is our highest priority and we can confirm that our centre at Central Park meets the regulatory requirements."
A separate Giraffe Childcare crèche at Belarmine in Dublin 18 previously featured as part of an RTÉ investigation into standards of care, which was broadcast in 2013.