A new purpose-built hospice has been opened in Castlebar, Co Mayo.
The facility has been built entirely with donations from the public, which were gathered over more than two decades.
The 14-bed hospice was constructed over the last two years.
It has come about as a result of a long-running campaign by the Mayo Roscommon hospice movement to secure a permanent building for the services it provides.
The volume of donations to the project meant that a €4.5 million bank loan for the building did not have to be drawn down.
In addition, extra revenues from the fundraising drive mean that work has already begun plans to build a separate eight-bed hospice in Co Roscommon.
Plans for that development will go to tender in the next fortnight and it is hoped that construction work will start in the new year.
The Chief Executive of Mayo Roscommon Hospice, Martina Jennings, said today's event was a tribute to each and every person who had donated money over the last 20 years.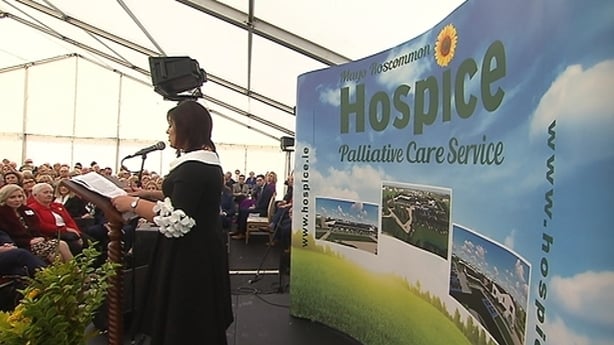 ---
Listen to Martha Jennings on RTÉ's News at One
---
She said people who had shaken buckets, attended coffee mornings, table quizzes or other fundraising events had all played a role in ensuring the plan became a reality.
Ms Jennings said the new unit will begin taking residential patients next spring.
The Health Service Executive has committed to funding the day to day running of the operation.