In a rural village on the Meath-Cavan border, a New Zealand flag is flying high. 
This weekend, Ireland take on the All-Blacks in the Rugby World Cup.
Ballinacree is a village where loyalties are divided.
In 1999, Kevin Barrett and his wife Robyn moved to the Co Meath village.
The dairy farmer with Irish roots was offered a two-year farm swap opportunity.
They moved from Pungarehu, a small town in South Taranaki in New Zealand, to the even smaller village of Ballinacree, outside Oldcastle, to manage a dairy farm.
While there, Kevin Barrett played rugby with the Buccaneers in Athlone.
Family friend Barney Tighe said he first met the family during Christmas 1999 when Kevin Barrett was out milking cows in his shorts.
As the countdown begins to #NZLvIRE, this village in Co Meath is proud of its @beaudenbarrett connection | @AllBlacks @IrishRugby https://t.co/uFew5XK6k1 pic.twitter.com/5iycsL0Vrc

— RTÉ News (@rtenews) October 18, 2019
"It was minus 2 degrees, he laughed. "I introduced myself to him and he told me he was over here to work on a farm for a few years," Barney explained.
Kevin and Robyn Barrett had six children when they move to Ireland. 
Four of them were school-going age and were enrolled at St Fiach's National School.
The students are proud of the connection. Zach and Ivan Smith have a closer connection than most as their granny lived next door and used to look after the boys.
"They used to run down the road to get granny's brown bread," Ivan explained.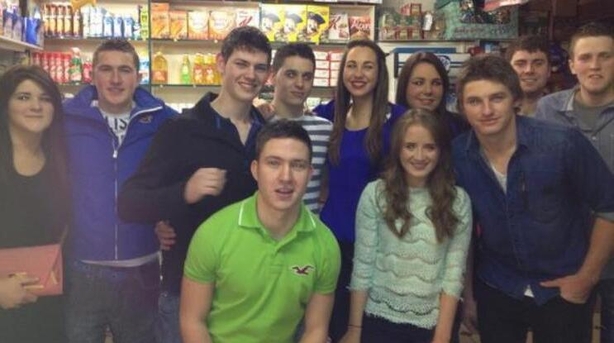 When asked if he thought it was the brown bread that made them into rugby stars, he said: "I'd say it did, yeah."
Barney Tighe said the Barrett children were obsessed with sport.
"They kicked football around the fields, that's all they wanted to do, to have a football in the hands," he said.
"We had four kids at the time, the same age. The Barrett kids used to come across the fields to our house, in their bare feet. Across the river Inny when it was low and as long as there was a pot of spuds and porridge ready, they were happy," he added.
Beauden and Kane played on the school's U-10 GAA team and also lined out for the local club, St Brigid's.
Hugh Gilsenan, Chairman of St Bridget's GFC, said he remembers Beauden well.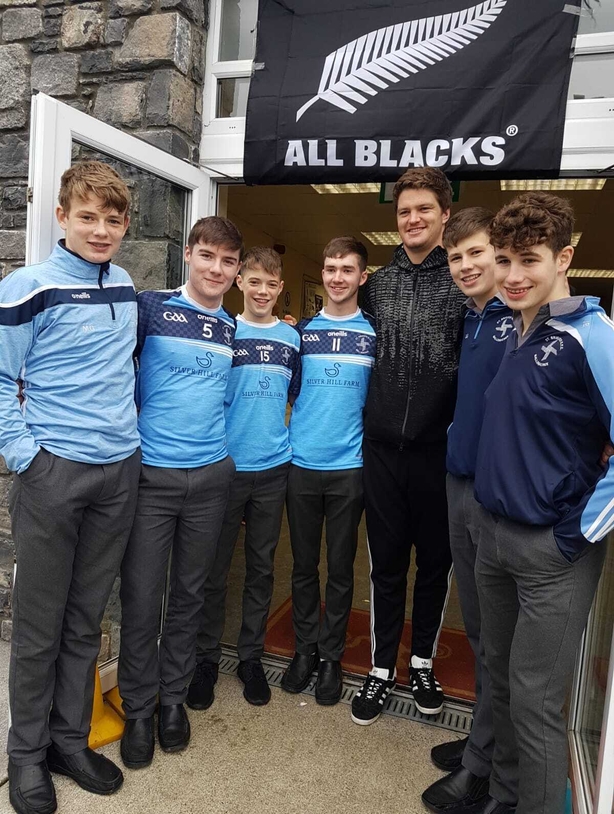 "He seemed very skillful, very balanced the way he ran, very athletic, little did we know at the time what he was going to go on to do," he said.
"If Beauden Barrett had stayed around, he might have been playing Gaelic football for Meath," he added.
Kevin Barrett also lined out for the clubs' Junior B team.
"Kevin was in his mid 30s. He made his presence felt on the field. We were playing here one day and a referee advised us to take him off, he was throwing his weight around," he laughed.
The Barretts returned to New Zealand in 2001 and went on to make history.
Beauden along with his brothers Jodie and Scott became the first trio of siblings to start for New Zealand in the World Cup this year.
It will be only the second time three brothers have started a World Cup game, after Tonga's Fe'ao, Elisi and Manu Vunipola against Scotland in 1995.
Beauden had previously said it was a "hugely proud moment for our family" for the brothers all to be selected for the tournament.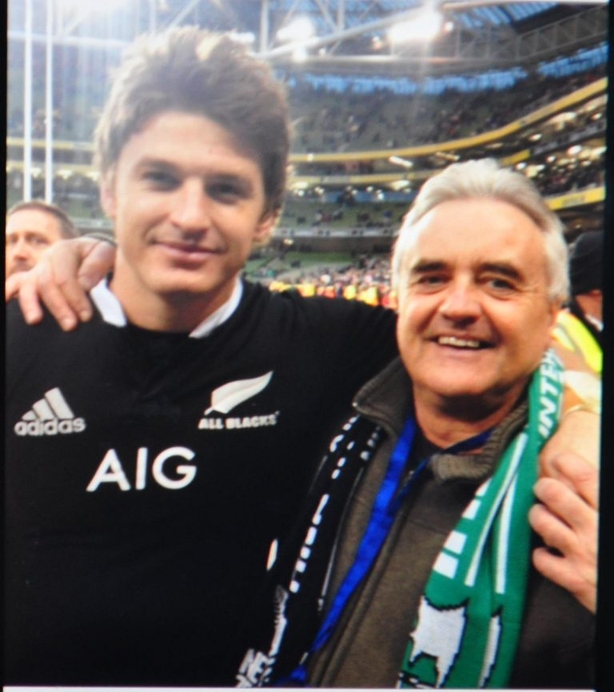 Now childhood dreams played out on a farm in Co Meath have become reality.
The Barretts remain in touch with people in the area to this day. Barney Tighe said they have returned a number of times.
"They're part of the community even still. When they come back here, they're as well known as anyone else in the area," he said.
On Saturday, the All-Blacks will face Ireland in the World Cup quarter-final. Beauden Barrett will line out at out-half.
Barney Tighe will be happy, whatever the result, but what about the Barretts?
"If we're lucky enough to beat them, I'm sure he'd be happy that it's Ireland that beats them because part of him is here, particularly in this parish in Ballinacree," he said.