Hong Kong's embattled leader abandoned a State of the Union-style speech after she was heckled by opposition lawmakers during chaotic scenes inside the city's legislature.
The speech by chief executive Carrie Lam was billed as an attempt to win hearts and minds after four months of seething pro-democracy protests.
But it instead laid bare the intense polarisation coursing through the semi-autonomous financial hub after weeks of huge and increasingly violent rallies.
Ms Lam, who has historic low approval ratings, tried twice to begin her policy address inside the Legislative Council which had opened for a new session some three months after it was trashed by masked protesters.
But pro-democracy lawmakers, a minority of the pro-Beijing stacked legislature, shouted her down.
One used a projector to broadcast protest slogans behind Ms Lam as she stood on the podium, and later donned a face mask of Chinese President Xi Jinping.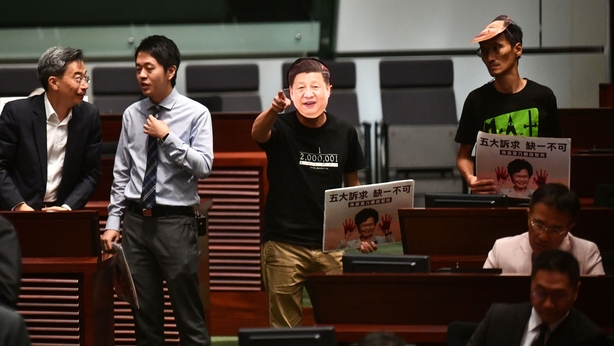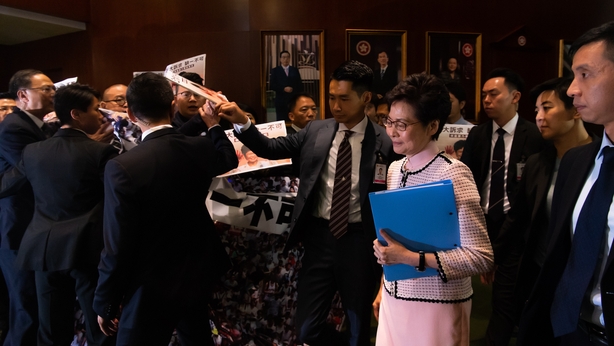 Ms Lam instead released a pre-recorded video, the first time a Hong Kong leader has been unable to deliver the annual address in person since the tradition began in 1948.
In it, she announced plans to increase housing and land supply in a city that has one of the least affordable property markets in the world, as well as various subsidies.
"I firmly believe that Hong Kong will be able to ride out this storm and move on," she said.
But the announcement gave no concessions to protesters and was quickly dismissed by pro-democracy advocates.
"So much has happened on Hong Kong's streets over the past four months but Lam has been either hiding in her abyss or acting like a wax figure," one pro-democracy lawmaker told reporters.
One pro-Beijing lawmaker criticised Ms Lam's opponents for forcing her from the podium.
We need your consent to load this rte-player contentWe use rte-player to manage extra content that can set cookies on your device and collect data about your activity. Please review their details and accept them to load the content.Manage Preferences
"I think that my pan-democrat colleagues insulting, screaming, jumping onto the desk to prevent the Chief Executive from delivering the policy address is shameful and should be condemned," she told AFP.
US House passes Hong Kong 'Democracy Act'
Meanwhile, the US House of Representatives has passed four pieces of legislation taking a hard line on China, three related to pro-democracy protests in Hong Kong and one commending Canada in its dispute over the extradition of a Chinese telecom executive.
All four measures passed by unanimous voice vote, as members of Congress - Democrats and Republicans - said they wanted to take an aggressive stance on China and show support for Hong Kong following four months of unrest in the city.
China's foreign ministry has said Beijing resolutely opposes the new measures and urged Washington to "stop meddling". 
One of the measures, the Hong Kong Human Rights and Democracy Act, sought by pro-democracy protesters in Hong Kong, would require the State Department to certify every year that Hong Kong retained its autonomy in order to keep receiving the special treatment that has allowed it to be a major financial centre.
A second, the Protect Hong Kong Act, would bar commercial exports of military and crowd-control items that Hong Kong police could use against demonstrators.
The Senate has not yet scheduled votes on the legislation, which would send the measures to the White House for Trump to sign into law or veto. However, a Foreign Relations Committee aide said votes on Hong Kong-related measures were expected in the chamber in the coming weeks.
The third measure is a non-binding resolution recognising Hong Kong's relationship to the United States, condemning Beijing's "interference" in its affairs, and supporting the right of the city's residents to protest.
The Hong Kong government expressed regret over the passage of the legislation and reiterated that foreign legislatures should not interfere in the city's internal affairs.
The fourth measure was another non-binding resolution commending Canada for its actions related to a US request to extradite Meng Wanzhou, chief financial officer of Chinese telecom giant Huawei, who was arrested in Canada in December.
She is charged in the United States with bank fraud and is accused of misleading HSBC Holdings Plc about Huawei's business in Iran, which is under US sanctions.
Meng has said she is innocent and is fighting extradition.