Thousands of people have turned out for a homecoming event in Dublin this evening, to celebrate the county's victorious men's and women's Gaelic football teams following their All-Ireland successes.
The ticket-only celebration was held in Merrion Square to honour both the men's five-in-a-row title success, and the three-in-a-row women's team.
The crowd were entertained by music from Keywest, The Rising Sons and the Young Wolfe Tones among others.
There were also video highlights of both the men's and women's campaigns along with interviews from former stars.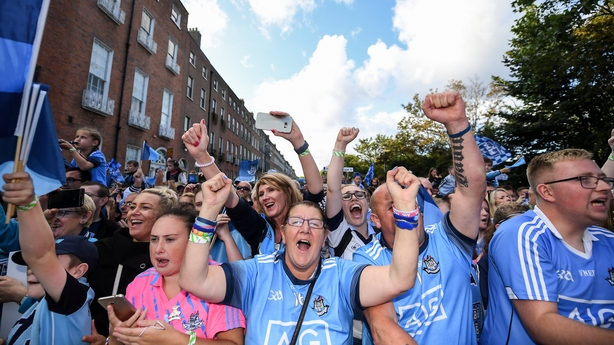 Members of both teams were then interviewed on stage by RTÉ's Marty Morrissey.
There were only 16,000 tickets for the restricted access event, 4.500 of which were made available to the public and the remainder distributed through the clubs by the Dublin County Board.
This had been criticised by some city councillors and there was plenty of empty space inside the cordon today.
However, DCC Assistant Chief Executive Richard Shakespeare said the council had to provide safe exits for the crowds and would comply with advice it had received from the emergency services.