British travel company Thomas Cook has ceased trading after failing to secure a last-ditch rescue deal, leaving an estimated 600,000 tourists stranded.
All of the travel company's flights have been cancelled, meaning the 105 aircraft it operates, according to its website, have been grounded.
The company was unable to secure the extra £200 million needed to keep the business afloat following a full day of crucial talks with the major shareholder and creditors yesterday.
Most of Thomas Cook's customers come from Britain, Germany and Scandinavia, but thousands of Irish people use the company to book holidays each year.
While it is likely that some Irish people will be affected by the collapse of the company, the Irish Travel Agents Association believes the number is very small.
Thomas Cook pulled out of the Irish market a number of years ago, so the ITAA said any bookings by Irish people would have been made directly through the firm and would have involved flying through the UK.
Travel journalist Eoghan Corry said that the company operated eight routes and 14 flights from Belfast and some people from south of the border would have travelled on those flights.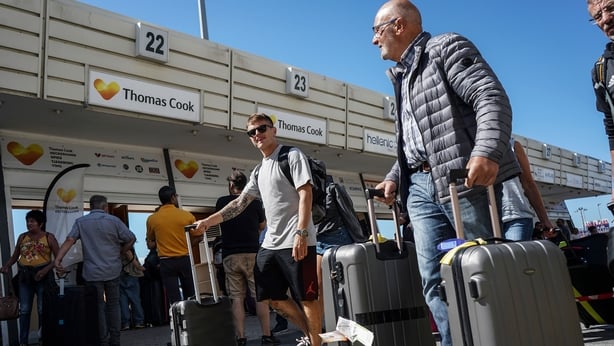 The Commission for Aviation Regulation has said Irish customers of Thomas Cook who are currently abroad and are due to return to the UK on or before 6 October will be accommodated on a new flight.
In a statement, the CAR said such journeys will either be on a UK Civil Aviation Authority operated flight or on an existing flight with another airline.
"If you travelled from Belfast, you can avail of a repatriation flight to Belfast," it said.
However, these repatriation flights will only operate for the next two weeks and after this date passengers will need to make their own arrangements to get home.
We need your consent to load this rte-player contentWe use rte-player to manage extra content that can set cookies on your device and collect data about your activity. Please review their details and accept them to load the content.Manage Preferences
Thomas Cook was covered by the UK ATOL travel protection scheme and so passengers should be reimbursed for the cost of returning, but should keep their receipts, the CAR said.
In the event that a booking was not covered by ATOL, the CAR said customers should contact their card issuer, bank or travel insurer for advice about the possibility of claiming a refund.
"Some non-flight packages or hotel bookings may be protected by trade organisations in the UK such as ABTA," it said.
For customers of Thomas Cook who have booked but not yet travelled, the CAR said most holidays and flights booked through the company were now cancelled.
Refunds can be sought by making a claim through the ATOL scheme, it said.
Customers who have booked a Thomas Cook package through an Irish travel agent should also be covered under ATOL.
In such circumstances, the CAR is advising passengers to contact the Irish travel agent that they booked with.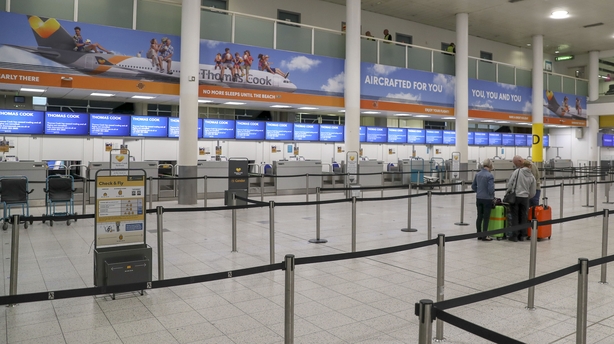 ---
Read more
---
In a statement, the UK Civil Aviation Authority said: "Thomas Cook Group, including the UK tour operator and airline, has ceased trading with immediate effect.
"All Thomas Cook bookings, including flights and holidays, have now been cancelled."
Thomas Cook Chief Executive Peter Fankhauser said: "We have worked exhaustively in the past few days to resolve the outstanding issues on an agreement to secure Thomas Cook's future for its employees, customers and suppliers.
"Although a deal had been largely agreed, an additional facility requested in the last few days of negotiations presented a challenge that ultimately proved insurmountable.
"This marks a deeply sad day for the company which pioneered package holidays and made travel possible for millions of people around the world."
Condor, the German airline subsidiary of Thomas Cook, has said it was requesting financial aid from the German government to help keep it in the air.
Unions representing Thomas Cook staff, of which there are 9,000 across the group in the UK, had urged the British government to intervene.
British Prime Minister Boris Johnson has pledged to help those stranded by the closure.
He was speaking before the announcement that the 178-year-old firm has ceased trading with immediate effect.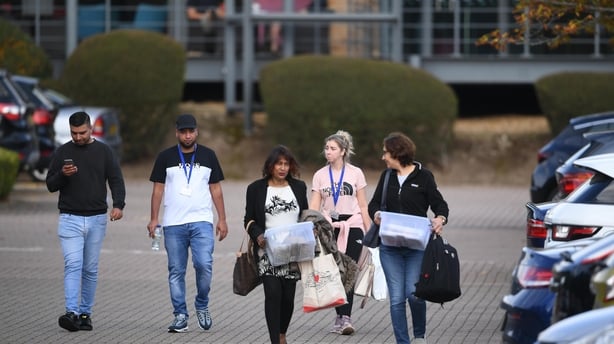 Company operating for more than 170 years
One of the world's oldest and largest travel companies, the firm had been trading for 178 years - having been established in 1841 by a British cabinet maker who organised a day trip for temperance movement supporters.
According to its website, as of this year the group employed 21,000 people in 16 countries, operated 105 aircraft and 200 own-brand hotels and resorts.
The proposed Thomas Cook airlift is almost twice the size of the repatriation effort required when UK airline Monarch went bust in October 2017.
In that instance, the CAA put on 567 flights, which brought almost 84,000 passengers back to the UK.
The final cost of the Monarch operation to UK taxpayers was about £50m.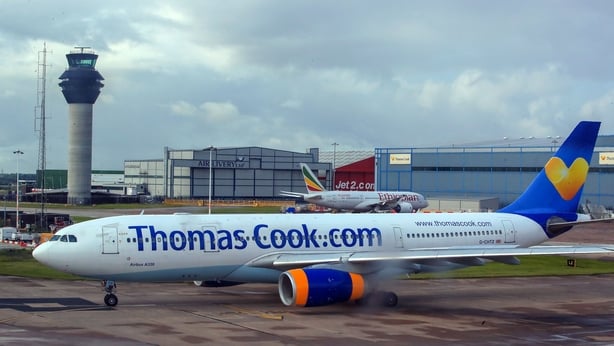 The UK's Department for Transport would not put a firm figure on how much it would cost this time around but it is understood it could top £100m.
Dozens of charter planes have been brought in from as far afield as Malaysia to assist with the mass airlift.
Mr Corry said the retrieval of costs would take some time and be very complex.
Speaking on RTÉ's Morning Ireland, he said: "This is a big as it gets. We've had tour operators who've gone down before. We've had airlines that have gone down before and we've had retailers.
"This is a combination of all three on a scale that has never been seen before.
"So I suspect what will happen in the coming days is a great unravelling of how well built the systems for compensation and repatriation are."
He also said that hotels in Ireland would be affected by the closure of Neckermann Reisen (a big inbound tour operator owned by Thomas Cook), which means that many planned tours to Ireland will not now go ahead.
Anyone booked to travel with Thomas Cook should visit thomascook.caa.co.uk or call 0300 303 2800 from within the UK or +44 1753 330330 from overseas.
Additional reporting Will Goodbody