Taoiseach Leo Varadkar is expected to meet Boris Johnson on the margins of a United Nations meeting in New York next week.
A Government spokesperson confirmed that "the Taoiseach and the British Prime Minister have been in contact and hope to meet in New York next week".
Last week in Dublin they had their first face-to-face meeting since Mr Johnson became prime minister in late July.
Those discussions, dominated by Brexit, were described as positive, but the British government has yet to provide what the EU considers credible alternative proposals to the backstop.
Speaking at the National Ploughing Championship in Co Carlow, Mr Varadkar said the gap between Britain and the European Union over Brexit remains "wide".
He said: "The rhetoric has tempered and the mood music is good. There is a lot of energy and a lot of positivity.
"The difficulty is that when it comes to the substance of the issue that needs to be resolved, the gaps are still very wide and we have no time to lose.
"If I were to assess the situation, I would say there is a real willingness to find a deal. Very few people want no deal to happen. I am certainly not one of them. No-one wants to be to blame or to be responsible for no deal."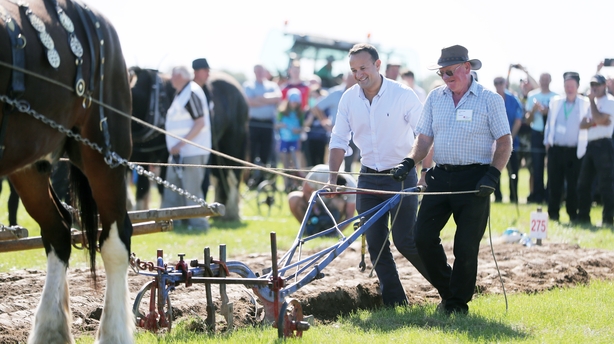 Overheard at the Ploughing – Taoiseach Leo Varadkar says he is to meet British Prime Minister Boris Johnson in New York next week 'and try and get a deal' | Read more:  https://t.co/cM0DJ0R0sV pic.twitter.com/X7D0RFVy9Z

— RTÉ News (@rtenews) September 19, 2019
---
Read More:
---
On Wednesday, Mr Varadkar held a 45-minute meeting with DUP leader Arlene Foster.
Tánaiste and Minister for Foreign Affairs Simon Coveney has said that meeting should not be interpreted as some kind of breakthrough on Brexit.
Mr Coveney also said that time was running out for the British to table credible proposals to get a new deal.
He dismissed suggestions by the British government that it was making intensive efforts, that there was progress being made and that flexibility was being shown.
"Let me just introduce a dose of reality here, there is a significant gap between what the British government have been talking about in terms of their approach and what the EU is able to accept in the context of trying to get a deal here and that gap needs to close here with credible written proposals from the British side," he said.
The Tánaiste also said that in order to close that gap the Government needs to get credible proposals, which, he said, "we still haven't seen yet".
He added: "Until we get proposals in writing there isn't a lot of credibility to what's being said."
Mr Coveney said while Ms Foster's visit was welcome and the meeting with the Taoiseach was "very positive", it did not solve all the problems.
He said Wednesday's comments by the Finnish Prime Minister that Britain had 12 days to produce its plans reflect the growing frustration in the EU that with only a few weeks to go there have not been any credible proposals from Britain to fundamentally change the deal.
Mr Coveney said there was "a huge responsibility on the party that's looking to change and disrupt things to actually come forward with credible proposals to deal with the problems that their approach is causing".
Martin says less megaphone diplomacy needed over Brexit
Fianna Fáil leader Micheál Martin welcomed "the tone" of Ms Foster's contribution to the debate in Dublin.
Speaking at the National Ploughing Championships in Co Carlow, he said: "What I detect is a growing sense all round that we're all going to be sharing the same island for quite some time to come and there needs to be sensible talking and sensible dialogue and sensible working out the Brexit situation, particularly of the exit deal."
He said that the "Armageddon of a no-deal Brexit" must be avoided as it would be damaging to the British economy, the Northern Ireland economy and the economy of this country.
"I think unionism realises that. I think unionism knows that its people would not be happy with a no-deal and I think Arlene Foster's comments, in saying that she and her colleagues are emphatically against a no-deal, is a welcome development. There is still a significant journey to go."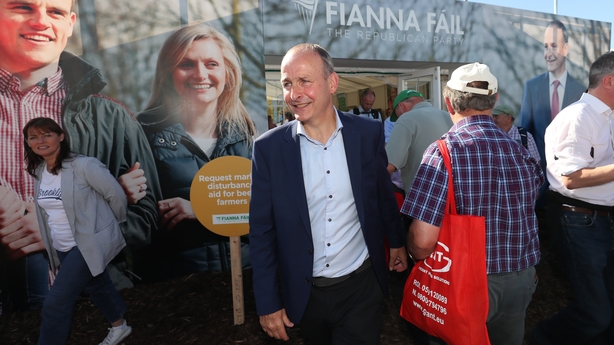 The issue seems to be heading "towards a Northern Ireland-specific solution," he said.
"The difficulty will be in finalising that but that's where it's heading. I think Brussels knows that, the British government knows that … We need less megaphone diplomacy, we need less triumphalism. We need to step back."
Asked about the Finnish PM's comments on 30 September deadline for Brexit proposals from the UK, he said they were "very unhelpful" and does not any merit in putting forward such deadlines.
"This isn't about punishing Britain any more. Good negotiations are of a different order to that and I think it's serious because there's livelihoods at stake. There are real livelihoods at stake in the island of Ireland, in the UK, in Ireland, in some European countries, not all, and that's something that everybody should bear in mind now as we get closer to the deadline."
Donohoe holds talks with UK counterpart Javid
Meanwhile, Britain's finance minister Sajid Javid met Minister for Finance Paschal Donohoe at Farmleigh House.
This was the third occasion in a matter of weeks that they have met, but it was Mr Javid's first visit to Dublin as Chancellor of the Exchequer.
Mr Javid said it was essential the UK and Ireland maintain their positive relationship after Brexit.
"Whatever happens next year regardless of Brexit, it is essential that not only we maintain the strength of our relationship between our two great countries but we find ways to enhance that," he said.
Fin Min @Paschald meets UK Chancellor in Dublin #Brexit pic.twitter.com/VSg2MctIeO

— Paul Cunningham (@RTENewsPaulC) September 19, 2019
A number of members of the House of Commons Committee on Exiting the European Union, including Committee Chair Hilary Benn, also paid a visit.
They met Mr Coveney and Garda Commissioner Drew Harris.
They also met representatives from Oireachtas committees, Fianna Fáil and business group Ibec as part of a series of private meetings.
The committee has visited Dublin on several occasions.
Speaking on RTÉ's Morning Ireland, Mr Benn said he hoped the European Union would grant a Brexit extension if Mr Johnson failed to reach an agreement by 31 October.
Mr Benn said he would not object to a Northern-Ireland only agreement, but it would not solve the future trading agreement.
He said the British government was realising just how complex it was to unpick the existing Withdrawal Agreement.
Reporting Tommie Gorman, Micheál Lehane, Paul Cunningham, Conor Kane and Samantha Libreri