Minister for Agriculture Michael Creed will convene talks aimed at resolving the beef dispute tomorrow.
Talks involving the main farming organisations and meat processors will take place at the Department of Agriculture in Dublin.
This afternoon, Mr Creed urged both sides to step back and engage positively to resolve their differences.  
He said both sides need to recognise the urgency of the situation and enter talks in good faith.  
Mr Creed added that stakeholders involved should engage in the talks with the intention of reaching agreement tomorrow.
IFA President Joe Healy has welcomed the recommencement of the talks, and said it needed to be resolved this weekend.
"Meat Industry Ireland and the Minister must come forward with concrete and substantive proposals to resolve the issues and improve the position of farmers," he said.
"We can't afford to spend any time on posturing and game playing. We need to get this solved this weekend," he said in statement. 
Meat Industry Ireland has confirmed it will be attending the talks.
MII said beef slaughtering operations will remain suspended in blockaded plants during the talks. 
However, the group said existing stocks of beef must be allowed to have free movement in and out of meat plants.
MII has also insisted on an immediate resumption of sheep slaughtering in the two west of Ireland affected plants.
'All roads point to' talks in the beef dispute, reports agriculture correspondent @FranMcNulty | Read more: https://t.co/oqZ84TOCsj pic.twitter.com/FfHGKLRgDi

— RTÉ News (@rtenews) September 13, 2019
Speaking on RTÉ's Six One, Mr Healy said a huge amount of the blame in the beef price crisis lies with retailers, and said that they need to be involved in talks.
He said the IFA have looked for retailers, including retailers in UK, to be involved and have spoken to the independent chair of the talks. He said he thinks this may happen.
We need your consent to load this rte-player contentWe use rte-player to manage extra content that can set cookies on your device and collect data about your activity. Please review their details and accept them to load the content.Manage Preferences

Mr Healy said a solution needed to be found and farmers needed to be guaranteed a viable return for their produce.
The impact of the ongoing beef dispute became visible at some supermarkets today as German retailer Aldi will re-labelled some Irish beef and pork products as 'processed in the UK'.
The supermarket confirmed the development last night after it said the ongoing dispute was affecting its supply chain.
Aldi said that "industry wide availability issues" meant ensuring Irish meat products remained on their shelves was proving difficult.
Its supplier, ABP, has processed beef and pork products at some of its facilities in the UK.
Irish beef and pork products in Aldi remain 'Quality Assured by Bord Bia' as they stayed within ABP quality approved factories.
Notices are visible in stores and packaging will be clearly marked 'processed in the UK'.
This is the impact of several Irish meat plants being blockaded.
Processing at the big factories has stalled and smaller companies are helping to keep Irish beef on the shelves.
Elsewhere, the head of Bord Bia has said that stocks of quality assured Irish beef could run out on supermarket shelves if the dispute over beef prices continues.
Tara McCarthy also confirmed that Bord Bia has recently approved a beef plant in Northern Ireland, run by Dawn Meats, to process cattle raised in this jurisdiction.
She said further applications could follow from the UK, depending on how long the impasse lasts between farmers and the industry.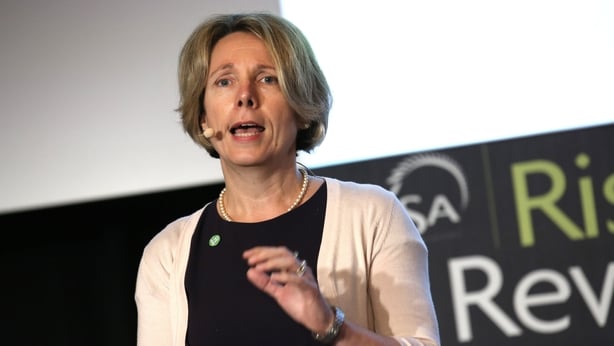 Ms McCarthy said that the current crisis is "a huge challenge" facing the Irish meat industry but there is a desire among retailers, processors and consumers that people continue to eat Irish beef.
She was speaking at the annual conference in Kilkenny of the Agricultural Science Association.
"Unusually, and it is in a very unique circumstance at the moment, the product that's now on the market has had that further processing happening in the UK, but it's still following the exact same rules of processing being inspected by Bord Bia," Ms McCarthy said of the Aldi stock.
"However, clearly we would love all of the value all of the time to be captured in Ireland but that's not possible with the current impasse."
Asked if there was a possibility of Irish shops running out of Quality Assured Irish beef, Ms McCarthy said: "I don't know because I'm not aware, we've been talking to the retailers and our customers about their current stocks and to date they're able to manage within the stocks available to them. It's a chicken and egg, how long will this crisis go on and when will stocks run out.
"It's a finite issue and stocks could run out and it would be an awful shame for consumers not to have the option of buying Quality Assured Irish beef and we hope that never happens."
Ms McCarthy also said that Ireland has "an international reputation" to maintain for its beef.
She said: "We are leaving our customers down at the moment and that's not to say that our farmers are not feeling that pain, that our factories are not feeling that pain, but the reputation that we have built that has taken many, many years for all our industry to build, we are in danger of damaging it if we don't find a solution very quickly."
Additional reporting Conor Kane