German retailer Aldi has said the beef dispute is causing availability issues with produce in its stores.
RTÉ News has learned that from tomorrow some Irish beef and pork products in Aldi stores will be relabelled.
Aldi says that a full range of Irish beef and pork products will be available in all its stores, but many of those products have been processed at facilities in the UK.
The Aldi range will still be quality approved by Bord Bia.
As well as relabelling, product notices will be placed in all Aldi stores to make customers aware of the change.
ABP supplies Aldi stores and it is understood that Irish beef and pork has been processed in UK based facilities in recent days.
This development is a clear indication of the impact of the ongoing beef dispute and the ability of meat processors to supply their clients.
Commenting on the issue, an Aldi spokesperson said: "In light of industry-wide availability issues, to ensure we have a full range of fresh beef and pork products for our customers, some of our Irish beef and pork suppliers have processed Irish beef and pork at their UK based processing facilities, all of which are Quality Assured by Bord Bia".
"This is clearly reflected on our products' packaging.We have also placed notices in our stores to ensure our customers are fully aware of the situation."
It comes as officials from Minister for Agriculture Michael Creed's office are continuing to engage with meat processors and farming organisations tonight, however efforts to convene talks on the beef dispute are proving difficult.
RTÉ News understands that a proposed factory closure during the talks is a significant sticking point.
Farming organisations are also unhappy with the extent to which legal action against protesters would be withdrawn.
Mr Creed said earlier today he did not "underestimate the challenge of getting these talks back on the line".
He also said he hoped to be in a position to announce new talks today, however there is a mood of pessimism about a successful outcome.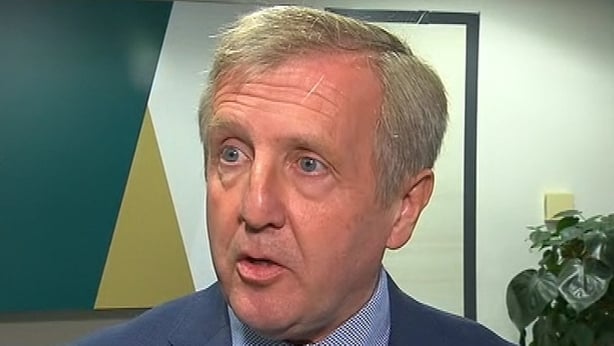 Last night, the Department of Agriculture continued to liaise with both meat processors and farming organisations in an effort to reach agreements to commence talks.
A possible cessation of cattle killed and meat processing was being considered during the talks between farming organisations and Minister Creed.
The Beef Plan Movement asked that all legal threats against it and individual farmers be withdrawn before the commencement of talks.
In return, protests and blockades at meat factories will have to be brought to a close.
Meanwhile, the Department of Agriculture also approved the Beef Plan Movement as a "producer organisation", confirming yesterday that "Irish Beef Producers" is the first such organisation in the country.
The Beef Plan Movement was behind a series of protests outside meat factories during the summer.
Under existing legislation Producer Organisations, or POs, can negotiate on behalf of its members.
It means that the organisation can negotiate price with meat factories if its members are selling cattle.