Authorities in the Bahamas have updated the death toll from Hurricane Dorian to 45, with police calling for the public to register details of the many people still missing.
One week after Dorian flattened homes and buildings, a major relief operation is working to deliver supplies to desperate residents seeking food, water and shelter.
The Royal Bahamas Police Force said that they had found 37 bodies on Abaco island and eight on Grand Bahama island.
"We anticipate the discovery of more bodies," police said in a statement.
"There are many more persons presumed missing and we are appealing to the public to file Missing Persons reports.
"Every effort is being made along with our local and international law enforcement partners."
With survivors being evacuated from the worst-hit areas, officials have said that hundreds or even thousands of people are still missing.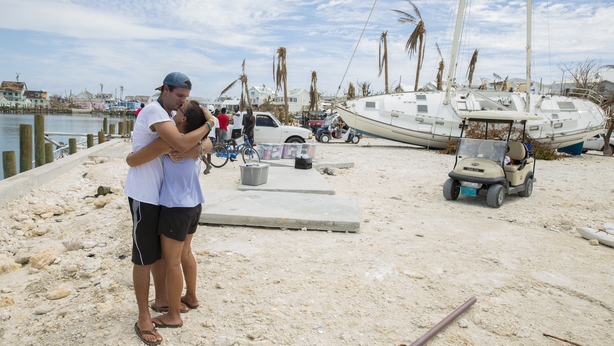 Those that stayed on the islands are still scrambling for shelter, with the lucky evacuees beginning to reunite with loved ones but the fate of uncounted others still in doubt.
A loosely coordinated armada of passenger planes, helicopters and both private and government boats and ships - including redirected cruise liners - converged on the horribly battered Abacos to help with evacuations, both to Nassau and to the US mainland.
Tropic Ocean Airways said it planned to fly supplies to hard-hit Marsh Harbour from Florida and bring out some 220 people to Nassau on a Delta Air Lines jet.
On Saturday, a cruise ship carrying 1,400 people docked in Riviera Beach, Florida. All had documents to enter the United States.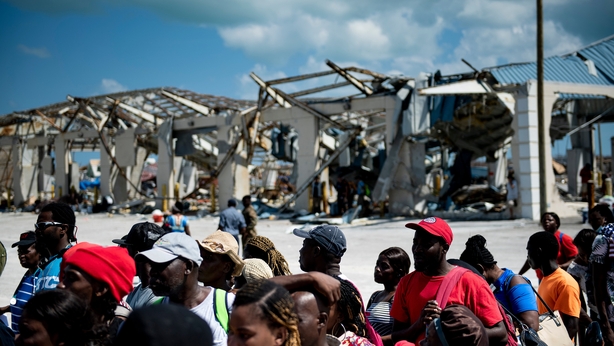 The Coast Guard said all Bahamian ports had now reopened. As of yesterday morning, it had five cutters providing support and five helicopters taking part in search and rescue operations.
It said 308 people had been rescued.
Many of those still waiting to leave Marsh Harbour were Haitian workers. The area where they lived - The Mudd - was almost completely wiped out by Dorian.
Haitians who have arrived in Nassau have accused the government of prioritising native-born Bahamians for evacuation from Marsh Harbour over Haitian nationals.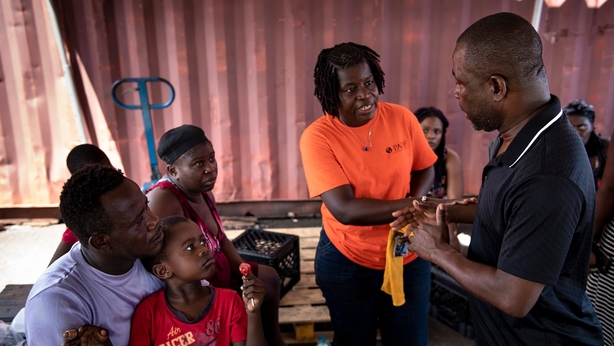 Dorval Darlier, a Haitian diplomat who flew from Nassau to Marsh Harbour yesterday, defended the Bahamian government against the allegations.
"Haitians have been treated well," he said. "Some get mad (that) they have been here since yesterday. But the government has first to find a shelter for them.
"If I have to choose between my mother and my mother-in-law, you know who I have to choose first," he said.
Meanwhile, two vessels with clean-up equipment and personnel are to arrive in the Bahamas within a few days to deal with an oil spill at the South Riding Point terminal damaged by Hurricane Dorian, operator Equinor has said.
Equinor shut down operations at the oil storage and transshipment terminal on Grand Bahama on 31 August in preparation for the hurricane, and none of its staff were at the site during the storm.
The company has not yet provided an official assessment of the oil spill, but a picture published on its website showed a damaged onshore tank, with oil on the ground.
We will clean up the spills from the South Riding Point oil terminal. Resources are being mobilized as quickly as possible to safeguard people, the environment and the facility.

— Equinor (@Equinor) September 8, 2019
Equinor has reiterated that there were no indications of ongoing leaks from tanks, or that the oil spill had reached nearby beaches or the ocean.
The company said additional oil spill personnel and equipment were being mobilised in Florida and could arrive at the Bahamas within two days.
Dorian causes severe damage in Canada
After progressing up the US east coast, Dorian, downgraded to a post-tropical storm, has also caused severe damage in eastern Canada before moving over the Labrador Sea.
The Maritimes, a three-province region in eastern Canada comprising Nova Scotia, New Brunswick and Prince Edward Island, bore the heaviest brunt, the Canadian Hurricane Centre said.
Dorian is now moving over the Labrador Sea and toward Europe, CHC has said, adding that no serious injuries or fatalities have been reported.
More than 500,000 power outages were reported across the Maritimes, according to the Centre.
"Damage included many uprooted trees, downed power lines, and flying debris," it said, adding a crane crashed into a building shortly before the storm made landfall.