Talks on the beef industry, which were due to take place tonight, have been stood down.
Talks were due to get under way at Department of Agriculture offices in Backweston, County Kildare, at 7pm.
But they were cancelled after meat processors said they would not negotiate when blockades of their facilities were continuing.
Tonight, the Agriculture Minister urged both sides in the dispute, not to become even more entrenched.
Earlier today Meat Industry Ireland - which represents meat processors - said it was pulling out of the talks because of blockades continuing at meat factories around the country.
Meat processors have deferred all legal action against protesters to allow the talks take place.
The organisation told chair Michael Dowling this morning that protests and blockades have intensified over recent days.
This evening, the Minister for Agriculture Michael Creed urged Meat Industry Ireland to," make every effort to avoid action that might lead to a further deterioration in relationships in what is already an intractable dispute.
He had earlier warned both sides that legal action and blockades would have to stop before talks could happen.
Yesterday, the Beef Plan Movement protested outside an Aldi distribution centre in Co Kildare.
The group said it is essential that retailers are present at the beef talks.
Price was not discussed at the previous talks, but the Irish Farmers' Association has said it will be on the agenda today.
It said its legal advice is that under EU and Irish legislation it can happen.
Farmers insist that what factories pay them is below the cost of production, but the meat industry said what they are paid reflects a depressed demand for beef in EU and UK markets.
Farmers want more money in their pockets and as they prepare for the latest round of talks, they are looking to the Government and industry to make that happen.
The Competition and Consumer Protection Commission (CCPC) put no impediment to cattle prices being discussed at the beef crisis talks, according to IFA President Joe Healy.
IFA President Joe Healy led a delegation with National Livestock Chairman Angus Woods to meet the CCPC in Dublin on Friday.
He said the CCPC confirmed to the IFA that it was not involved in any discussions around the parameters or pre-conditions for the beef talks and they did not, and would not, put any impediment in the way of prices being discussed at the talks.
"Our own legal advice is that under current EU and Irish legislation, prices can be discussed at the meeting," he said.
"We made it very clear at the round of talks last month that price had to be part of the discussions.
"When we attend the talks, we will be making price an issue. Farmers cannot survive at prices below the cost of production," he said.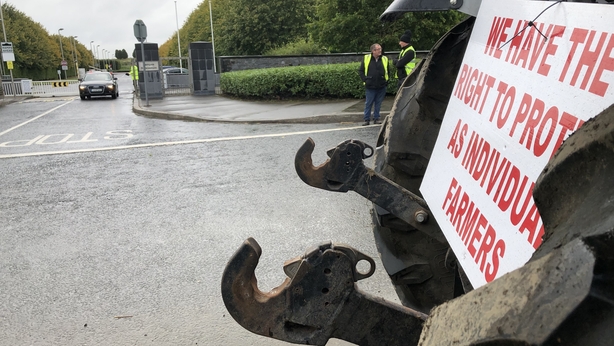 Two farmers have threatened to block the entrance to the location where talks are to convene.
The men say that newly formed group, 'Independent Farmers of Ireland', must be included in today's talks.
The group was informed yesterday they would not be attending the talks, as there was uncertainty as to their mandate.
IFOI claims it speak for all farmers protesting at factory gates all over the country.