The father of an Irish doctor who died in an Air France crash ten years ago has said he is disappointed but not surprised that French judges have dropped charges over the disaster.
It emerged yesterday that the judges said the pilots of the Airbus A330 had failed to process all the warnings and instrument readings provided by the aircraft.
The plane plunged into the ocean en route from Rio de Janeiro to Paris after entering an aerodynamic stall and falling from an altitude of 38,000 feet during a storm, its engines running but its wings losing lift.
Speaking on RTÉ's News at One, John Butler - whose daughter Aisling was among the 228 victims of the crash - said he did not understand the logic of the decision.
Mr Butler said Air France and Airbus bear responsibility for the crash.
He also said that his family would be joining an appeal being taken against the decision by the families of several of the victims.
"It is too easy to lie back and do nothing," he said.
Mr Butler said his daughter was a fantastic person who was very capable and very intelligent.
"She was a great friend, we were so lucky to have Aisling for 26 years," he said, adding that ten years after the crash, the pain of his daughter's death has not gone away.
"Any parent that loses a child will know what I'm saying - the pain is always there, you just grow used to it."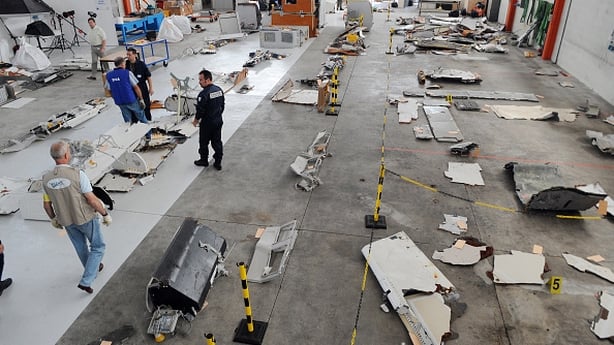 Mr Butler's comments came after French judges decided yesterday to drop charges against Air France and Airbus over a mid-Atlantic plane crash in 2009 that killed all 228 people onboard, including three Irish women, blaming the pilots for losing control of the plane.
In their conclusions, seen by Reuters, the judges said the pilots of the Airbus A330 had failed to process all the warnings and instrument readings provided by the aircraft.
Aisling Butler, of Roscrea, Co Tipperary, Jane Deasy from Dublin and Eithne Walls, originally from Belfast, were among the dead.
"The direct cause of the accident is the crew's loss of control of the aircraft's trajectory," the judges determined.
Other crews, faced with similar situations, had successfully maintained control of their aircraft, their ruling said.
The judges overruled the prosecutors investigating the case, who had recommended that Air France stand trial over the crash in July.
In their 2012 report, French civil accident investigators found the startled crew of AF447 mishandled the loss of airspeed readings from sensors blocked with ice and pushed the jet into a stall by holding the nose too high.
The report also cited poor training and the lack of a clear cockpit display for speed problems.
The three-year civil investigation was not designed to cast blame, which was the purpose of the separate judicial probe culminating in yesterday's decision.
Additional Reporting Reuters