The EU will take a gradual approach to the question of how Ireland will have to comply with checks and controls along the Irish border in the event of a no-deal Brexit, RTÉ News understands.
Sources have portrayed a scenario where on day one of a no-deal Brexit, it will be acknowledged that Ireland is not fully in compliance with the obligations that come when a member state shares a border with a third country.
There are some 63 checks and controls that potentially apply on goods entering the EU from a third country.
It is understood that for a period afterwards, the EU will assume a "partnership" role, allowing the Irish Government to apply the rules of the single market and customs union as best it can, while providing advice and support, whether technical or financial, over time.
There have been several meetings between Irish and European Commission officials in recent months on how a no-deal Brexit should be managed on the Irish border, but these have tended to be high-level political, rather than technical, and involving a small core group of senior officials.
It is understood that a distinction is being made between how to envisage the impact of a no-deal Brexit ahead of time, and how it is actually responded to from day one.
Fianna Fáil's leader has accused the Government of failing to be upfront about the impact of a no-deal #Brexit pic.twitter.com/LkYhBHWktj

— RTÉ News (@rtenews) September 6, 2019
In this scenario, a full technical assessment of how Ireland's obligations will be managed will only happen after 1 November in "real world" conditions.
Individuals familiar with the situation say that only then can the "political dynamics" of no-deal on the island of Ireland be properly assessed.
It is understood that the EU will initially take what might be described as a passive role, given that under EU treaties it is up to member states to apply the rules governing customs collection, food safety, animal health and product compliance.
We need your consent to load this rte-player contentWe use rte-player to manage extra content that can set cookies on your device and collect data about your activity. Please review their details and accept them to load the content.Manage Preferences
Over time, the Government would be expected to communicate to the EU how it is managing different checks and controls, if some controls are simply politically too perilous, and what flexibility might be available.
However, it is understood both Dublin and Brussels acknowledge that there can be no derogations from EU law.
"There will be an understanding on our side that things are not exactly how they should be," according to one person familiar with the issue, "but an understanding on the [Irish] side that they need to demonstrate they are progressing and that they have a plan.
"The help they need will come afterwards. They'll say, this is how we're doing it, we need help and we need interaction."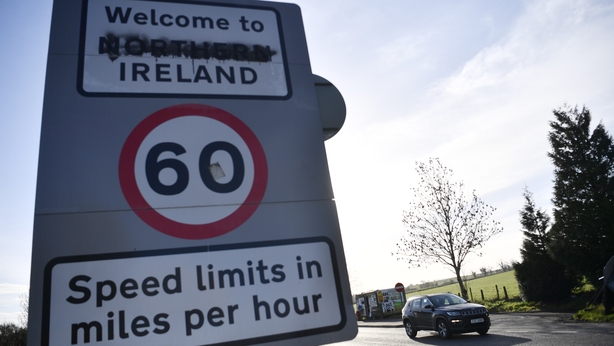 It is understood a phased approach could be taken to how a no-deal situation is managed.
This would involve an initial period during which the Irish authorities carefully assess which checks are manageable and which are politically too sensitive in the immediate aftermath of a no-deal exit.
The Government could then make an assessment after several weeks or months which would be communicated to Brussels.
If there remains a gap between limited compliance and full compliance with single market and customs rules, both sides would then work on how the gap can be bridged, taking all the "specificities" of the Irish border question into account.
However, it is likely that the EU would resist an open-ended time gap in compliance.
---
Read more: 
---
It is acknowledged in Brussels that when assessing the most acute difficulties the Irish Government is facing, over time technical talks will become "political talks".
On Wednesday, the European Commission issued its most explicit statement to date on the Irish border, when it published its sixth communication on no-deal preparedness.
The communication stated: "EU law will require that all goods entering Ireland from the United Kingdom be subject to the relevant checks and controls to protect the safety and health of EU citizens, preserve the integrity of the internal market and enforce compliance with fiscal obligations (duties, indirect taxes).
"The commission and Ireland continue working together, in the context of the unique situation on the island of Ireland and their twin objectives of protecting the integrity of the internal market while avoiding a hard border, to identify arrangements both for contingency solutions for the immediate aftermath of a withdrawal without an agreement and for a more stable solution for the period thereafter."
Under EU rules each member state is responsible for applying the rules governing product safety, food safety, animal health, as well as other controls for dangerous substances, endangered species, and prohibited goods.
Plenty of 'lead-in time' for businesses to adjust, says Varadkar
The Taoiseach, Leo Varadkar, has assured business leaders that there will not be a "big surprise" when it comes to the introduction of checks near the border in the event of a no-deal Brexit.
Speaking in Waterford this evening, he said there will be plenty of what he called "lead-in time" for business to adjust.
'I don't expect any breakthroughs on Monday ... ': @LeoVaradkar on his expectations for his meeting with @BorisJohnson on Monday #Brexit pic.twitter.com/SpsVCBKmDL

— RTÉ News (@rtenews) September 6, 2019
Mr Varadkar said: "One thing I can assure business is they are not going to wake up one morning to a big surprise. There will be a lead-in time and they will have plenty of time to prepare ... and plenty of information about any changes that take place."
Responding to criticism from Micheál Martin about the absence of information for business to date, the Taoiseach said the Fianna Fáil leader's commentary was "not accurate".
Asked about his expectations for his first bi-lateral meeting with the British Prime Minister Boris Johnson in Dublin on Monday, Mr Varadkar said: " I don't expect any breakthroughs on Monday.
"It's the first time that we are meeting, Taoiseach and Prime Minister. It's an opportunity to establish a personal relationship... and discuss each other's opinions, and explore where there might be common ground."
Additional reporting: Paul Cunningham, Conor Kane