The death toll in Saturday's shooting in west Texas rose to seven on Sunday, local media reported.
Police identified the gunman as a local man named as 36-year-old Seth Aaron Ator.
Police earlier said five people, including the gunman, were killed in the mass shooting.
The incident began with a traffic stop and ended when the gunman was cornered by officers in the car park of a cinema complex in Odessa, Texas.
The shooting, between the cities of Midland and Odessa, started yesterday afternoon when state troopers pulled over a car on Interstate 20.
The lone occupant fired at their patrol vehicle with a rifle, wounding one of the troopers.
After fleeing the scene, Ator hijacked a postal van and opened fire on police officers, motorists and shoppers on a busy bank holiday weekend.
Ator was later shot dead outside the Cinergy cinema complex in Odessa, police said.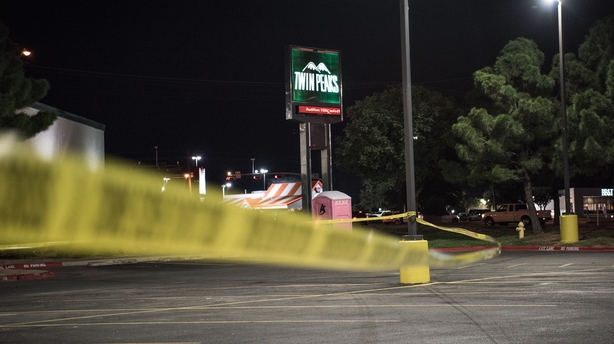 Odessa Police Chief Michael Gerke said at a news conference that the suspect was known to them, but he declined to comment on a motive for the shootings.
Meanwhile, US President Donald Trump said he was speaking with Republicans and Democrats on possible legislative efforts regarding guns after the shooting.
Mr Trump told reporters the Texas shooting had not changed ongoing efforts to prepare a legislative package on guns.
He also said he did not believe background checks for those buying guns would have prevented the recent shootings, adding: "They would not have stopped any of it."
Texas Governor Greg Abbott spoke repeatedly at the briefing about what he said were urgent legislative efforts to reduce gun violence. 
"I have been to too many of these events," he said, listing four mass shootings in the state. "I'm tired of the dying... too many Texans are mourning."
Mr Trump, in a tweet, congratulated law enforcement and first responders for their response to "the terrible shooting tragedy yesterday."
Great job by Texas Law Enforcement and First Responders in handling the terrible shooting tragedy yesterday. Thank you also to the FBI, @GregAbbott_TX and all others. A very tough and sad situation!

— Donald J. Trump (@realDonaldTrump) September 1, 2019
But later, speaking to reporters on the White House lawn, he said that while discussions on curbing gun violence were underway with lawmakers, "This really hasn't changed anything."
While he himself spoke after the El Paso shooting of requiring "strong background checks" to prevent unstable people from purchasing guns, Mr Trump said that recent history showed that "as strong as you make your background checks, they would not have stopped any of it."
But former Texas congressman Beto O'Rourke, who is seeking the Democratic presidential nomination, bluntly disagreed, telling CNN that "if we're not able to act decisively, then we will continue to have this bloodshed."
Combs, the FBI agent, noted that this was not the first mass shooting his team had responded to.
Once the Odessa investigation concludes, he said, "We'll get ready (for) the next active shooter, which is an unfortunate statement to make -- but it seems like that's what we do."