A homeless charity has held a protest outside the Civic Offices in Dublin city centre to highlight the number of people sleeping rough in the capital, which it said is now at epidemic levels.
Anthony Flynn, from Inner City Helping Homeless, said that on one night this week its outreach team assisted 238 people.
He said the demonstration was also held to highlight the increase in the number of tents being used by homeless people.
The Independent Councillor for Dublin Central said there has been a 28% rise in the last six months, with nearly 40% of rough sleepers using tents.
As part of the demonstration around a dozen empty tents were placed outside the Civic Offices on Wood Quay.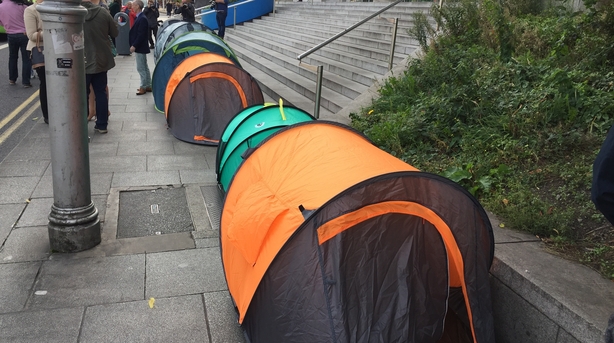 Cllr Flynn said many on the streets do not want to use State-funded facilities because of anti-social behaviour and a task force should be set up to tackle the issue.
Dublin Region Homeless Executive (DRHE) said it is aware of the difficulties faced by people who have no option but to access homeless services.
It a statement, it said that it "strongly believes that there is no need for any individual who experiences homelessness to live in a tent, nor does the DRHE provide funding to services that distribute tents to people who are homeless".
Not far from the council offices... 4 tents in a row.... pic.twitter.com/gENWlmAHch

— Conor Hunt (@conorfhunt) August 29, 2019
It added: "We do not want sheltering in tents to become normalised and we are actively working with our Outreach Service, An Garda Síochána and Dublin City Council's Public Domain Unit to prevent this".
The DRHE said its outreach service, which is operated by the Dublin Simon Community, has helped to move 32 people from tents into accommodation.