European Council President Donald Tusk has warned that it is getting "increasingly" hard for the G7 members to find common ground as the leaders of the seven richest countries in the world gather in France.
The G7 summit host Emmanuel Macron has planned the three-day meeting in the Atlantic seaside resort of Biarritz as a chance to unite a group of wealthy countries that have struggled in recent years to speak with one voice.
The French President set an agenda for the group - France, Britain, Canada, Germany, Italy, Japan and the United States – that included the defence of democracy, gender equality, education and the environment.
He invited Asian, African and Latin American leaders to join them for a global push on these issues.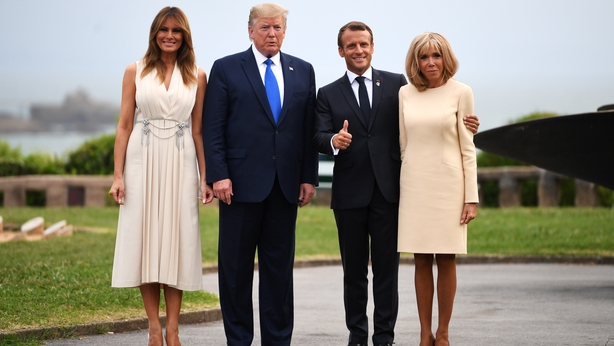 However, in a bleak assessment of relations between once-close allies, European Council President Donald Tusk said it was getting "increasingly" hard to find common ground.
"This is another G7 summit which will be a difficult test of unity and solidarity of the free world and its leaders," he told reporters ahead of the meeting.
"This may be the last moment to restore our political community."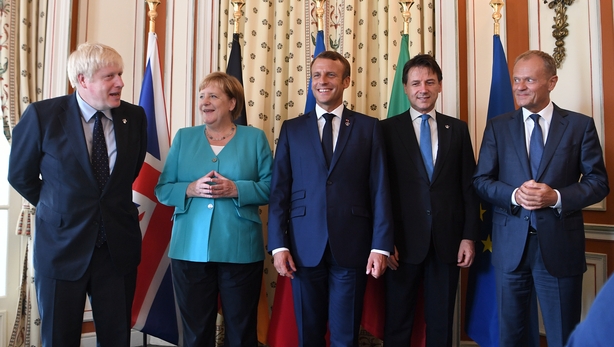 European Council President Donald Tusk has also warned of the danger of trade wars which "will lead to recession".
Mr Tusk said that trade wars among the G7 members will lead to already weakened trust among them and he said that last year's summit in Canada showed it is increasingly difficult for the countries to find common language.
US President Donald Trump blew up last year's G7 summit in Quebec, plunging into a bitter row with Canadian Prime Minister Justin Trudeau and refusing to sign the group's traditional joint declaration.
Today Mr Tusk said the summit will be a difficult test of unity and solidarity and he stated that any US imposed tariffs on France over its digital taxation plan will be responded in kind by the EU.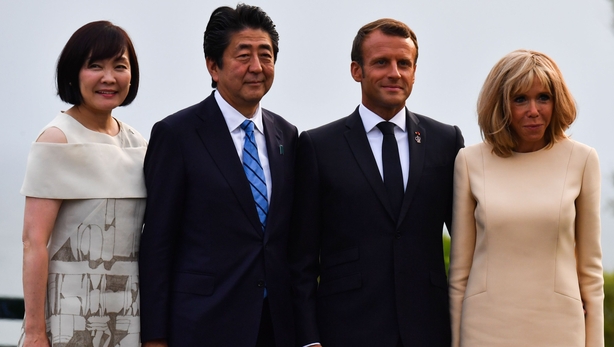 Yesterday Mr Trump threatened France with taxes on their wines as he headed to a G7 summit in Biarritz.
But French President Emmanuel Macron and Mr Trump have found "points of convergence" on subjects including trade, Iran's nuclear programme and the wildfires consuming large parts of the Amazon, a French presidency official said.
After an unscheduled two-hour lunch before the opening of the G7 summit in Biarritz, Macron "created the conditions for a good degree of convergence within the (G7) group, after obtaining clarifications from Donald Trump" on key issues, the official said.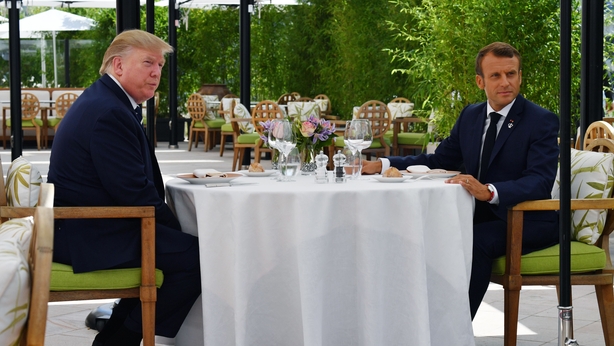 G7 summits always used to be cosy affairs, giving the leaders of like-minded, capitalist democracies a chance to relax and talk frankly in the context of largely shared values.
But Mr Trump is joining the summit in a threatening mood.
His main ire is currently directed towards China and yesterday saw him increase existing and planned tariffs on a total of $550bn in Chinese products in retaliation for Beijing taking action against $75bn in American goods.
"Our tariffs are very good for us," Mr Trump said. "China's paying for it."
"Our economy is doing great. We are having a little spat with China and we'll win it."
---
Read more:
G7 leaders to face thorny issues at weekend summit
US and China scale up tit-fortat war on trade tarrifs
---
The prospect of a prolonged trade war between the world's two largest economies has cast a shadow over the G7 and the mood of his hosts will not have been improved by Mr Trump's threat to target French wines in retaliation for threatened taxes on US tech companies such as Google who have been able to operate abroad without paying taxes.
"Those are great American companies, and frankly, I don't want France going out and taxing our companies. Very unfair," he told reporters.
"And if they do that, we'll be taxing their wine or doing something else. We'll be taxing their wine like they've never seen before."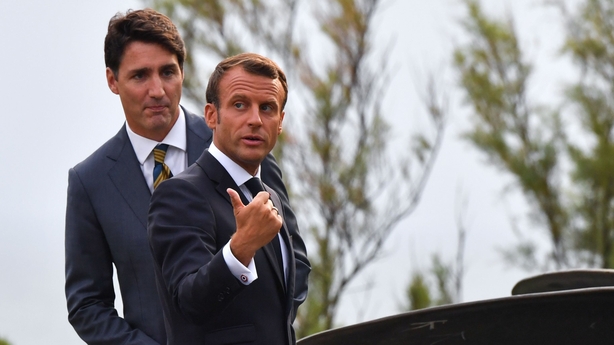 There is already friction between Mr Trump and the Europeans, Canada and Japan over trade tariffs - the Republican president's principal foreign policy weapon.
Discussions on economic growth have been scheduled - at the "last minute" request of the White House - for tomorrow morning and Mr Trump will basically tell his partners to shape up, a senior administration official said.
Yet another diplomatic hand grenade went off days before the trip, when Mr Trump reiterated his desire to recreate the G8 format with Russia, expelled in 2014 after Vladimir Putin's invasion of Crimea.
However, today Mr Tusk said "under no condition" can we agree with Mr Trump's proposal to bring Russia back into the group.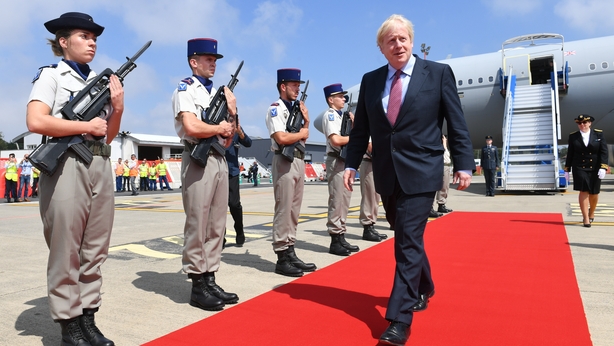 One G7 leader possibly looking forward to meeting Mr Trump is British Prime Minister Boris Johnson, who is struggling to manage his country's chaotic exit from the European Union.
While Mr Johnson finds it tough going with Ms Merkel and Mr Macron, he is likely to encounter a much warmer Mr Trump, who says the EU has "not treated the UK very well."
And after having encouraged Brexit, Mr Trump is eager to strike a bilateral trade deal with Britain.
As the first day of the summit came to an end, Mr Johnson urged the US President to remove the "considerable barriers" for UK companies seeking to export to the American market, saying they risked impeding a free-trade deal after Brexit.
He pointed to a string of UK products - ranging from shower trays to Britain's beloved pork pies - that he said were not allowed on the American market
"It is very important, if we are going to do a fantastic free trade deal, it is a free trade that works in the interests of British business," he said.
Prime Minister Johnson and other supporters of Britain's exit from the European Union see a trade deal with the US as key to making a success of Brexit, by creating new opportunities for British firms.
The issue could become a rare bone of contention between the two leaders, with the pair having warm relations dating back to well before the British prime minister arrived in office last month.
Another contentious matter could be that of US tariffs on mostly Chinese goods as prior to the start of the summit Mr Johnson showed he shares other G7 members' view as far as the trade war goes, saying he is "very concerned" about the tensions between the US and China, adding their tit-for-tat tariff hikes were harmful for the global economy.
"I'm very worried about the way it's going, the growth of protectionism, of tariffs that we're seeing," Mr Johnson said as he arrived at the G7 summit in the French resort of Biarritz, where he was to make his full international debut as Britain's premier.
"Those who support tariffs are at risk of incurring the blame for the downturn in the global economy," he said.
"This is not the way to proceed."
The question of tariffs is of particular concern for Mr Johnson as he prepares to lead Britain out of the EU with the prospect of a no-deal Brexit on 31 October looking increasingly likely - which experts warn would cost both sides dearly.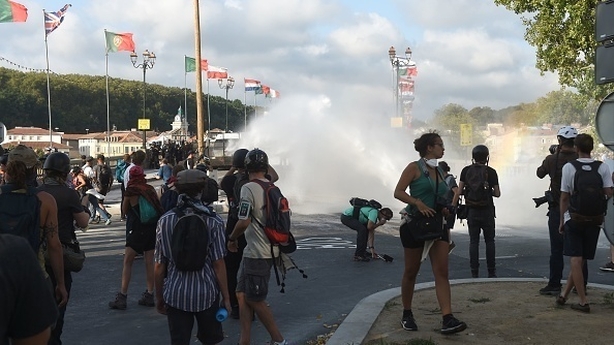 Thousands join anti-G7 march as world leaders fly in
French riot police have briefly used water cannons and tear gas today to disperse anti-capitalism protesters in Bayonne, near Biarritz, the meeting place of the G7 leaders.
A police helicopter circled overhead as dozens of protesters, some wearing face masks, taunted lines of police.
Earlier, thousands of anti-globalisation activists marched peacefully across France's border with Spain to demand action from the G7 leaders.
"Heads of state: act now, Amazonia is burning!" read one banner as the huge crowd rallied under cloudless blue skies in the French coastal town of Hendaye, the slogan referring to the wildfires ravaging the world's largest rainforest.
Since Monday, anti-capitalist activists, environmentalists and other anti-globalisation groups have begun flocking to southwestern France for a counter-summit which they insist will be peaceful.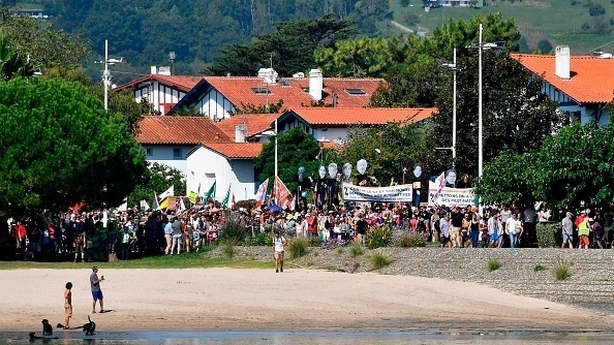 Waving thousands of flags, they marched across the Bidasoa River heading for the Spanish town of Irun, chanting slogans and playing drums.
The demonstrators were an eclectic mix of environmental activists, families and anti-globalists.
Among the crowd were even a group dressed in traditional Basque shepherd costumes, with red, white and green Basque flags as far as the eye could see.
The rally ended shortly before 2pm local time with no major incidents, according to reporters on the scene.
But authorities remain on high alert, with Biarritz on lockdown and police deployed en masse in the neighbouring town of Bayonne as well to keep protesters at bay.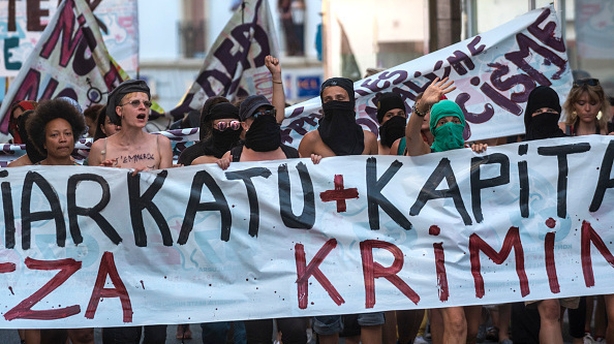 Overnight, 17 people were arrested and four police lightly injured when clashes erupted in Urrugne near the Spanish border some 25 kilometres south of the resort.
"I want to call for calm and for unity," French President Emmanuel Macron said in an address to the nation just hours before the official opening of the summit at which world leaders were to address the Amazon crisis along with other divisive global issues.
"We won't be able to face all these big challenges if we don't act together," he said.
"We want the march to be totally peaceful and even if we are concerned about scuffles, we have tried to put everything in place so that doesn't happen."