The French President has told British Prime Minister Boris Johnson that the European Union will not tear up the Brexit deal negotiated by his predecessor Theresa May.
Emmanuel Macron, who met Mr Johnson at the Élysée Palace in Paris, said there could not be a "reshuffling" of the Withdrawal Agreement, but he left open the possibility of making some changes to the deal.
Mr Macron backed the 30-day timescale suggested by German Chancellor Angela Merkel yesterday for the UK to come forward with its proposals, but warned that the backstop to avoid a hard border on the island of Ireland - the major stumbling block - was indispensable.
"We will not find a new Withdrawal Agreement within 30 days that will be very different from the existing one," the president said as he spoke alongside the prime minister.
In an effort to avoid the EU being blamed if a no-deal Brexit is the outcome on 31 October, Mr Macron said failure to reach an acceptable deal would be "a political decision to be taken by the prime minister, it's not our decision".
Mr Johnson has demanded the backstop be scrapped.
Mr Macron said the Withdrawal Agreement and backstop are "not just technical constraints or legal quibbling" but are "genuine, indispensable guarantees" to preserve stability in Ireland and the integrity of the single market.
He said the EU had "always said that it was available to discuss, depending on the wishes of the UK, our future relationship".
The two leaders were speaking ahead of their formal talks in Paris.
Mr Johnson stressed while he wanted an agreement, the UK "must come out of the EU on October 31 - deal or no-deal".
He insisted that alternatives to the backstop could be found as "where there's a will, there's a way".
Mr Johnson said: "What Chancellor Merkel said yesterday, and which is in line with the substance of our talks, is that we need visibility in 30 days.
"Nobody is going to wait until 31 October without trying to find a good solution."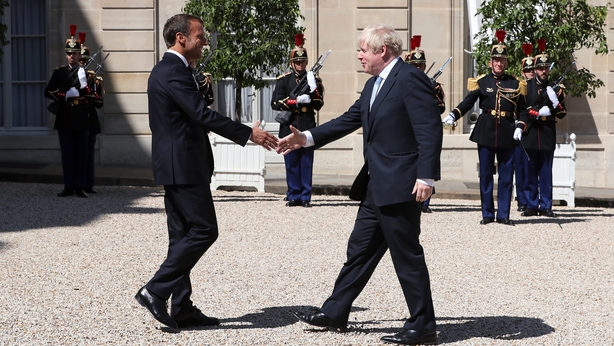 Mr Macron said the EU had "always said that it was available to discuss, depending on the wishes of the UK, our future relationship".
He said: "My position has always been to respect the sovereign choice made by the British people to leave the European Union.
"I regret it. Had I been a British voter I would have made a different choice, but I respect democracy and the wishes of people and I therefore believe we now have to implement this choice."
But he said his position was based on "protecting and strengthening the European project".
Mr Macron said the Withdrawal Agreement "does not belong to any member of the EU alone to negotiate or to renegotiate".
He told Mr Johnson that it was for him to choose the UK's destiny and that while a no-deal scenario was not the EU's wish, the bloc would be ready for it.
Mr Johnson said that under no circumstances will the British government institute checks or controls at the Irish border and that he understood the desire to protect the integrity of the single market.
He said he wanted a deal on Brexit, adding that he had been "powerfully encouraged" by his talks with Mrs Merkel.
He said: "I was powerfully encouraged by our conversations last night in Berlin with our mutual friends.
"I know that with energy and creativity and application we can find a way forward for all our businesses and our citizens."
He said that following a referendum "you should act on the instructions of the voters" and "then of course we can take our relationship forward".
Mr Johnson also stressed that he wanted to continue a close economic relationship with France.
Miracle needed to avoid no-deal Brexit
Luxembourg's Foreign Minister has said that a miracle would need to happen for the EU and the UK to find a solution to the Irish border problem to avoid a no-deal Brexit.
"Miracles should never be ruled out, but I'm sceptical we can simply pluck something out of the air that guarantees Ireland has no hard border and at the same time the EU has control over what enters its market,"
Jean Asselborn told German broadcaster SWR: "I'm not convinced that we can for sure say today a no-deal Brexit is coming, but we must clearly outline the dangers of a no-deal Brexit and Boris Johnson should do so too."
At the weekend, all three European leaders - Boris Johnson, Emmanuel Macron and Angela Merkel - will meet US President Donald Trump, a vocal supporter of both Brexit and Mr Johnson, and the leaders of Canada, Italy and Japan at a G7 summit in the French resort of Biarritz.
Additional Reporting Reuters, AFP