Residents of a care centre in Wicklow have been receiving regular visits from a special four-legged friend as part of the centre's activity programme.
Jet, a Shetland pony who was rescued and rehabilitated by The Irish Horse Welfare Trust, first visited St Colman's Residential Care Centre with the charity nearly a year ago.
Jet was an instant hit with residents, bringing huge smiles as he was taken around the centre, visiting residents in their rooms and in living areas.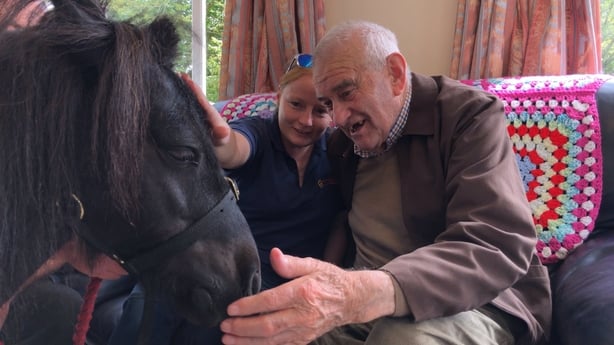 St Coleman's Activity Coordinator Pamela Egan said: "It affects them hugely. Every time he comes, it's just as special as the first time he came to visit.
"People can hear him in the distance. They can hear the clip-clop coming down the corridors so they know he's coming and they are so excited to see him. The build-up is wonderful."
Martin Bolger of The Irish Horse Welfare Trust said: "It's a bit of happiness, puts a smile on their faces.
"Jet is an absolute little doll with them. He's the star of the show now. Before each visit his hooves are polished and his coat is freshly brushed."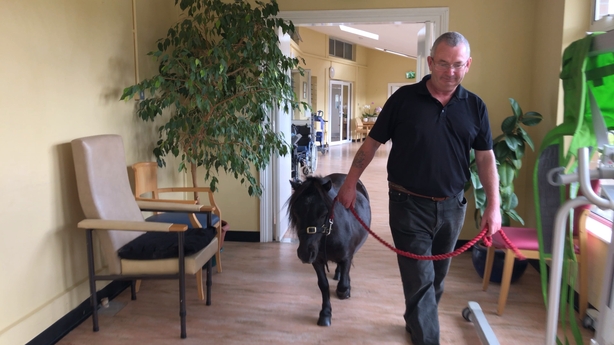 Animal-assisted therapy has been shown to be beneficial in elderly care, as physical contact with the animals encourages communication and can reduce stress and anxiety.
The Director of Nursing at the centre May Kavanagh has seen the benefits of equine therapy on the elderly residents
She said: "The percentage of dementia-type illnesses that we would have in our residents is high. It would be around the 75% mark.
"Because of our residents being in a community-based and rural area a lot of them would have had a pony or a donkey in their history as children growing up.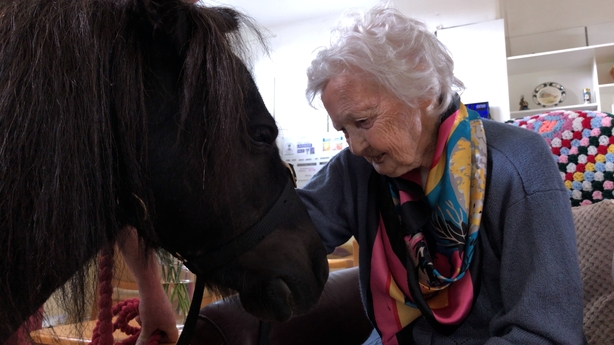 "You can see it in their faces when the pony comes to visit. It takes them back to those days."
Respite resident Gerard Hatton remembers: "My daddy, Lord have mercy on him, used to breed and sell the working horses."
Another care centre resident said: "Jet is lovely, very quiet and very calm."
"They have a connection now with [Jet] and they love to see him coming," said Ms Egan.