The Northern Ireland Secretary has said it is his priority to restore devolution "as soon as possible".
Julian Smith met the leaders of the five main parties at Stormont this afternoon in a bid to move the talks process forward.
Following the round-table meeting, Mr Smith said he has "asked the five independent working group leads to hold further meetings and report back early next week".
He said he will discuss further steps with the Irish Government once he has received the reports.
The talks came after British Prime Minister Boris Johnson departed Northern Ireland having also met the five parties.
Mr Johnson insisted a dinner with the DUP has not undermined his impartiality in efforts to restore power-sharing.
He dined with party leader Arlene Foster and other senior party colleagues in Belfast last night amid ongoing negotiations aimed at renewing the Conservative Party's confidence and supply deal with the DUP, which is keeping Mr Johnson's minority government in power.
The new British Prime Minister denied a conflict of interest as he arrived at Stormont this morning.
"It's all there in the Good Friday Agreement, we believe in complete impartiality and that's what we are going to observe," he said.
"But the crucial thing is to get this Stormont government up and running again."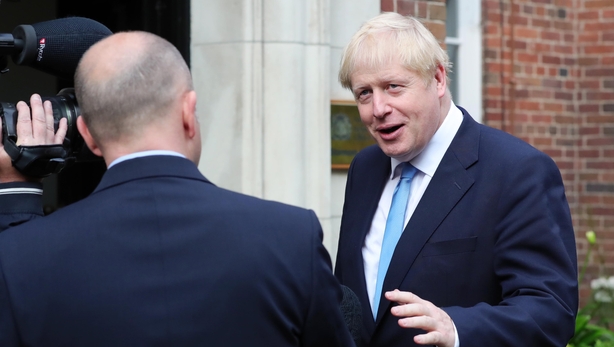 In section one of the Good Friday Agreement - Constitutional Issues - sub-paragraph five states: "...that whatever choice is freely exercised by a majority of the people of Northern Ireland, the power of the sovereign government with jurisdiction there shall be exercised with rigorous impartiality on behalf of all the people..."
We need your consent to load this rte-player contentWe use rte-player to manage extra content that can set cookies on your device and collect data about your activity. Please review their details and accept them to load the content.Manage Preferences
In a later statement, a Downing Street spokesman said: "[Mr Johnson] said that in all scenarios, the government is steadfast in its commitment to the Belfast-Good Friday Agreement and that in no circumstances would there be physical checks or infrastructure on the border.
"He also made clear his belief and commitment in the rigorous impartiality set out in the Belfast-Good Friday Agreement, while at the same time reaffirming his determination to strengthen the Union and Northern Ireland's place within it.
"The overarching purpose of these meetings was to discuss moving forward in the ongoing power-sharing talks and getting the Northern Irish democratic institutions back up and running as soon as possible.
"The prime minister told all of the parties that he was determined to bring this process to a successful conclusion and that he would do everything he could to make it happen.
"He said that while there had been constructive progress in recent weeks at Stormont, that there now needed to be serious and intense engagement to get this done and that he had faith that all parties would step up to the challenge."
Mr Johnson's first meeting was with Sinn Féin who warned him that a disorderly Brexit would be disastrous for the Irish economy.
Party leader Mary Lou McDonald told reporters following the meeting that, "we've challenged him very strongly on that (Brexit) policy. We have set out very clearly that this would be catastrophic for the Irish economy, for Irish livelihoods, for our society, our politics and for our peace accord."
Sinn Féin's @MaryLouMcDonald on @BorisJohnson meeting: 'His course of action, which seems to us to indicate that he has set the compass for a disorderly and a crash #Brexit, we have challenged him very strongly on that policy' pic.twitter.com/gC8KFxdRRV

— RTÉ News (@rtenews) July 31, 2019
She said that Mr Johnson had to stop being the DUP's "gopher" and said his stated claim of impartiality was "laughable".
"He tells us he will act with absolute impartiality, we have told him that nobody believes that," she said.
"Nobody believes that because there are no grounds to believe there is any kind of impartiality, much less strict impartiality."
She added that the confidence and supply deal had "poisoned the groundwater" at Stormont.
"He asked for our advice and we have strongly advised him that to make progress here he needs to ensure that he is not the DUP's gopher, he needs to stop mollycoddling them, he needs to spell out the realities of life to them and put pressure on his unionist colleagues to ensure we can land on an equitable and sustainable agreement," she said
SDLP deputy leader Nichola Mallon said Mr Johnson only delivered bluff, bluster and stock responses.
She said he was "hurtling" Northern Ireland toward a "catastrophic" no-deal Brexit.
Mrs Foster, meanwhile, said the backstop had to go, describing it as the continuing and fundamental flaw in the Withdrawal Agreement.
She said the British government would make plans to help Northern Ireland in the event of a no-deal scenario but added no one wants this.
DUP leader Arlene Foster: 'It is very clear that it is the backstop that has caused all of the difficulties with the Withdrawal Agreement and therefore that needs to be the subject of focused negotiations to deal with it' #Brexit pic.twitter.com/m97XZMtkNN

— RTÉ News (@rtenews) July 31, 2019
Elsewhere, Minister for Agriculture Michael Creed said there needed to be less of the "megaphone diplomacy and more of the round table discussions" on Brexit.
Speaking on RTÉ's Today with Miriam, Mr Creed said: "We have no interest in trapping - as has been suggested - the UK in a permanent backstop arrangement. It's an insurance policy that we hope would never be invoked."
He said the Withdrawal Agreement was negotiated and agreed in good faith between the sovereign government of the UK and the other 27 members of the European Union and if the DUP or the UK government wishes to shift their red lines, then that was a different issue.
He said the backstop was part of the Withdrawal Agreement and it could not be time limited and was negotiated on based on red lines insisted upon by the UK.
Mr Creed said a no-deal Brexit would affect Ireland, the UK, and the rest the European Union.
He said: "I don't think it is good enough to say I'll only negotiate when you tell me what I want to hear. Boris Johnson needs to engage, we need to sit down, we need to be absolutely certain that the Withdrawal Agreement has been negotiated in good faith on the basis of red lines that the UK has insisted upon."