Irish man Keith Byrne, who was detained in the United States over immigration offences, has described his shock and heartbreak following his arrest.
Mr Byrne, who is originally from Fermoy in Co Cork, was temporarily released from custody last week for a period of 30 days.
He told RTÉ News that "it's good to be home. It's where I belong" and said that being reunited with his wife and three children after being detained for three weeks was "really special".
The 37-year-old was arrested on his way to work at his painting business in Philadelphia when he was pulled over by US Immigration officers.
Mr Byrne told RTÉ News: "I was very scared at the beginning of course. I guess more than anything else I was just heartbroken. My babies, my wife, my business, my customers, my life.
"Everything I had worked so hard for was just gone, without warning. I was scared."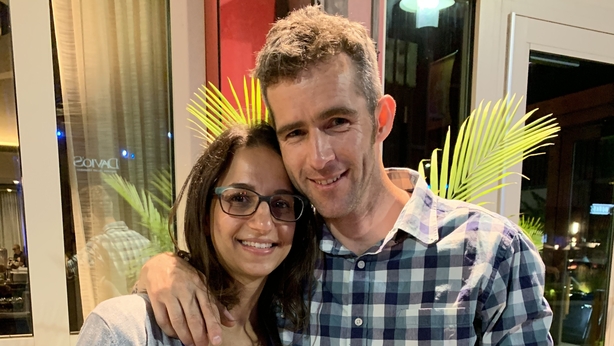 He entered the US on a 90-day Visa Waiver programme in 2007, but overstayed his visa and subsequently got married to his wife Keren in 2009.
Mr Byrne described his arrest as "pretty shocking" and said he was "confused" because he had "been fighting for a long time to make things right".
"To pounce on me the way they did, it was pretty shocking. Yeah I was scared, I was very scared", he said.
His wife previously told RTÉ News they had spent years going through the legal process to try to "adjust his status", but had been refused several times, due to a minor drugs conviction here in Ireland.
Today, Mr Byrne said: "It's kind of embarrassing. It's a 14-year-old fine that I paid in court. I don't know what kind of message people are giving out by sending me home over that. I've made a good life over here so, I've paid my penalty."
He said he has "never hid" in the United States.
"I came here and I got lucky. I've lived the 'American Dream'. Hard work made good luck, so may it continue."
Mr Byrne said his experience of being detained in Pike County Jail in Pennsylvania was "awful".
He told how he was put in cuffs and shackles, before officers "threw him in a cell" and later drove him to county jail, "with who knows who".
He described his temporary release as a "huge step" and says he has confidence in his lawyers, who he will meet tomorrow to discuss his case.
"I'm optimistic. I'm hopeful. I'm just going to leave it with the law and hopefully my lawyers can make it happen. I'm just going to keep working hard and keep doing what I was doing."
Mr Byrne said that in the event that he is deported back to Ireland from the United States, that "it would be horrible" and that "nothing good comes from sending me home".