Boris Johnson, one of two candidates to become the next British Prime Minister, has again declined to discuss in detail the late-night argument at his home, saying it was "simply unfair" to "drag" his loved ones into the political arena.
The frontrunner to succeed Theresa May as leader of the Conservative Party was involved in a domestic row in the early hours of Friday morning, which saw police called by worried neighbours after his partner was heard screaming and shouting "get off me".
Mr Johnson held out on making any statement about the row in his partner's flat for three days, but has finally answered questions in an exclusive with the BBC.
When asked what happened that night by the broadcaster's Laura Kuenssberg, Mr Johnson said he did not want to "drag" his family and loved ones into the political arena.
He said: "I...would love to tell you about all sorts of things Laura, but I've made it a rule over many, many years and I think you've interviewed me loads of times, I do not talk about stuff involving my family, my loved ones.
"And there's a very good reason for that. That is that, if you do, you drag them into things that, really is, is, in a way that is not fair on them."
Mr Johnson was asked whether privacy meant more to him than public trust and responded: "Yes I get that, I totally get that.
"But my key point though is that the minute you start talking about your family or your loved ones, you involve them in a debate that is it is simply unfair on them."
The issue of a photograph of the couple that emerged at the weekend was raised, with Ms Kuenssberg suggesting the former mayor of London could be "trying to have this both ways".
Mr Johnson dodged the question, saying "I just do not go into this stuff" and referring back to "innumerable statements I gave when I was mayor".
He said: "Actually I think what people want to know is what is going on with this guy, does he, when it comes to trust, when it comes to character all those things, does he deliver what he says he's going to deliver?
"And that is the key thing."
Ms Kuenssberg agreed trust was key and suggested the Tory membership would be looking at his record when deciding whether to vote for him and warned "there are plenty of people even in the Conservative Party who worry that you do not stick to what you promise".
But Mr Johnson dismissed this, saying: "Well I think they're talking absolute nonsense.
"When I was mayor, when I became mayor of London, when we said we would do something, we, I may say delivered not just X but X plus 10."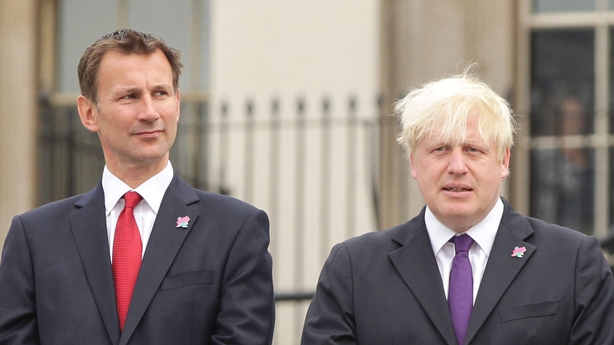 Earlier Mr Johnson was branded a "bottler" by allies of Jeremy Hunt for ducking a planned TV showdown.
Sky News invited the Conservative Party leadership rivals to take part in the head-to-head debate tomorrow night hosted by Kay Burley, but said it would be cancelled due to Mr Johnson's decision not to attend.
The broadcaster has now invited both men to take part in a debate on 1 July.
The head-to-head format meant it would not have been possible for Mr Johnson to be replaced by an empty podium on Sky as he was in a Channel 4 debate earlier in the leadership contest.
An ally of Mr Hunt said: "Bottler Boris and his complacent campaign have shown they can't trust their candidate to turn up and perform."
A Sky News spokesman said: "Jeremy Hunt has agreed to take part, but Boris Johnson has so far declined the invitation.
"We stand ready to host a debate tomorrow evening if both candidates make themselves available.
"Without both candidates, tomorrow's debate will not take place.
"But we will reissue our invitation for Mr Hunt and Mr Johnson to debate live on Sky News next Monday, July 1."
A spokesman for Mr Hunt's campaign said: "Whoever wants to be prime minister must face up now to the intense scrutiny that comes with the job, anything less is deeply disrespectful to our members.
"Trying to duck debates and run down the clock until after postal ballots have been returned is just cynical and complacent.
"Boris Johnson must stop trying to slink into Number 10 through the back door and come clean about his programme for government."
Johnson criticised over attempts to avoid media scrutiny
Meanwhile, Mr Hunt, the underdog in a bitter battle with Mr Johnson to become Britain's next prime minister, has called on his rival not to be "a coward" trying to "avoid scrutiny" over a domestic row.
Mr Hunt, the British foreign minister, urged Mr Johnson to "man up" and show he can cope with questioning.
"I am not interested in debating Boris's private life," Mr Hunt said in an article in The Times, arguing he instead wants to quiz Mr Johnson on his policy ideas.
"A new prime minister needs the legitimacy of having made his arguments publicly and having them subjected to scrutiny.
"Only then can you walk through the front door of No 10 with your head held high instead of slinking through the back door, which is what Boris appears to want."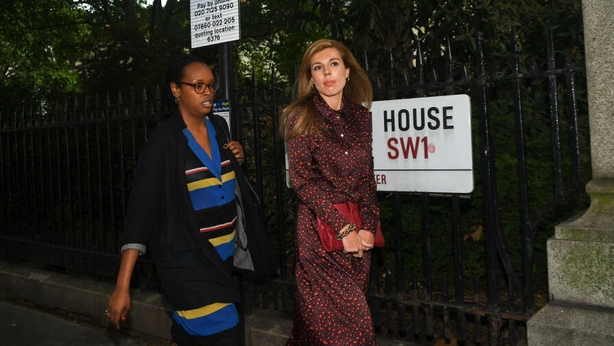 Urging Mr Johnson to attend tomorrow's debate, Mr Hunt added: "Don't be a coward Boris, man up and show the nation you can cope with the intense scrutiny the most difficult job in the country will involve."
Mr Johnson, 55, a former London mayor and foreign secretary, was involved in a loud altercation early on Friday at the home of his 31-year-old girlfriend Carrie Symonds.
Neighbours called police after hearing screams, shouts and bangs at the south London property, shortly after Mr Johnson had secured his place in the final run-off to become prime minister.
The couple, who were spoken to by officers but face no further action, have reportedly fled the home following the incident and a handful of anti-Johnson protesters who gathered there.
When asked about it at a Conservative grassroots event on Saturday, Mr Johnson said: "I don't think people want to hear about that kind of thing."