Jean is not sure if he has killed another human being.
The 17-year-old former child soldier can't say for certain because he never saw anyone die on the battlefield.
Jean fought for years on the frontlines in the Eastern DRC for an armed group. He carried weapons and shot at "enemies".
Jean is one of thousands of boy and girl soldiers recruited by armed groups in the restive east of the Democratic Republic of Congo.
He was just 11 years old when he was enlisted into a militia group by a member of his own family.
"I was living with my big sister and her husband - who was a soldier," Jean told RTÉ News in a quiet corner of the UNICEF run CAJED centre (Concert Action for Disadvantaged Children).
"He forced me into the armed group. If I refused or showed any resistance he told me I would be shot," he said.
Jean spent years fighting on the frontlines; always at the beck and call of his superiors.
We meet at a transitional centre in Beni, a major town in the eastern Kivu province, where UNICEF staff prepare children for life after war.
It's noisy, busy and chaotic with 138 boys crammed into a small space.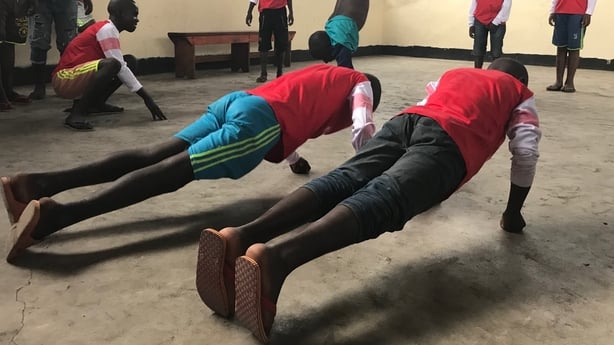 The centre also treats a handful of former girl soldiers who take classes at the facility but live elsewhere.
From the moment I meet Jean he shuffles nervously from foot to foot.
He appears impatient, anxious and even a little intimidating.
His piercing eyes show little emotion. Jean is in no mood for small talk - he is eager to get back to his game of cards.
"Life was very, very difficult," he mumbles as he starts to open up about his former life.
"What did you have to do as a child soldier?" I inquire through our translator.
Jean pauses - deep in thought - perhaps recalling a time in the not so distant past when his life was not his own.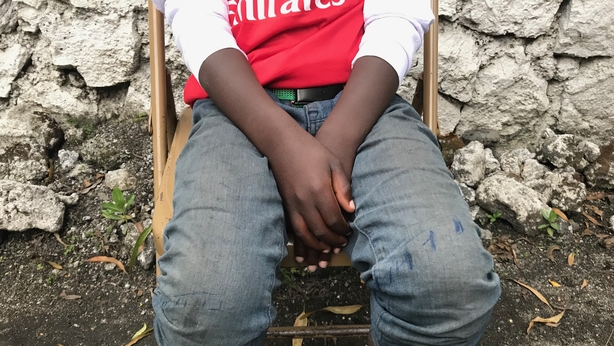 "Some of us [soldiers] had to commit acts of sexual violence against women," he said.
"I witnessed other soldiers forced into doing unspeakable acts and things to females. I was also asked to rape women, but I just couldn't go through with it."
A growing number of children in the Democratic Republic of Congo are bearing the brunt of violence in the east.
The volatile region has been plagued by armed conflict involving more than 25 armed groups.
The majority of forces recruit and abuse children - both boys and girls.
Jean insists he never wanted to pick up a weapon but he had no choice.
If he refused he would be beaten and tortured for so-called "wrongdoing".
"I took up arms to protect myself," Jean told RTÉ News.
"As far as I know I never killed anyone. But when I was on the frontlines it could have happened," he explains.
Two years ago, the Central African country recorded the highest level of recruitment of child soldiers for nearly a decade.
An estimated six million children in the DRC have been affected by the long-running conflict.
Among them, 13-year-old Josef, who sought refuge at the shelter after he ran away from an armed group.
He has been settled at the centre for two months and appears to be happy with his new life.
The worst part of Josef's daily routine as a child soldier was being ordered onto the streets to steal.
"I really regret that," he says "but I would be beaten if I refused".
"I stole from people who had nothing and my job was to bring it back to the armed group so that I could eat later."
Long serving staff at CAJED say having your childhood robbed at a young age has a devastating psychological impact. The NGO runs centres across North Kivu and has helped more than 10,000 children transition back to civilian life.
One man - wearing a bright blue football jersey - is considered a hero by all the children at the centre in Beni.
Faustin Lyabahinduka, the director of CAJED, is mobbed by the boys and girls as he walks around to make sure everything is in order.
Many children laugh and joke around with him, others prefer to hang back and be alone. It is clear that they have been scarred - physically and emotionally - after years fighting on the frontlines.
"We have a mental health centre with trained psychologists and therapists to make them better," Mr Lyabahinduka said.
Faustin has spent a lifetime working with troubled children and he has seen it all. But he feels most for the former girl soldiers who have spoken about being abducted and forced to marry their kidnappers.
"They started out their young lives as innocents," explains Faustin.
"But then they were raped, passed around and used by their bosses as sexual objects," he said.
High walls topped with barbed wire surround the transitional centre in Beni but none of the children here feel like prisoners.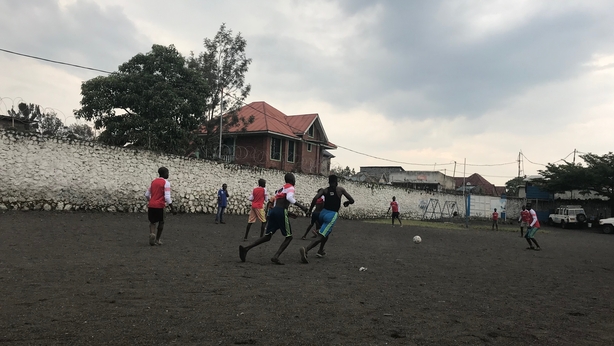 "It is much better than on the outside," says Josef, the former child soldier, who is always wearing a big smile.
"Before, I had to do bad things, like fighting along the border. But now we get everything. We're looked after and protected."
I ask him what he wants to be when he grows up?
"The President!" he says without skipping a beat.
After all Josef has been through his determination to succeed is strong.
He is aiming for a better life, and who knows, one day Josef may end up in high office.
The DRC would be lucky to have such a resilient and strong citizen as its future leader.