Boris Johnson and Jeremy Hunt are to go before the Conservative Party membership in bid to become the next British Prime Minister.
The two are the last remaining candidates following today's ballots among Conservative MPs.
Following today's decisive ballot of MPs Jeremy Hunt said he believes he can cause an upset by defeating Boris Johnson in the battle for Number 10.
The UK Foreign Secretary defeated Michael Gove by just two votes to secure his place on the ballot paper alongside clear favourite Mr Johnson.
Mr Hunt admitted he was the underdog "but in politics surprises happen as they did today".
"We are going to give Boris the fight of his life," Mr Hunt said.
Former UK foreign secretary Boris Johnson secured support from more than half the Tory party in the Commons with 160 votes, while Mr Hunt had 77 votes and Mr Gove 75.
The result in the fifth and final ballot came after Mr Gove had managed to finish second in the fourth round, sending shockwaves through the contest.
Allies of Mr Hunt urged MPs not to risk the "personal psychodrama" of a run-off involving the Environment Secretary and his rival Mr Johnson.
Mr Gove's decision to stand for the leadership in 2016 scuppered Mr Johnson's campaign and the wounds have not healed.
There was also widespread speculation - denied by Mr Johnson - that supporters of the frontrunner were being encouraged to vote tactically in order to prevent Mr Gove reaching the final ballot.
Following the elimination of Sajid Javid from the race on Thursday morning with 34 votes, at least five of the Home Secretary's supporters said they would switch to Mr Johnson.
The former foreign secretary's vote tally only increased by three, raising eyebrows at Westminster.
But Mr Gove's campaign manager Mel Stride played down the prospect of a co-ordinated vote-switching operation due to the narrow margin of the defeat.
Mr Johnson said he was "deeply honoured" by the result and "I look forward to getting out across the UK and to set out my plan to deliver Brexit, unite our country, and create a brighter future for all of us".
Mr Gove said he was "naturally disappointed but so proud of the campaign we ran" and "it's been an honour to be able to set out a vision for the future of our great country".
The final outcome of the leadership contest will not be known until the week beginning 22 July, with the two remaining candidates taking part in a series of hustings in front of Tory members around the country before the votes are counted.
Mr Johnson and Mr Hunt will also take part in a head-to-head debate on ITV on 9 July.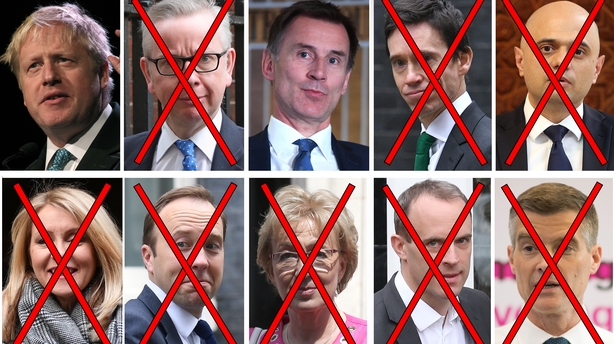 Both Mr Johnson and Mr Hunt have promised to take Britain out of the EU as quickly as possible, with the current exit date - after two delays-- set for 31 October.
Both say they want to renegotiate the deal Theresa May has already struck with Brussels - which parliament has rejected three times - but are prepared to walk away if necessary.
However, the EU has repeatedly said it will not change the text and the tough talk of "no deal", particularly from Mr Johnson, has sparked frustration across the EU.
Varadkar warns of Brexit 'reality'
The Taoiseach has said that whoever becomes the next prime minister is going to have to "face the reality" of the Brexit situation.
Speaking as he left the European People's Party meeting in Brussels today, Leo Varadkar said: "There's a campaign under way. It's an internal party contest involving MP's and also involving members of the party.
"But once that's over, whoever is going to become British Prime Minister and they're going to have to face the reality of the situation: A united Europe, a Withdrawal Agreement that isn't going to be reopened and a basic fact that if we don't have an agreement by 31 October, there won't be an extension other than for a referendum or an election.
"And if there's a no deal Brexit there'll be no transition period for the UK".
Elsewhere, Dutch prime minister Mark Rutte said the next prime minister needs to realise a no-deal Brexit would be bad for the UK.
He told the BBC: "With a hard Brexit, even with a normal Brexit, the UK will be a different country.
"It will be a diminished country. It is unavoidable."
Mr Rutte also made clear that there could not be a transition period if a Withdrawal Agreement was not in place.
"As Boris Johnson would say, Brexit is Brexit. I would say a hard Brexit is a hard Brexit. I don't see how you can sweeten it," he said.
"I hate Brexit from every angle. I hate a no-deal Brexit from every angle".
Additional reporting: Colm Ó Mongáin, Reuters