A wave of support for the Greens has set the party on course to top the poll in Dublin, according to a RED C exit poll for RTÉ and TG4, write Mícheál Lehane and Paul Cunningham. 
The party may also be in contention for seats in the South and Midlands North West constituencies, something that looked impossible just a few days ago.
The poll comes with caveats but the hike in support for the Green Party looks consistent and widespread even accounting for the 4% margin of error in constituencies. 
---
Read more:
FF and FG share lead, strong support for Greens: exit poll
Overwhelming support to ease divorce restrictions - exit poll
---
The bigger parties look to have a battle on their hands if they are to realise their publicly expressed targets.
Today, RED C spoke to 3230 voters in polling stations nationwide.
The findings all indicate a long count to fill the 13 European Parliament Seats. 
Here's a look at the figures in each of the three constituencies.
Dublin
The key trend from the Dublin constituency is the projected poll-topping performance of the Green Party's Ciaran Cuffe. 
If the suggested 23% first preference vote is replicated at the count centre, the Dublin Councillor and former junior minister would all but be guaranteed a seat. 
Just 4% separates the next four candidates - and given the of error is also 4% in this poll, it is impossible to make a prediction as to who might take the 3 remaining seats.
Fine Gael's Frances Fitzgerald is on 14% - that's significantly ahead of her running mate Mark Durkan who languishes on 5%.
The Independents4Change TD, Clare Daly, is on 12%. 
Barry Andrews, of Fianna Fáil on 12%. 
Sinn Féin's Lynn Boylan, who topped the poll in 2014, is on 10%, according to the RTE/TG4 poll. 
Social Democrats Councillor Gary Gannon appears to be off-the-pace on 6%, with Labour's Alex White one point back on 5%. 
As predicted - this constituency will all come down to where those transfers go.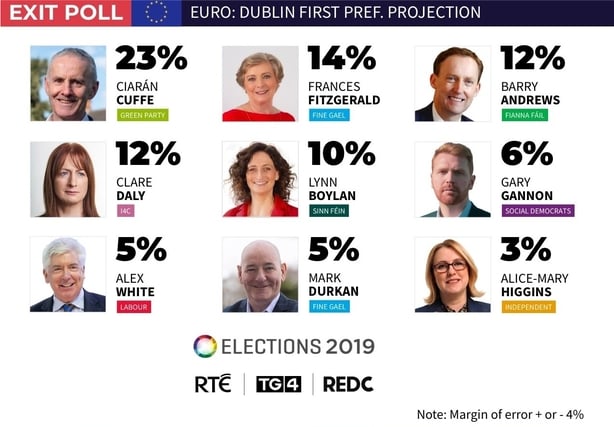 South 
The RTÉ TG4 poll suggest that Fine Gael's Seán Kelly is poised to the re-elected with the survey of voters putting him on 16% support.
Once again the projected strength of the Green Party is evident here with Grace O'Sullivan on 12%, the poll predicts.
Of the two Fianna Fáil candidates Billy Kelleher leads on 13% with Malcom Byrne on 9%. 
That would suggest Fianna Fáil will take a seat here but talk of a possible two looks a little optimistic based on these figures.
The Independents 4 Change candidate Mick Wallace has polled 10% support. 
Current Sinn Féin MEP Liadh Ní Riada is on 13%. If that projection is borne out when all the votes are counted it would represent an six point drop in support compared to 2014.
Deirdre Clune appears to be facing a challenge to hold on to her seat here with the exit poll gauging her vote at 9% while her running mate Andrew Doyle at 4%.
Sheila Nunan of the Labour Party is on 3% according to this poll.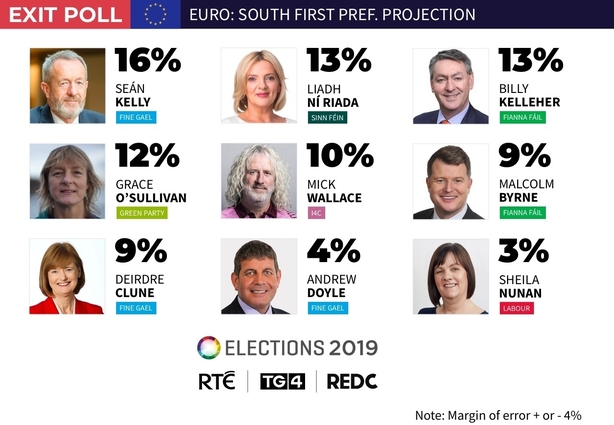 Midlands North West
Fine Gael's Mairead McGuinness looks likely to top the poll in this constituency this research suggests.
It places the sitting MEP on 25% while her running mate Maria Walsh is on 10%.
That leaves open the possibly of a second Fine Gael seat.
Again the surge in Green support is apparent with this poll indicating that Saoirse McHugh is on 12%.
Again it leaves her in contention for a seat if the figures hold up.
Sinn Féin's Matt Carthy is on 15% while the another sitting MEP Luke Ming Flanagan has 10% support, the poll suggests.
There is a 4% margin of error but Fianna Fáil's key aim to regain a seat in Midlands North West appears to be facing challenges. 
Brendan Smith and Anne Rabbitte are on 6% and 3% support respectively.
The high profile candidate Peter Casey has 7% support this poll suggests.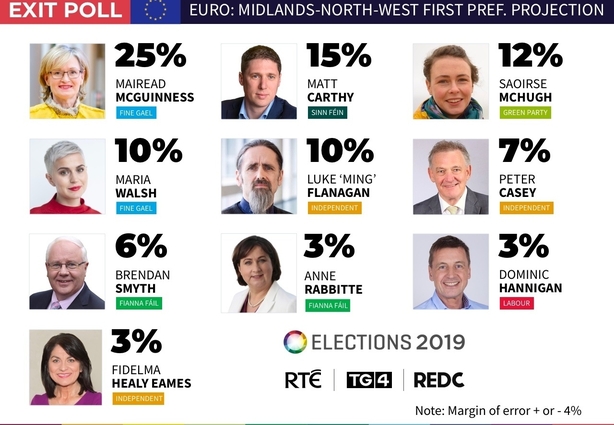 ---
Watch: Analysis
We need your consent to load this Facebook contentWe use Facebook to manage extra content that can set cookies on your device and collect data about your activity. Please review their details and accept them to load the content.Manage Preferences