It is said that all political careers end in failure.
Theresa May's time as Prime Minister seems to have started in failure and stayed that way.
It was a premiership born of, determined and ended by just one issue: a decision by the people in a referendum to leave the European Union.
"Brexit means Brexit and we are going to make a success of it" was her rallying call from the very first day she stood outside Number 10, Downing Street, before stepping inside as only the second woman ever to hold its keys. She had set herself one job and departs less than three years later, having failed to deliver it.
While she became a Prime Minister for extraordinary times, there was nothing at all extraordinary about her background. Theresa Brasier was born in rural Oxfordshire, the only child of Reverend Hubert Brasier, an Anglican vicar, and his wife Zaidee – a housewife.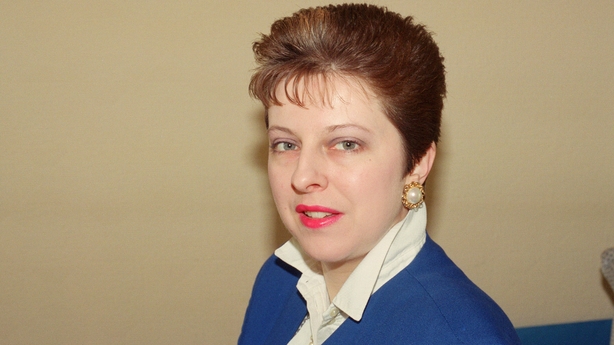 Much has been made of her being a vicar's daughter - including by herself when she said that it her a sense of public service that she brought to her career as a politician. As a child she was, in her own words, a "goody two-shoes". Shy, reserved and "bookish" – she would go on to draw much public derision in recent years when she said the naughtiest thing she ever did was running through a field of wheat.
There was nothing scandalous either about her time in Oxford University where she studied Geography. While some of her Tory Party colleagues may have made headlines for their exploits in the all-male Bullington club, the most risqué story about her university years involves her walking on a wall "slightly merry".
It was in Oxford that she met her husband Philip May at a Conservative Party disco. She married him in 1980 and a year later he would become her "rock" when she lost her father in a car accident followed by her mother – who had multiple sclerosis – just a few months later. She was just 25 when both her parents died.
After a career in the Bank of England, Mrs May was a relatively late comer to politics, reaching her 40s before she was first elected as an MP for Maidenhead in 1997. As she rose through the ranks of the Tory Party her (uncharacteristically daring) choice of kitten heels became well known in political circles, while she cited Vogue magazine as the one item she would bring to a desert island.
But it was her ability to dig her heels in that became her political trademark and often on behalf of very unfashionable causes, like when she held up a mirror to the Conservative Party at their conference in 2002 (in Leopard print heels) telling them : "You know what people call us? The nasty party!"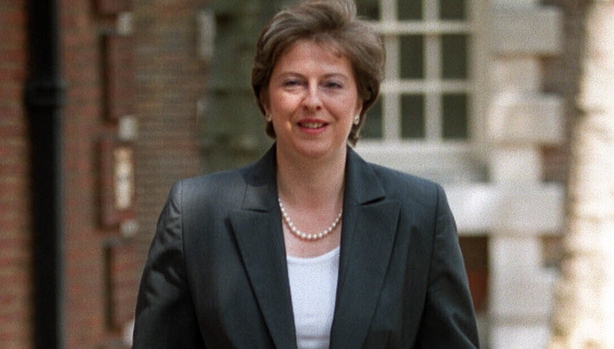 As the longest serving Home Secretary in more than a hundred years, she rowed back on her party's promise to reduce immigration. And wasn't afraid to take on the police, showing signs of the icy determination she would be known for as Prime Minister when she warned delegates at the Police Federation Conference in 2014: "If you do not change of your own accord, we will impose change upon you."
It was no surprise then that in her bid to become Prime Minister, she drew some predictable comparisons. At one point the party grandee Ken Clarke was caught commenting to a colleague: "Theresa is a bloody difficult woman, but you and I worked for Margaret Thatcher!"
It was something she would wear as a badge of honour.
Mrs May opposed Brexit during the referendum campaign, at one point in an interview with Tommie Gorman for RTÉ News warning of the implications for the Irish border. "If you pulled out of the EU and came out of free movement, then how could you have a situation where there was an open border with a country that was in the EU and had access to free movement?" It was a conundrum that would eventually be the undoing not just of her Brexit Withdrawal Agreement, but her standing as Prime Minister.

These words aside, she kept a low profile during that campaign, a politically shrewd move that left her in pole position to become Prime Minister. Her reputation for predictability made her the right person at the right time for a Government trying to deal with the fallout of a decision in a referendum to leave the European Union.
The Brexit negotiations started well for May, her confidence that she had the upper hand over the EU was apparent as she laid out her red lines in the Lancaster House speech of January 2017, warning European leaders that the UK was prepared to crash out if she could not negotiate a reasonable exit deal. But by the following June she had suffered a setback that changed everything.
Just a year into the job she took a gamble and called a snap election, a decision she came to while on a walking holiday in Wales with her husband, saying it was the "only way to guarantee stability for the years ahead." But it was to do precisely the opposite.

As the votes were counted, what seemed as a low risk gamble had backfired spectacularly. The Conservatives were the largest party but lost their majority, leaving her reliant on the DUP to get anything through the House of Commons.
Days after this setback – and with May's characteristically poor timing – negotiations with the EU formally got under way. It was made clear to the weakened Prime Minister that an end to freedom of movement would mean that Britain would not get the benefits of single market membership.
From then on, the compromises came thick and fast. First on the so-called divorce bill when she agreed that Britain would pay the EU £39 billion to leave, something seen as a major cave-in by Brexiteers in her party; then on the transition period when she accepted EU demands not to restrict the rights of EU citizens who arrive in Britain during the period (having previously said they would have "different" residency rights).
And then - what was seen as the biggest concession of all - when she agreed to the backstop which would ensure there would be no hard border on the island of Ireland. This was hailed as a major breakthrough by the Irish Government.
But it was to be particularly opposed by the DUP who held the balance of power. What's more, their opposition to the backstop would emboldened hard-line Tory MPs to consistently reject what they saw as a split in the UK.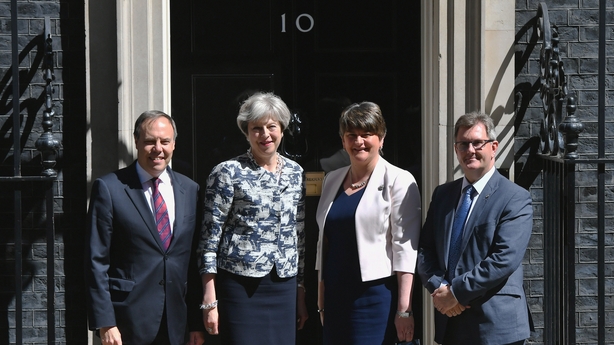 As the negotiations with the EU continued, she increasingly cut an isolated figure. She put her best foot forward at every step, dancing on to the stage at her party's conference in October 2018 to the tune of ABBA's Dancing Queen. Her determination to carry on against the odds was met with as much admiration as despair.
In November she finally had some relief. A compromise was reached with the EU. At a special summit in Brussels the EU 27 leaders officially endorsed the terms of the UK's" bringing an end to negotiations that had been going on for nearly twenty months.
The European Commission President, Jean-Claude Juncker said anyone who thought the EU might offer improved terms if MPs rejected the deal would be "disappointed." May appealed to both leave and remain supporters to endorse it saying there was no better deal available.
"We can back this deal, deliver on the vote of the referendum and move on to building a brighter future. Or this House can chose to reject this deal and go back to square one," she said. But just six days later with signs that it would not pass through the House of Commons, she said she would in fact go in search of something better. "If we went ahead and held this vote would lose. We will then defer the vote and proceed not to divide the house at this time."
From then on, the already grudging support from within her party drained away. A no-confidence motion was called in December. She once again stood her ground and promised to "contest that vote with everything I got."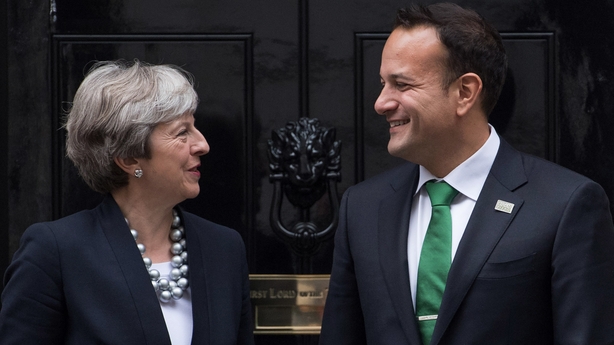 On the night, 63% of MPs backed the Prime Minister, but it was more a case of survival than success. She promised to continue to seek changes from the EU on her Brexit deal, and – a rather optimistic concession - to step down at the next general election.
May limped on until another decisive week came in March. She went to Strasbourg where she claimed to have got a better deal – one, she said, that would mean that Britain would not be trapped in the controversial backstop indefinitely. But it was one that was put paid to by the Attorney General. On the morning of March 13th, after her deal was endorsed by cabinet, she declared: "Today is the day. Let's get it done." But the momentum, as many times before, moved quickly against her.
Within hours the Attorney General, Geoffrey Cox, released formal legal advice that the changes "reduce the risk" that the backstop would be permanent, but did not remove it altogether.
Her Brexit strategy was once again left in tatters after the House of Commons rejected her Withdrawal Agreement later that day for a second time, by an overwhelming majority.
Her hoarse voice as she got to her feet to declare she profoundly regretted the vote only served to highlight her sense of dejection. Her husband watching down from the visitor's gallery, seemingly the only other member of her diminished political club.
Her humiliation was again laid bare when EU leaders took control of Britain's choices, granting an extension until the end of October to allow her one last push to get her deal through. The Halloween deadline at least offered some new metaphors as all those relating to disaster had long since been exhausted.
And yet she kept on carrying on, turning to the Labour Party to seek support for her deal. When talks with Jeremy Corbyn eventually broke down, she attempted one last throw of the dice and promised a second referendum if her Withdrawal Deal was to pass at the next time of asking in June. She was never to be given that opportunity to bring the deal forward. Her fate had already been well and truly sealed.
The woman who had singularly decided to call that fateful snap election, relying only on her husband for advice, and reportedly was without true political friends or allies from the outset, was left completely isolated. Not just by Europe, or by the House of Commons, but by her own party. Eventually, Theresa May could not dig her heels in any longer.
She was - to many - "a bloody difficult woman". Few would dispute that she had one bloody difficult job. She leaves office having failed in that task. That will be her ultimate legacy.
The more nuanced question over whether there was ever a path to success for her to take, will be debated for years to come. And perhaps one of the few things that will redeem her is the lingering question she leaves behind: Would anyone else have done it better?