Over 1,000 farmers from around the country met in Ballinasloe, Co Galway this evening to discuss concerns over beef prices.
The meeting came as new research suggested that tens of thousands of jobs were at risk in rural areas, as a result of pressure on the sector.
Tonight's "Beef Summit" will hear contributions from Minister for Agriculture Michael Creed, Bord Bia, farming organisations and the body representing meat processing factories.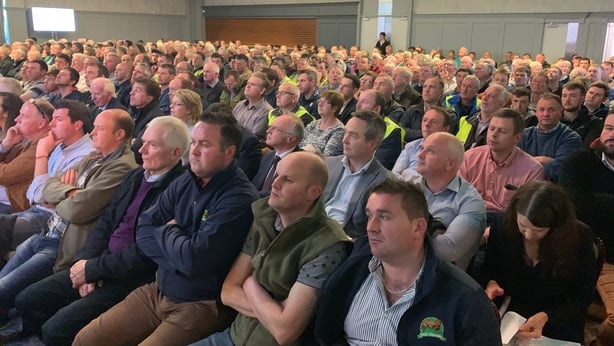 Beef farmers say the viability of their business is under serious threat at present.
They contend that the price they receive at market does not reflect the investment it takes to prepare cattle for sale.
There are also concerns about the impact Brexit could have on the sector, which is estimated to be worth in the region of €3 billion to the economy each year.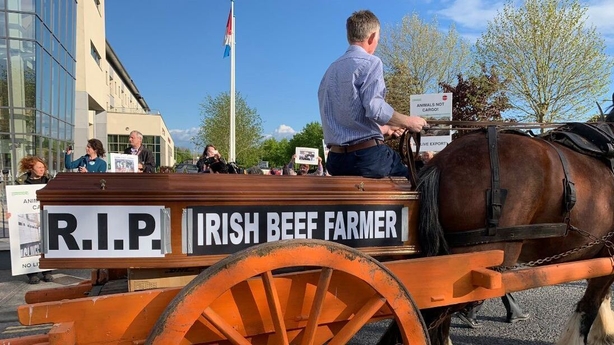 Between 500 and 600 members of the recently formed Beef Plan Movement group protested at the meeting.
They want the Government to intervene to ensure - what they term - "fairer prices" are paid to those involved in suckler farming.
The pressure on the sector is particularly apparent in parts of the west and midlands, where smaller holdings and poorer land means other options, like dairy or arable farming, are not possible.
The Farmers' Journal today published research suggesting that over 52,000 jobs were under threat, as a result of the difficulties being experienced by farmers.
An analysis by UCD Professor Michael Wallace found that up to 10,000 suckler farms could be put out of business, unless prices increased and supports for the sector were enhanced.