There have been calls for Ireland's defamation laws to be urgently reformed.
NewsBrands Ireland, which represents Irish news publishers, has begun a campaign highlighting the restrictive nature of Irish defamation legislation to mark World Press Freedom Day.
The body said Irish defamation laws are having a chilling effect on the media's role as the public's watchdog and its ability to reveal matters of public interest.
A review of the current Defamation Act was due in 2014 but did not commence until November 2016.
In a statement, the Chairman of NewsBrands Ireland said "NewsBrands Ireland along with many other organisations, made submissions to the Department of Justice in January 2017.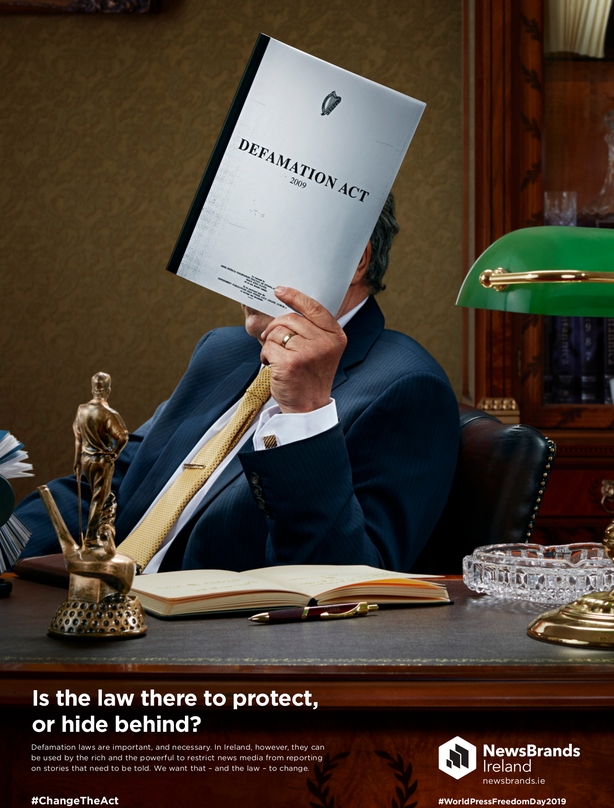 "To date, the review has not been completed," Vincent Crowley said. He called on the Department to complete it "as a matter of urgency".
"At a time when democratic values are being threatened and undermined throughout the world, it's in the best interest of democracy that our defamation laws are updated," he added.
The organisation said claimants are exploiting defamation laws while not having to prove serious harm to their reputation.
NewsBrands Ireland has said the new Defamation Act should include a serious harm test, similar to that in operation in the UK.
They say the British legislation discourages trivial claims that can chill free expression and inundate Irish courts with lengthy and costly court cases.
There have also been calls for a cap on the damages that can be awarded under the legislation and the abolition of juries in defamation cases.
Speaking on RTÉ's Morning Ireland, journalist Ian Kehoe said that the Irish defamation laws are not fit for purpose and serving neither the general public nor the media.
Mr Kehoe said the Sunday Business Post, where he was formerly editor, was "very fortunate" in responding to the recent libel action taken by businessman Denis O'Brien as libel insurance backed the case.
He said that otherwise it would have put 50 jobs on the line in defending the action, which the newspaper won, in the courts.
Mr Kehoe added that the costs associated with taking defamation cases limit them to the rich or the bankrupt and in that sense they are not serving "99% of people".
He said for newspaper editors, the cost of potential actions weighs heavily in editorial decision-making and you must "play a game of chance every time you get a legal letter in".
He said that "no one is arguing there should be no defamation laws, but they need to be fit for purpose" and a reformed defamation law should hold newspapers to account properly, but not stifle proper journalism.
Mr Kehoe also suggested that "genuine harm" must be proven.