Feargal Quinn was the businessman who became a household name after founding what would become the Superquinn grocery chain, operating his company based on "the boomerang principle".
"Everybody in our company wears the boomerang principle, which is that the objective of everything you do in business is to get the customer to come back again," he told RTÉ's 'Slightly Personal' programme in 1996.
He said that the philosophy was inspired by what he learned from working at his father's business, a holiday camp at Red Island in Skerries, Dublin, when he was young.
"You have to picture the guests who came to Red Island, and there were 500 that came week after week ... on a deal that was an all-in holiday.
"My father would meet them and said once you paid, you don't have to put your hand in your pocket again. So I grew up in a business in which the food, accommodation, travel, entertainment had all been included, and it actually would have been a breach of contract on my father's part to try and sell them anything."
He added: "And that came from Red Island, it was a smashing way to grow up."
At just 23-years-old, Mr Quinn opened his first grocery store in Dundalk in 1960. By the time he sold the chain in 2005, there were 21 stores.
As well as working in the private sector, he worked in the public sector and served on the boards of numerous companies, including the position of chairman of An Post until 1989. He also served as chairman of the Irish Management Institute.
His public work also reached the Seanad where he served as a Senator for 23 years.
He made his first foray into the world of politics in 1973, when he unsuccessfully ran for a Seanad seat. He would run again 20 years later and was elected as an Independent.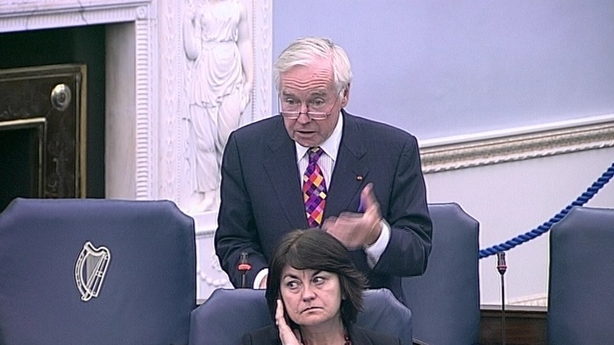 Speaking on RTÉ's The Late Late Show, he said that he felt a great sense of achievement from having served as a Senator.
"Really I had 23 years in there and I enjoyed practically every bit of it. There's a great sense of achievement, there's a great sense that you get things done."
As a Senator, he reflected his business background but was not limited to it. In 2013, he led a charge to try to ensure that there were defibrillators in buildings of more than 100 people.
During a referendum in the same year over the abolition of the Seanad, Mr Quinn was part of the campaign which was against the abolition.
"All those people who had dealings with him will just remember his kindness and also his ability, and the fact that he wore his own achievements very lightly."
At the time, he voiced deep concerns over the implications of abolition of the upper house of the Oireachtas.
"The Seanad is mentioned 75 times in the Constitution, and therefore the number of changes is going to devastate the Constitution. It's going to tear it apart," he said.
Politicians across Leinster House have paid tribute to the former Senator, describing him as a "gentleman".
"From the little things to the very, very big things he was just a consummate gentlemen," said Senator Michael McDowell on RTÉ's News at One programme.
"It is very hard to explain just how much of a gentleman he was. All those people who had dealings with him will just remember his kindness and also his ability, and the fact that he wore his own achievements very lightly."
---
President leads tributes to Superquinn founder Quinn
---
Mr Quinn was also a supporter of emerging business, and presented RTÉ's 'Retail Therapy' programme.
He offered advice to aspiring and struggling entrepreneurs on the programme, which he fronted for three seasons.
Speaking on The Late Late Show in 2011, he highlighted the success stories in Ireland which emerged during tough financial times.
"There seems to be a belief 'Oh this recession is terrible, nobody should be expecting to succeed in a recession time.' It's the very opposite. There are people who succeed in the very tough times, just as there are people who failed in the very good times," he said.
"What I have discovered going around Ireland is our success stories - there are small success stories that are coming out and doing very well."
Mr Quinn was the recipient of a number of awards, and also received honorary doctorates.
He is survived by his wife Denise and five children and 19 grandchildren.
Additional reporting Dyane Connor, Paul Cunningham